---
What's in this Article:
---
What is Workspace?
Workspace is a tool for students, researchers, and faculty. With your personal Workspace, you can:

Save articles, book chapters, images, and primary source materials to revisit anytime
Cite articles, book chapters, and images
Add custom notes to saved items
Organize your saved items however you want with a flexible folder structure and sorting options
Export content and citations to share with others
To use Workspace research tools, you must first have a registered JSTOR account and be logged into your account. If you are NOT logged in, you will be redirected to the registration page.
Saving Items to Your Workspace
Save items you find to your personal Workspace, where you can access, share, and organize them as needed. Your saved items might include:
Articles

Book chapters,

Images
If you want to learn more about how to save items to your Workspace, refer to the below example scenarios or watch this short video:
Example scenario: Saving an Article
You are searching for an interview on JSTOR with American science-fiction author, Octavia E. Butler. Enter your search term ["au: Octavia E. Butler"] Once you return the search results, on the right-hand side of each result there is an option to "Save" beside each of the search results.
Tip: You can save items from almost anywhere on JSTOR. The "Save" option is available on JSTOR, including on the search results page, the journal page, or the item page.
Once you have found a specific citation you would like to save, select "Save," on-click a Workspace confirmation menu will open where you can select where you would like the item saved.
Within this "Save to..." menu, you have the options to:
Save a text or image citation directly to your workspace. Do this by choosing "Workspace" in the Workspace menu.
Create a new folder. If you're conducting new research or have not yet made a Workspace folder you can do by selecting "Create new folder" in the Workspace menu. If you wish to organize your items further you can create a sub-folder within your top-level folder. 
Save a text or image citation to an existing folder. Previously created folders will appear in the Workspace menu.
Export images to PowerPoint
There are a few ways to be sure your items have saved properly. After you click to "Save" an item, a notification will appear confirming that the item was successfully saved. You will also note that for saved items, the button text that previously had the option to "Save" will change to "Saved" with a checkbox instead.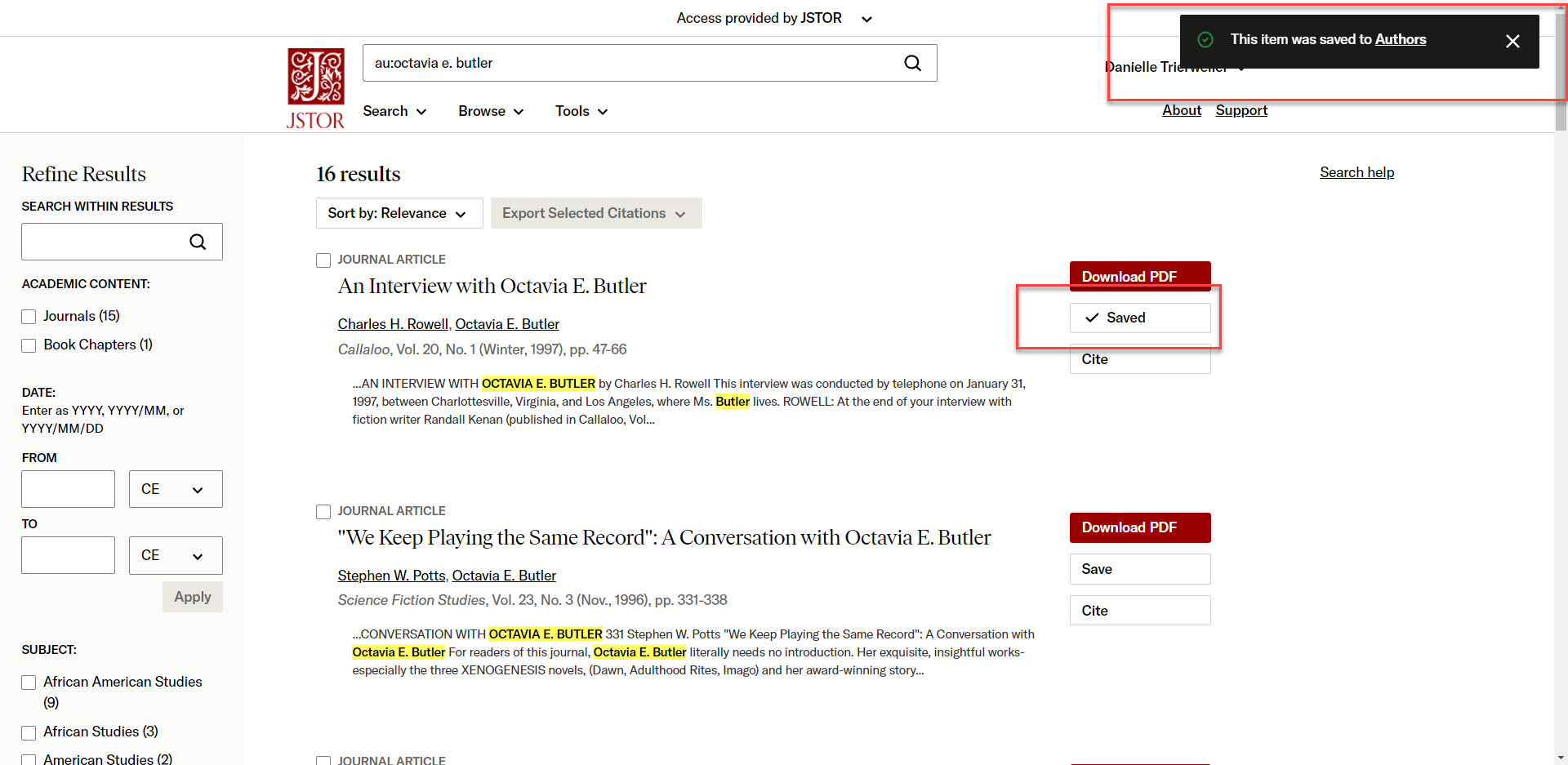 Example scenario: Saving an Image
Your image access will vary across collections and image rights. 
You searched for the keyword "dachshund" and although many interesting text-based search results were returned, you note that in image results for your keyword, there is a specific photo of artist Andy Warhol's dog that might be a great example or most relevant to your research topic, Famous Pets in Art History.
You want to Save this image to your Workspace so you can find it later.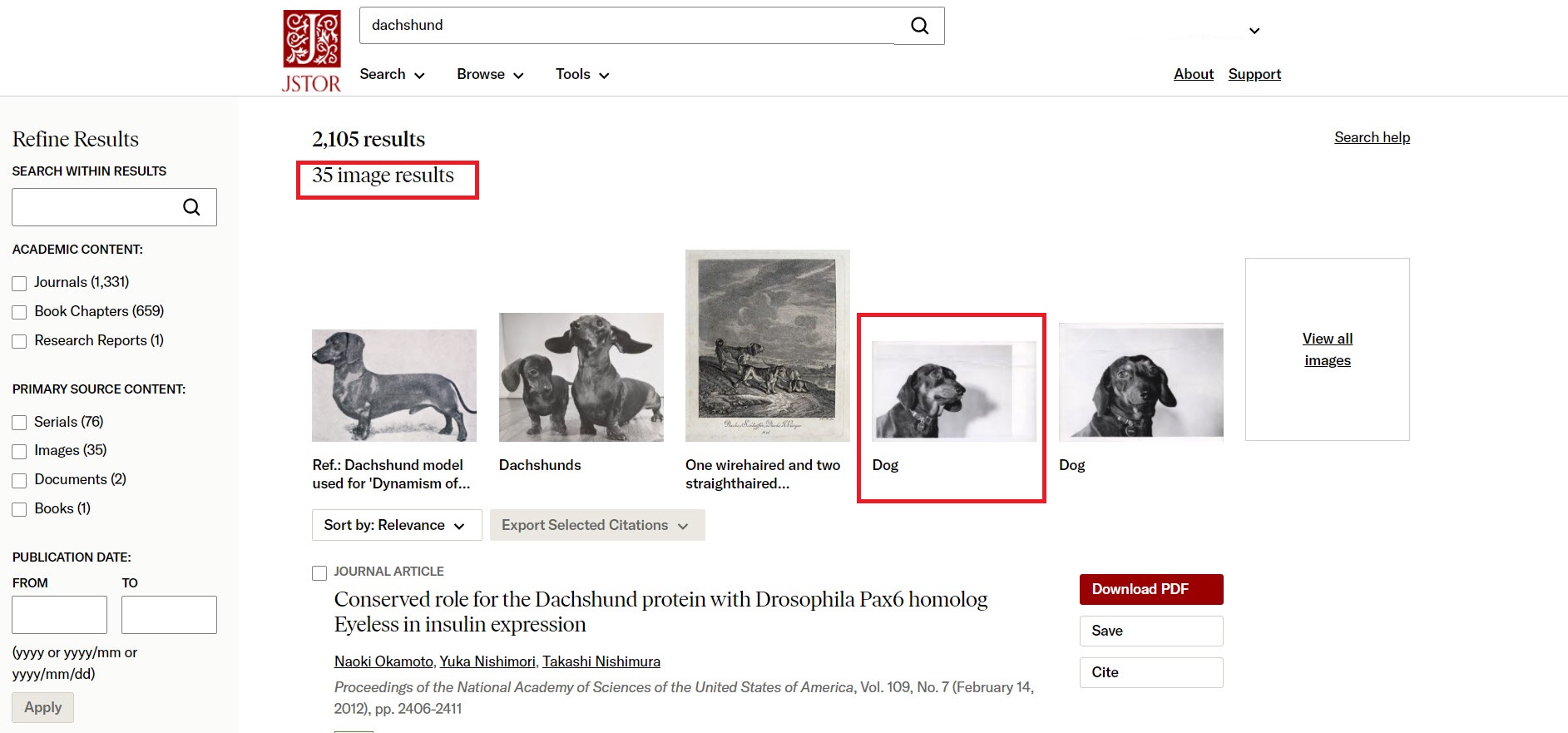 Once you are on an item detail page for an image that you wish to save, select "Save." Several other actions are available including the options to cite or download the image if you have access.  
In this example, I do nor have a folder for this project yet, so I chose to place the image of Andy Warhol's dog into a temporarily-name folder which labeled "Test Folder." 
Once you save your item, from either List or Gallery view, you can select from additional options including:
Add custom notes
Cite the individual item
Move the individual item
Delete the item from your Workspace
Viewing and Organizing Saved Items
To use Workspace research tools, you must first have a registered JSTOR account and be logged into your account. If you are NOT logged in, you will be redirected to the registration page.
Viewing Your Workspace After Saving Item/s
There are several options to view and organize your saved items and citations in Workspace. Once you have completed searching for and saving new items, you may use any of the following to access them:
Option 1: Click on any of the "Saved" buttons from any previously saved articles and images. Select "Go to Workspace" found at the bottom of the Workspace menu. 
Option 2: Click the "View in Workspace" button from the green Workspace notification window (pictured in above screenshot.)
Option 3: At the top of your JSTOR page, if you hover over the "Tools" drop-down menu, you will have an option to select Workspace (pictured in below screenshot.)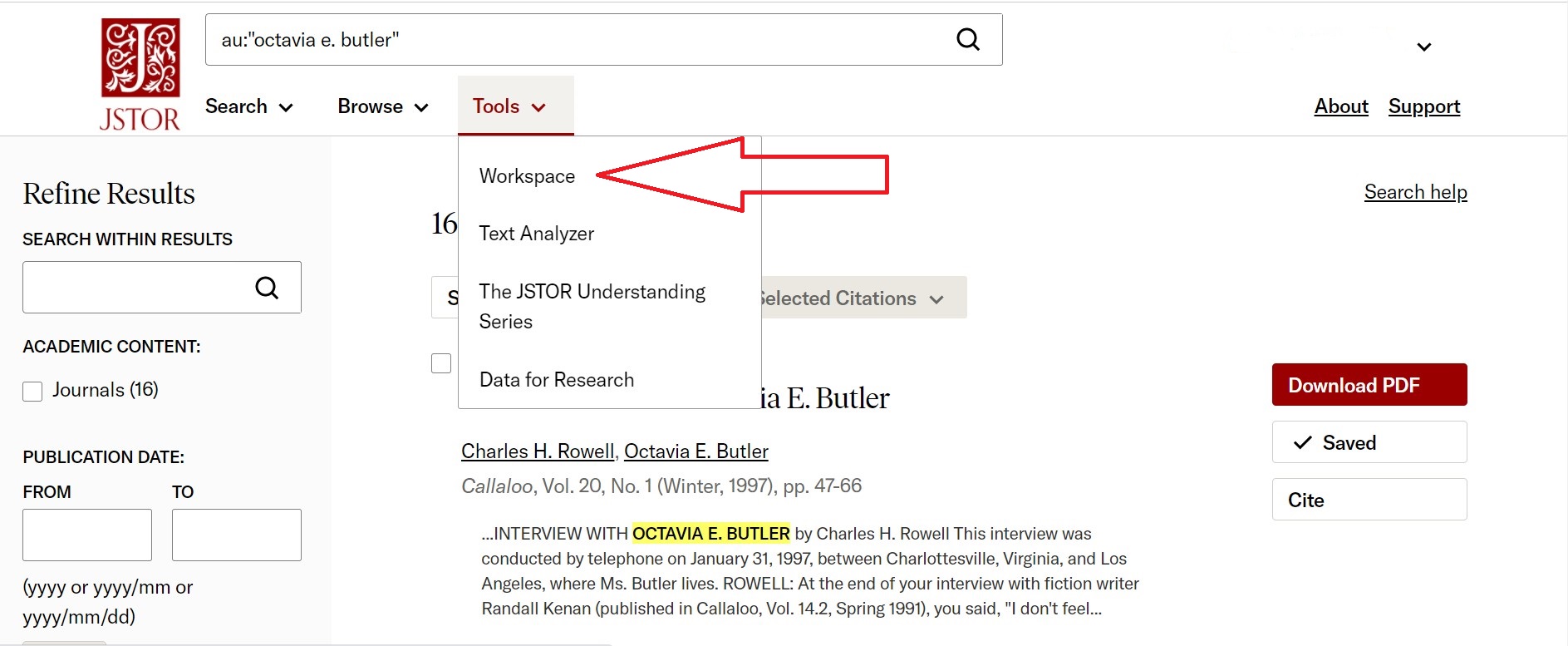 Once logged into your Workspace, you will find "Items" Under "Items" you will find individually listed citations for any content you saved below any existing folders. Each with the same several options included underneath.
Below is an example of the options available while viewing a saved item citation in Workspace: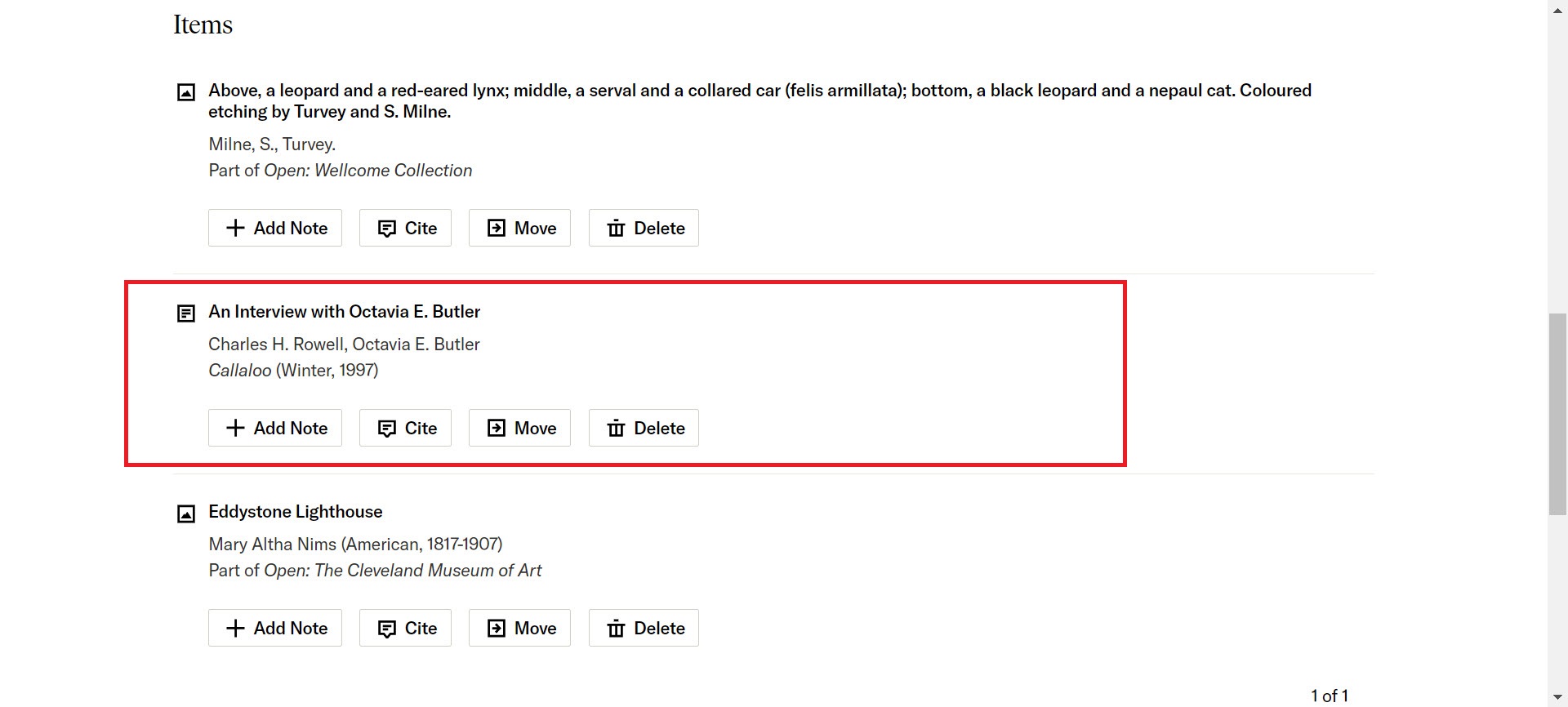 To keep your research organized, you have the option to create different folders, add custom notes, create and export item citations, and delete citations as needed. 
Folders
To keep your research items organized, you have the ability create new and manage existing folders and sub-folders in Workspace. You can also move, name, and re-name folders. These abilities can be especially useful when you have many saved items that you might want to organize by theme, date, topic, project, or any other type.
Example scenario: You find a piece of content on JSTOR that you are interested in referencing for your research on American authors, "An Interview with Octavia E. Butler." This article citation is already saved to your Workspace and you have added it to a folder you created earlier intuitively labeled "Authors."
In your Workspace, you are able to view your saved items in addition to any other items previously saved to the same folder in List view: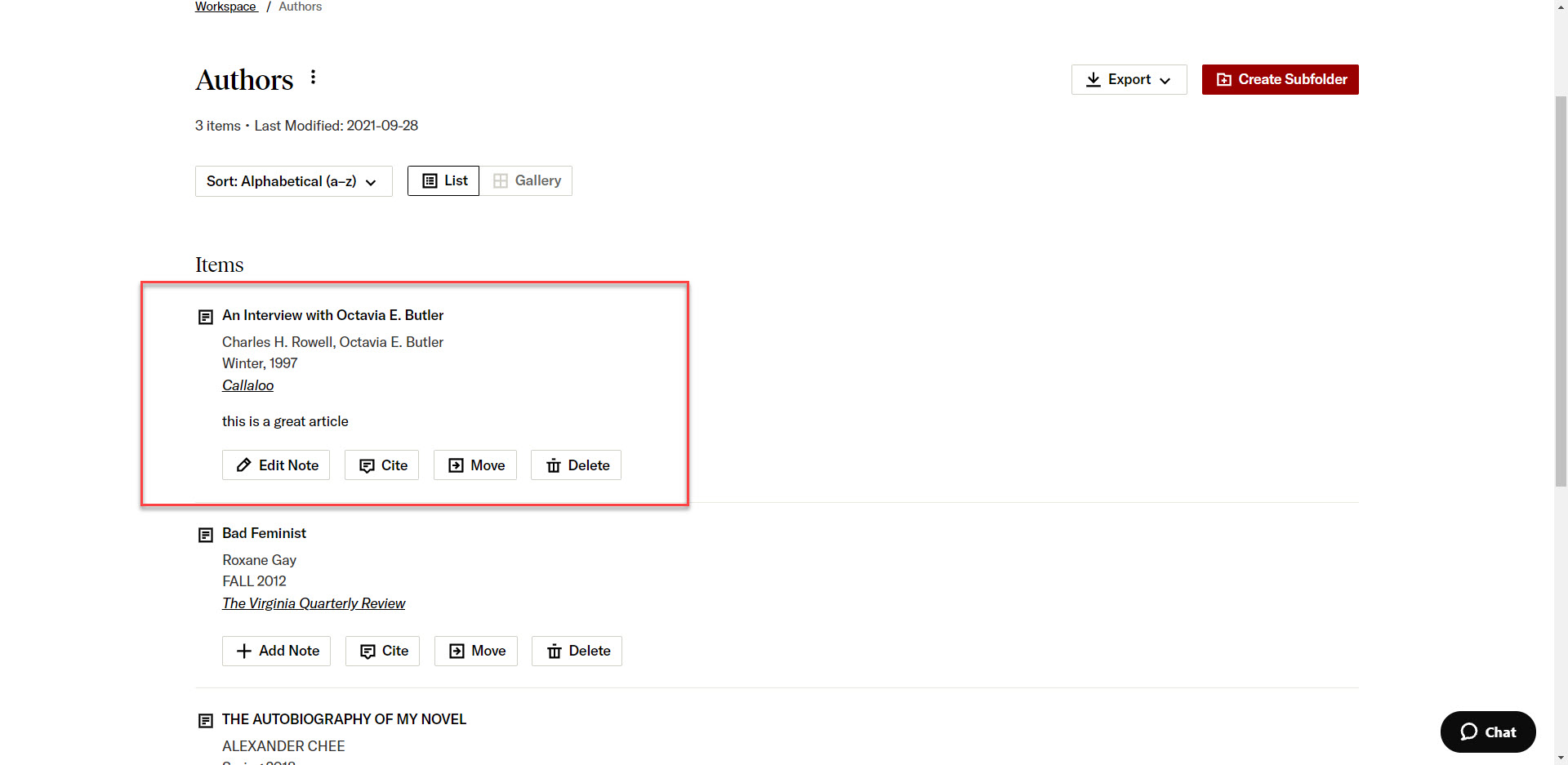 To move items into or out of folders, select "Move" next to the item you want to organize, then click the arrow next to the name of the folder (in this example, it is "Authors.")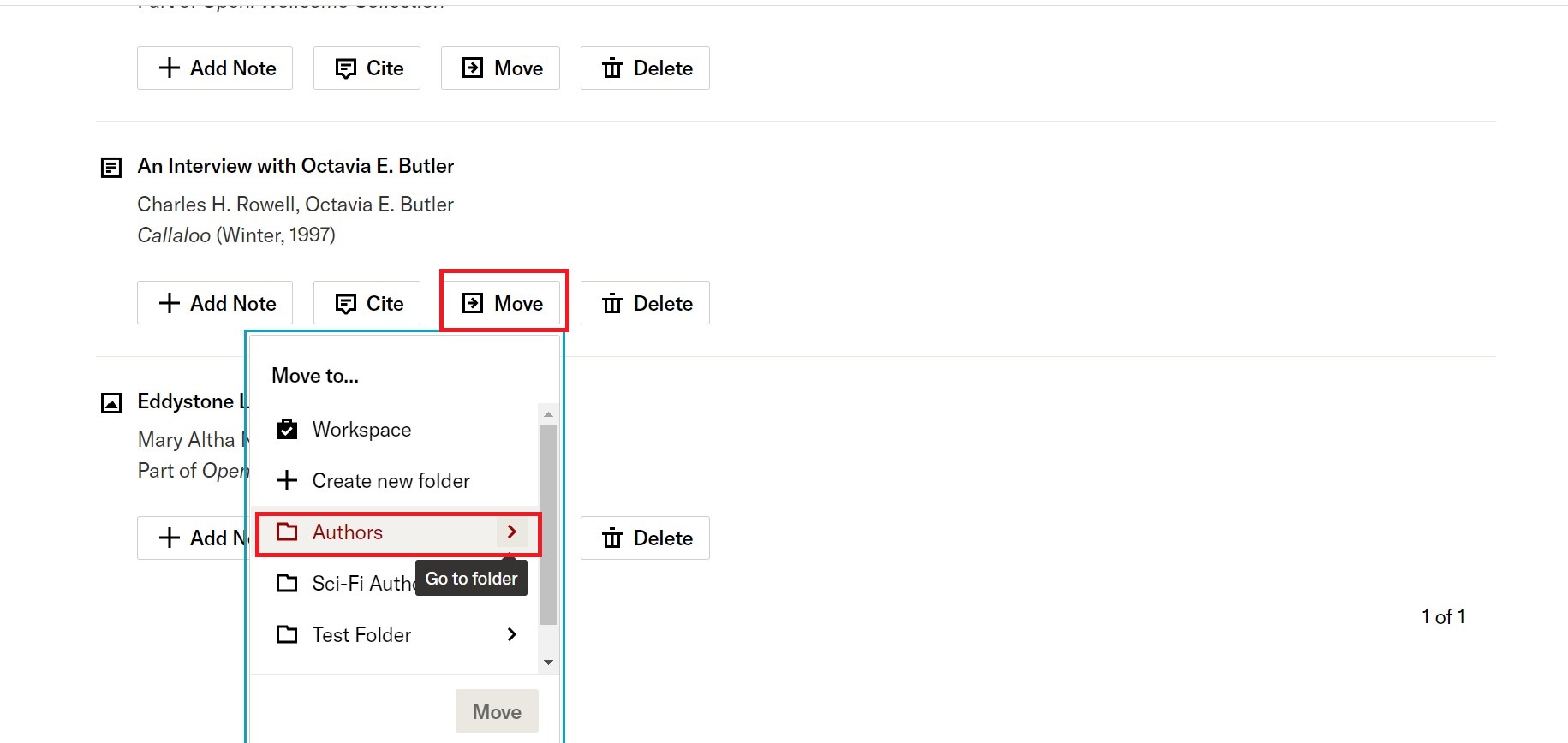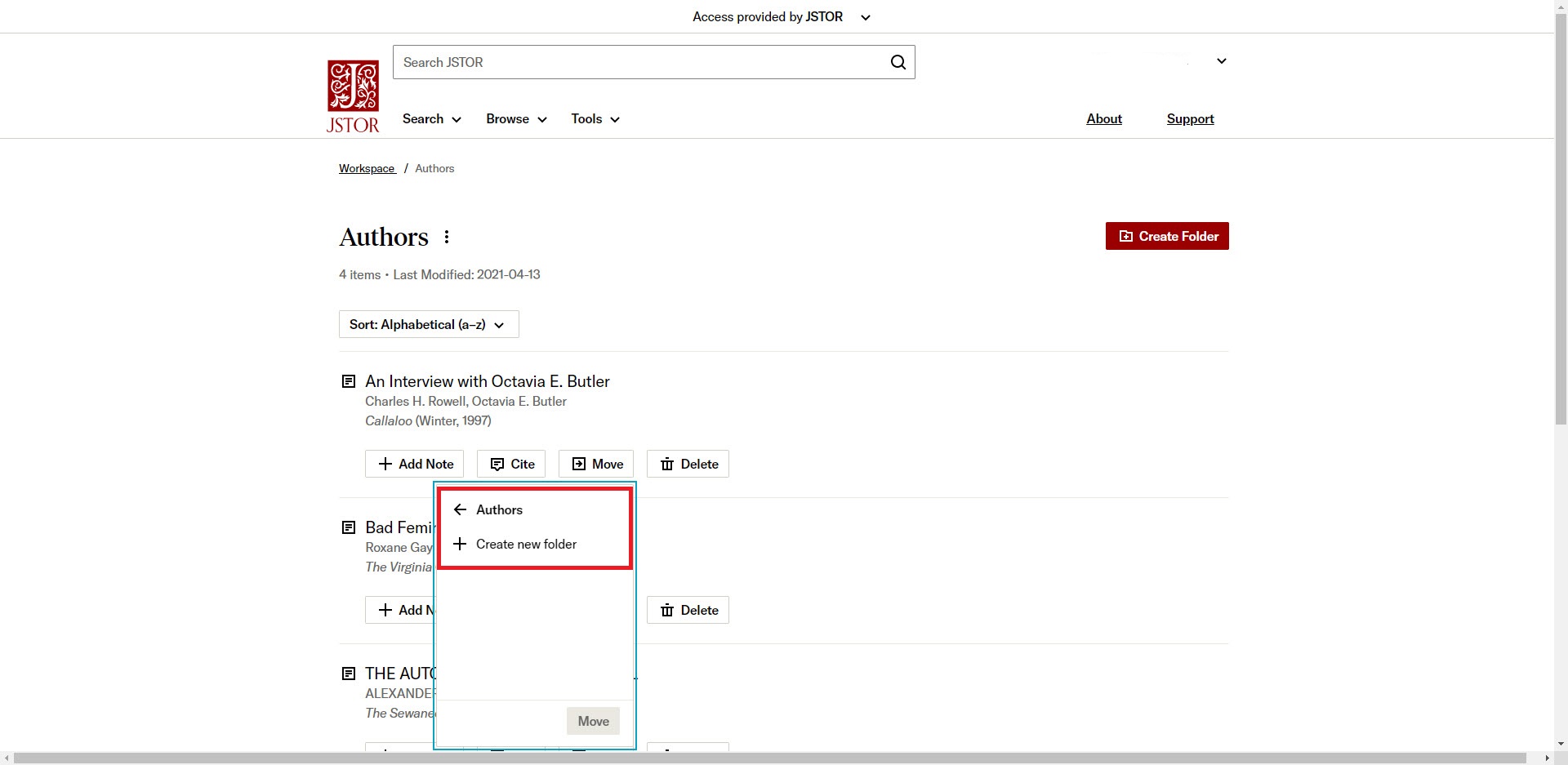 A "Move to..." menu should appear where you may select the desired destination from the existing folder/s. 
In this example, the article you are moving is already in the "Authors" folder, so it appears with a small folder with a check-mark on it. If you wanted to move the article to a different existing folder such as "Sci Fi Authors" select the destination folder (which highlights when selected) and click "Move" to confirm.
To move a citation into a sub-folder, click on the parent folder twice (once to highlight, once to access the child folder-or as many times as needed to reach the destination sub-folder,) and then click "Move" to confirm. 
Note: If you have many folders in your Workspace, you may need to use the scroll bar on the right-hand side of the "Move to..." menu in order to view the desired destination folder.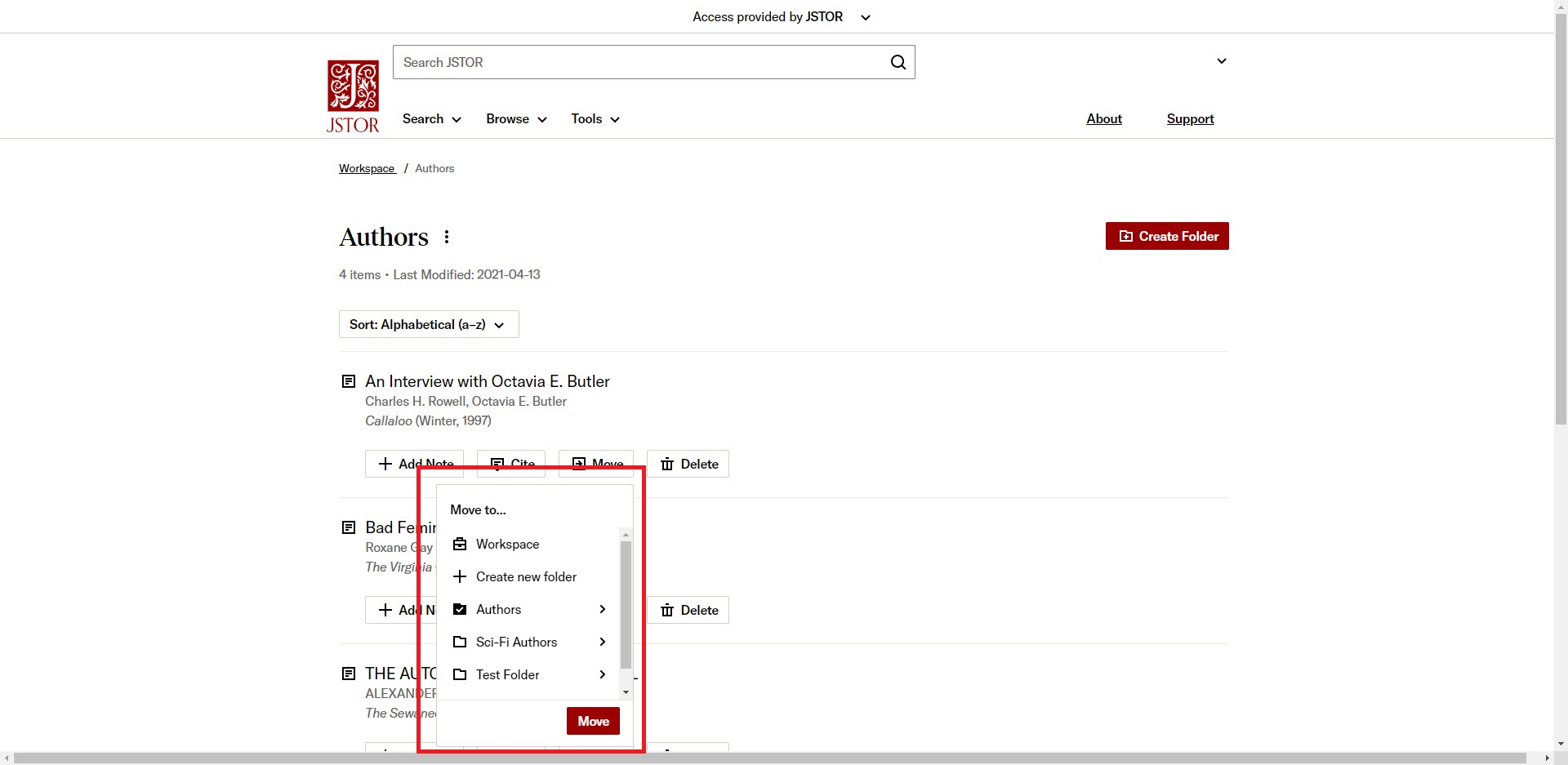 Citations and Notes
To cite items and export citations in various formats, Workspace includes tools that using auto-formatted citations. Select the individual item you would like to cite and select "Cite."
To Delete citations, select "Delete" underneath the individual item you would like to remove from your Workspace.
To add customized notes, select "Add Note" and type in your note. If an citation note already exists, instead you will have the option to "Edit Note."
Viewing and Organizing Folders
To use Workspace research tools, you must first have a registered JSTOR account and be logged into your account. If you are NOT logged in, you will be redirected to the registration page.
Workspace offers different ways to work with your saved content. You might use either List or Gallery view to organize  your folders at the folder level. Additionally, folder-level views make it possible to sort and shift  multiple item views in ways that offer new ways to view and manage your item collections.
As available, thumbnail previews display for both text and images of your saved items offer a visual way to stay organized and identify content. 
Use the Workspace drop-down menu to choose from various sorting options for your folders (such as alphabetically, by folder creator, or by date)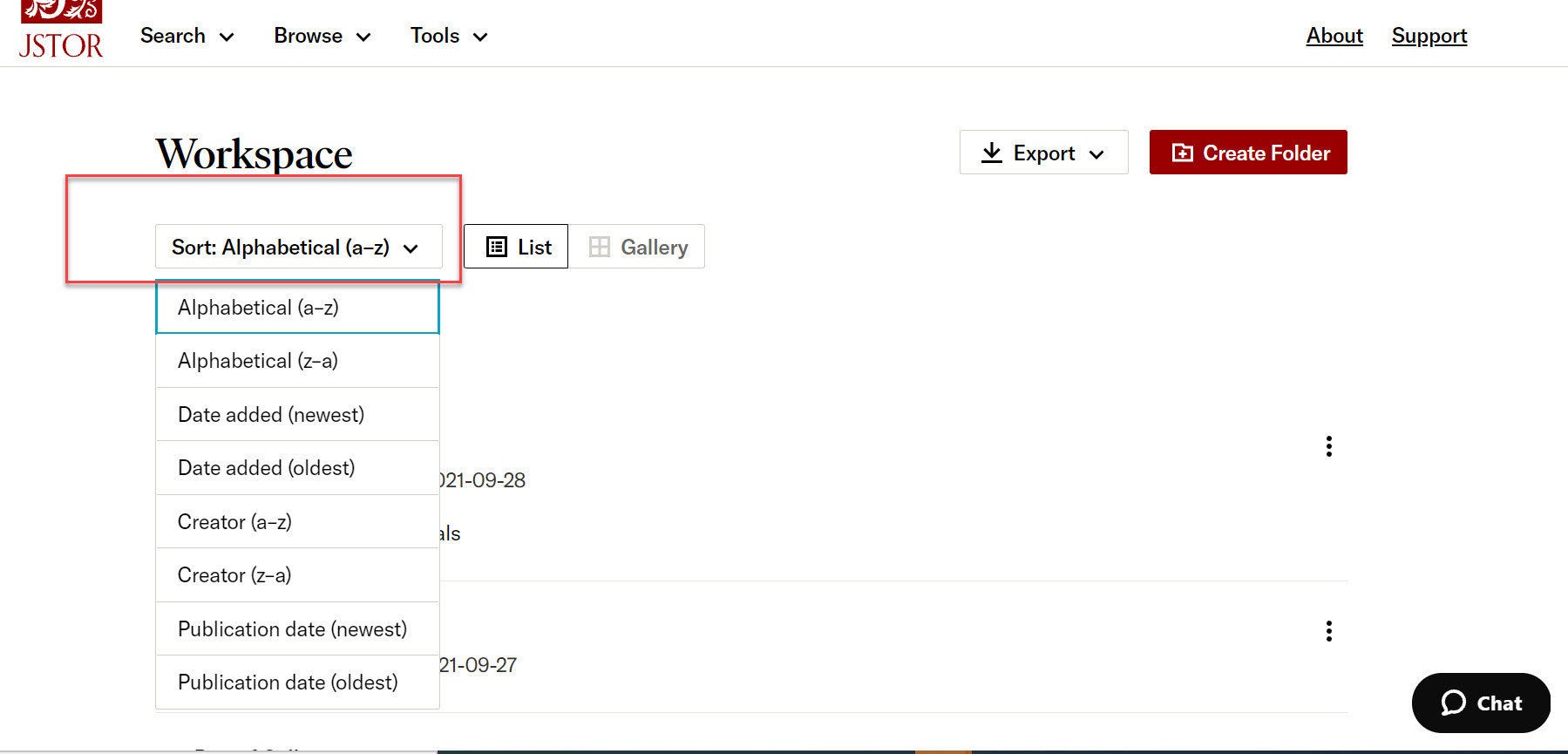 The options to select either "List' or "Gallery" views may be used at the item level as well.
List View
In List mode, your Folders (found at the top of the page) and Items (found at the bottom of the page)  are presented by the Sort order selected which defaults to Alphabetical (a-z).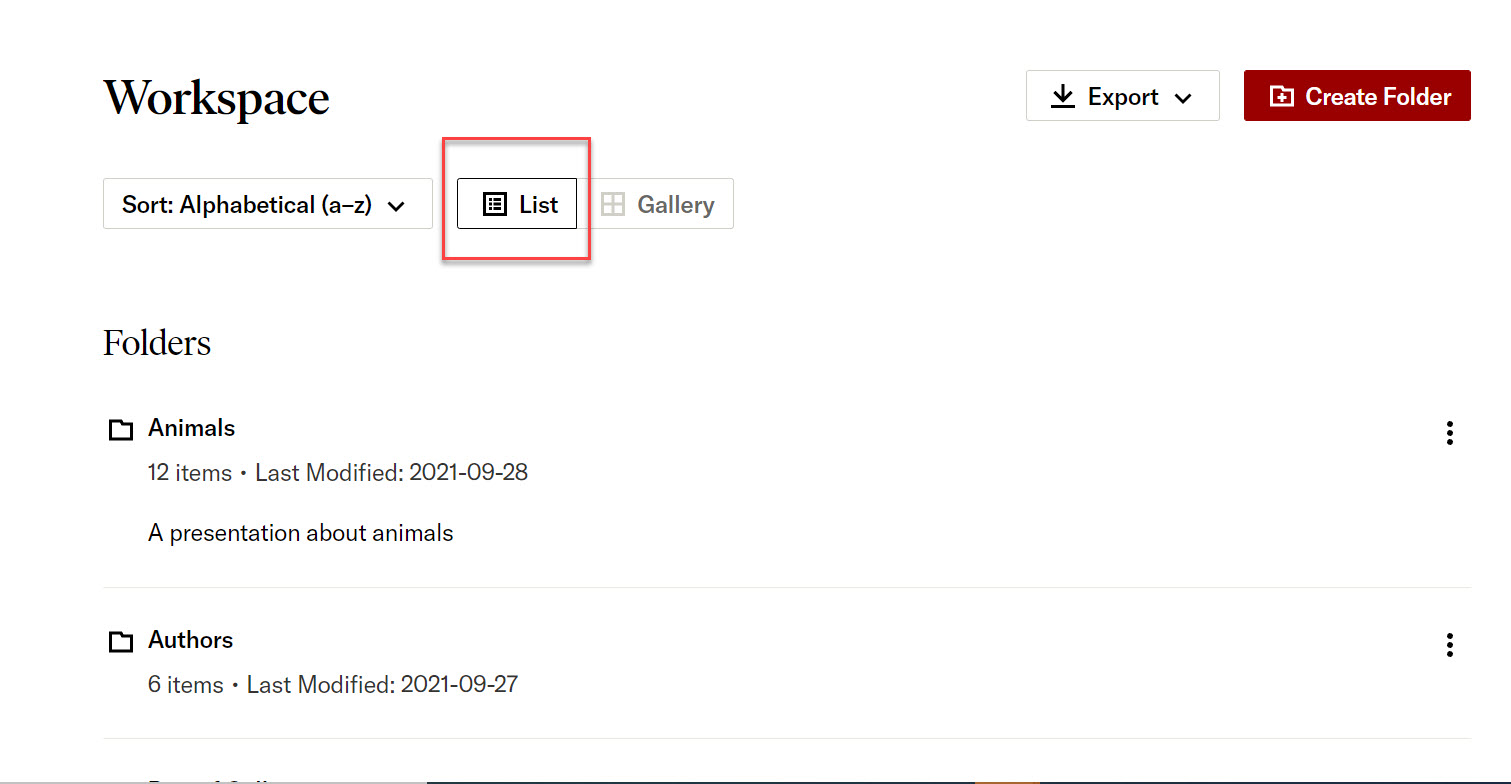 Gallery View
Gallery View is another option to display which presents your folders in a grid layout. Similar to List view, in Gallery your Folders are presented by the Sort order selected which defaults to Alphabetical (a-z).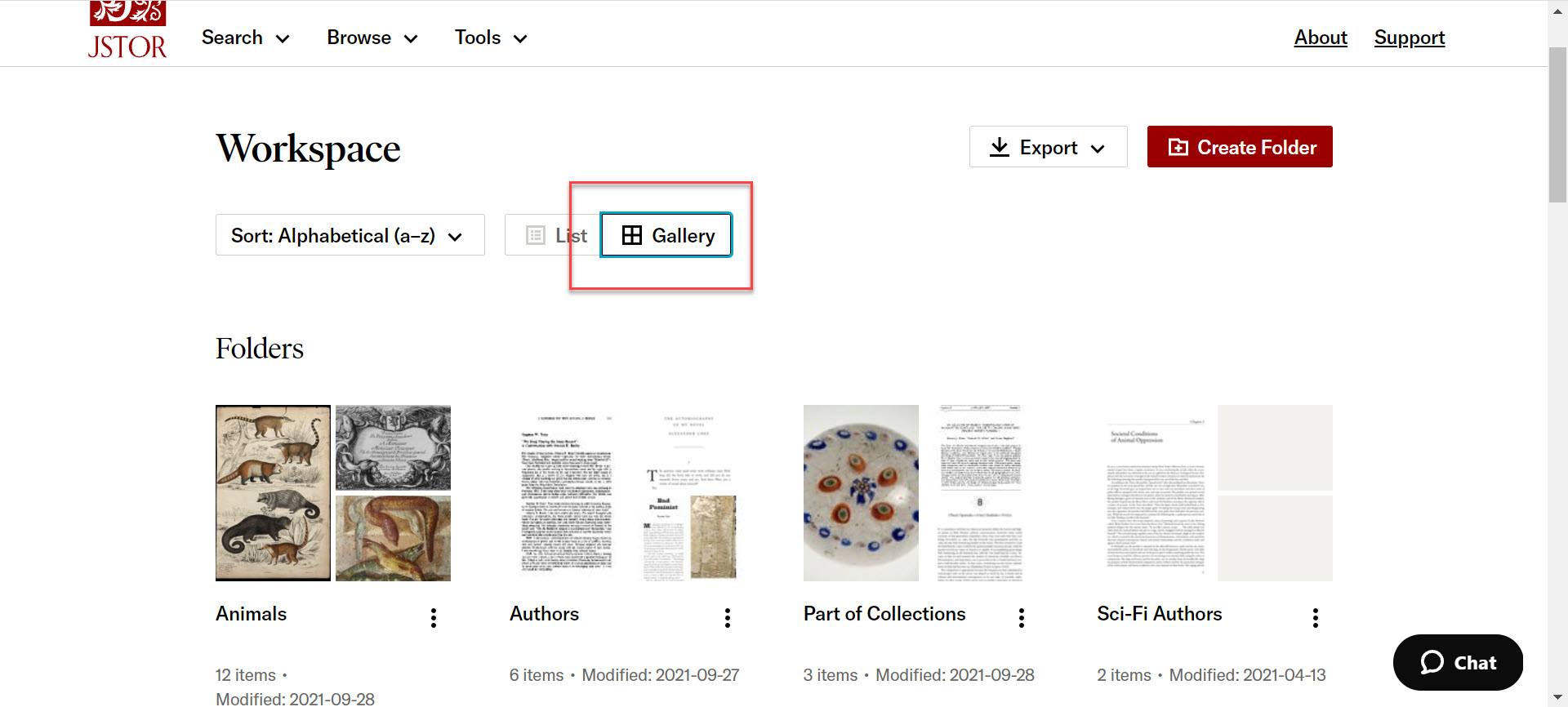 Viewing items that are part of a collection
If items added to your Workspace are a part of a collection of other items, "part of" metadata will appear below the item stable URL. This text is hyperlinked to other similar or curated content from the same collection and is a great way to discover related items that might be grouped by topic, time period, subject, or other grouping method.
Text and image content can be considered "part of" a collection.
In the following image example, "Eight Different Domestic dogs..." is considered part of the Wellcome Collection.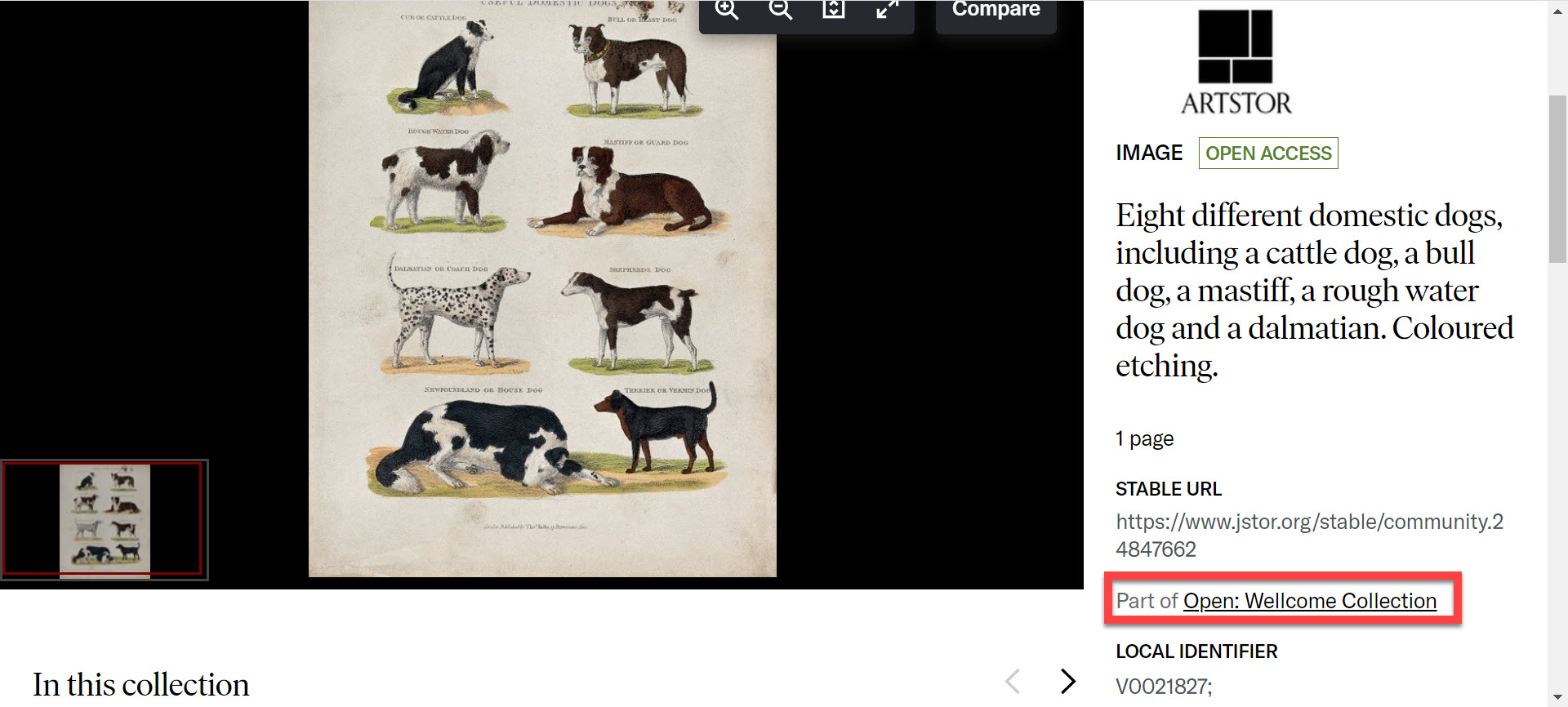 In the next image example, "Dynamism of a Dog on a Leash" is part of the SVA (School of Visual Arts) Image Library: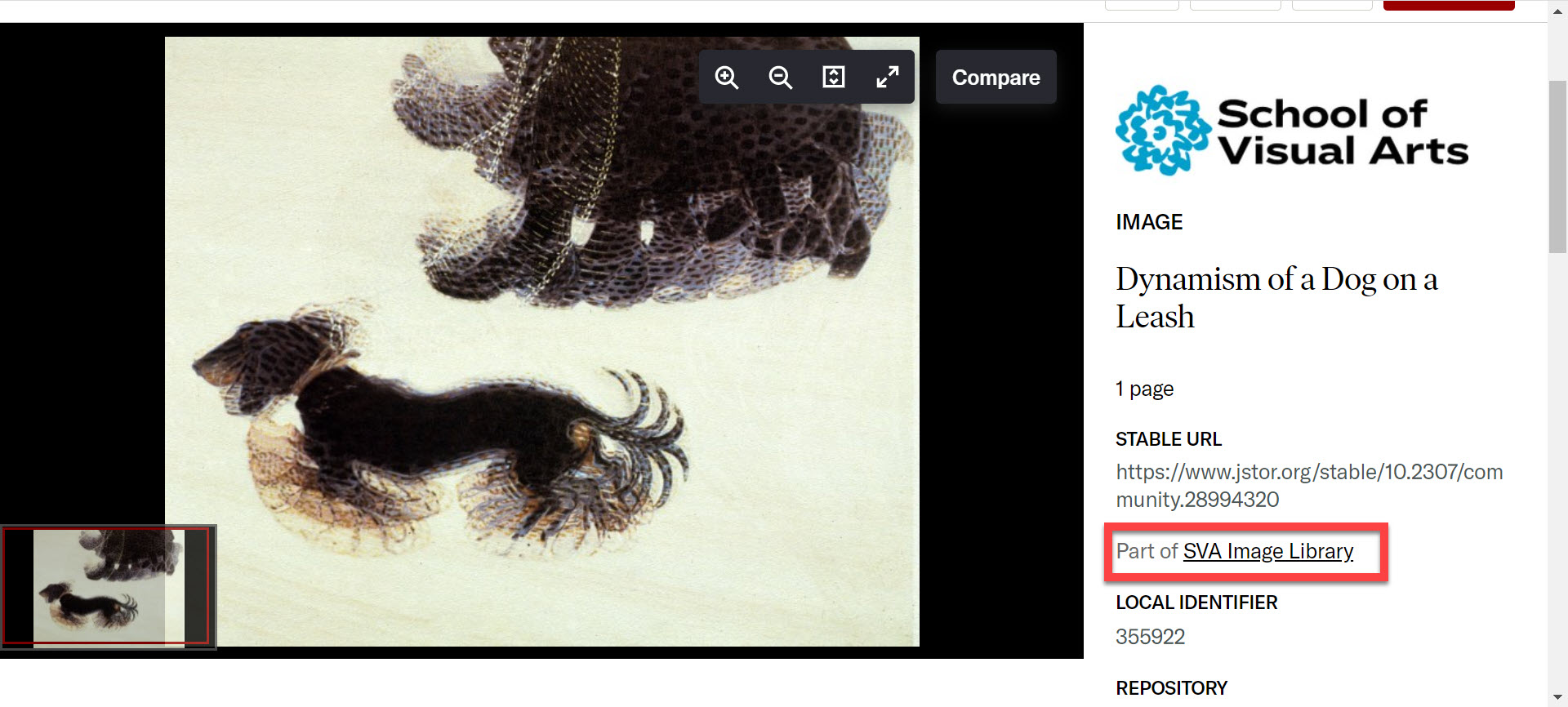 Text-based items also can be considered "part of" a collection of other items.
In the next example, items in the Workspace are "part of" a variety of content collections, including:
articles that are part of a journal
chapters that are part of a book
images that are part of a collection of other images or mixed content.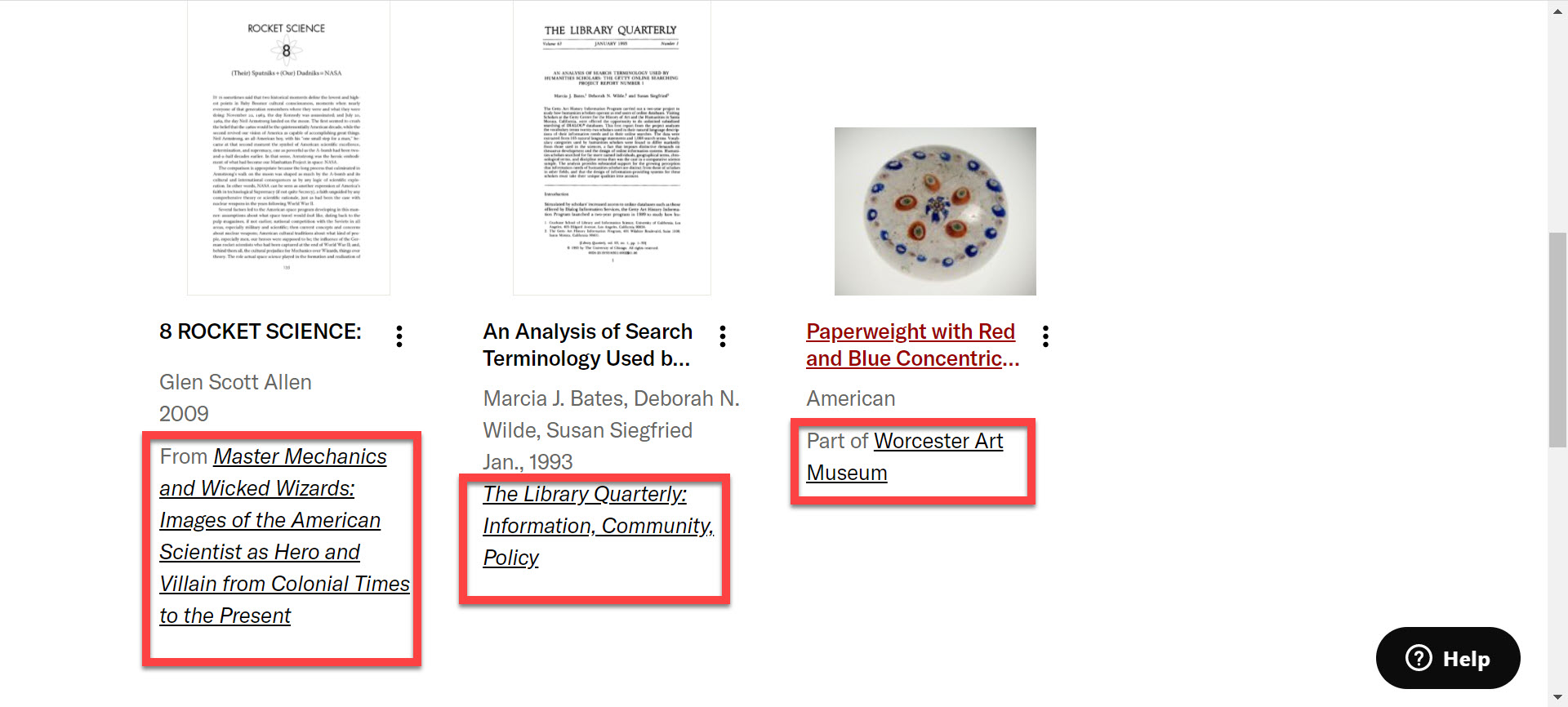 Exporting Folders to PDF
Exporting folders to PDF is a convenient way to share text and image content from your saved Workspace folder. PDFs might be used for printing or to upload to a learning management system.
After export, PDF handouts include the following:
Your folder title and description (in this example, "Test Folder")
A hyperlinked title and thumbnail that when clicked, opens directly to that content on JSTOR
Tombstone metadata for each item (date, creator, and linked collection/book/journal)
To export, select Export PDF found in the drop-down menu contained within the Export option. A progress bar will indicate that the download is processing. Export speed will vary depending on the size of the folder you are creating a reading list from.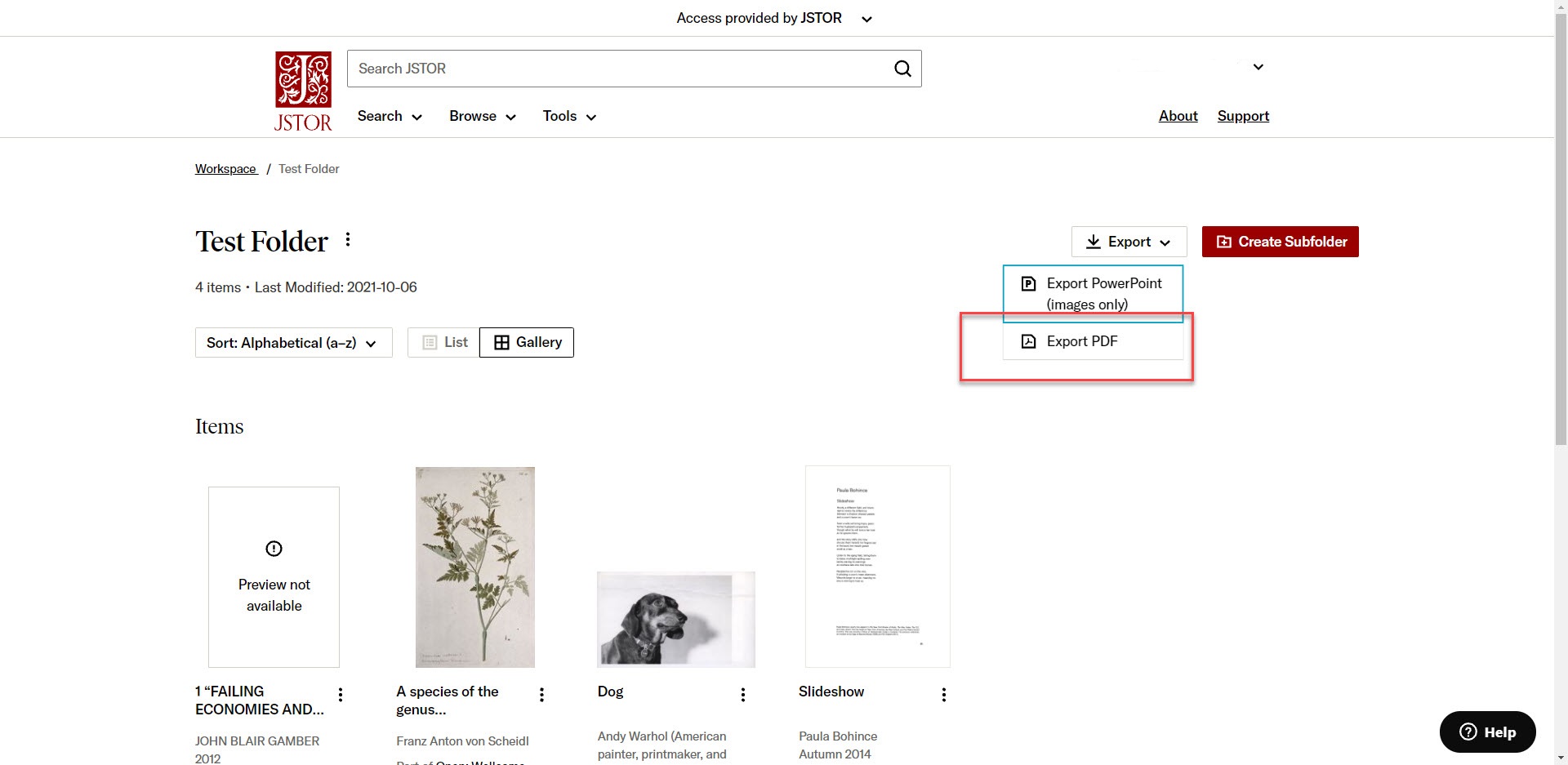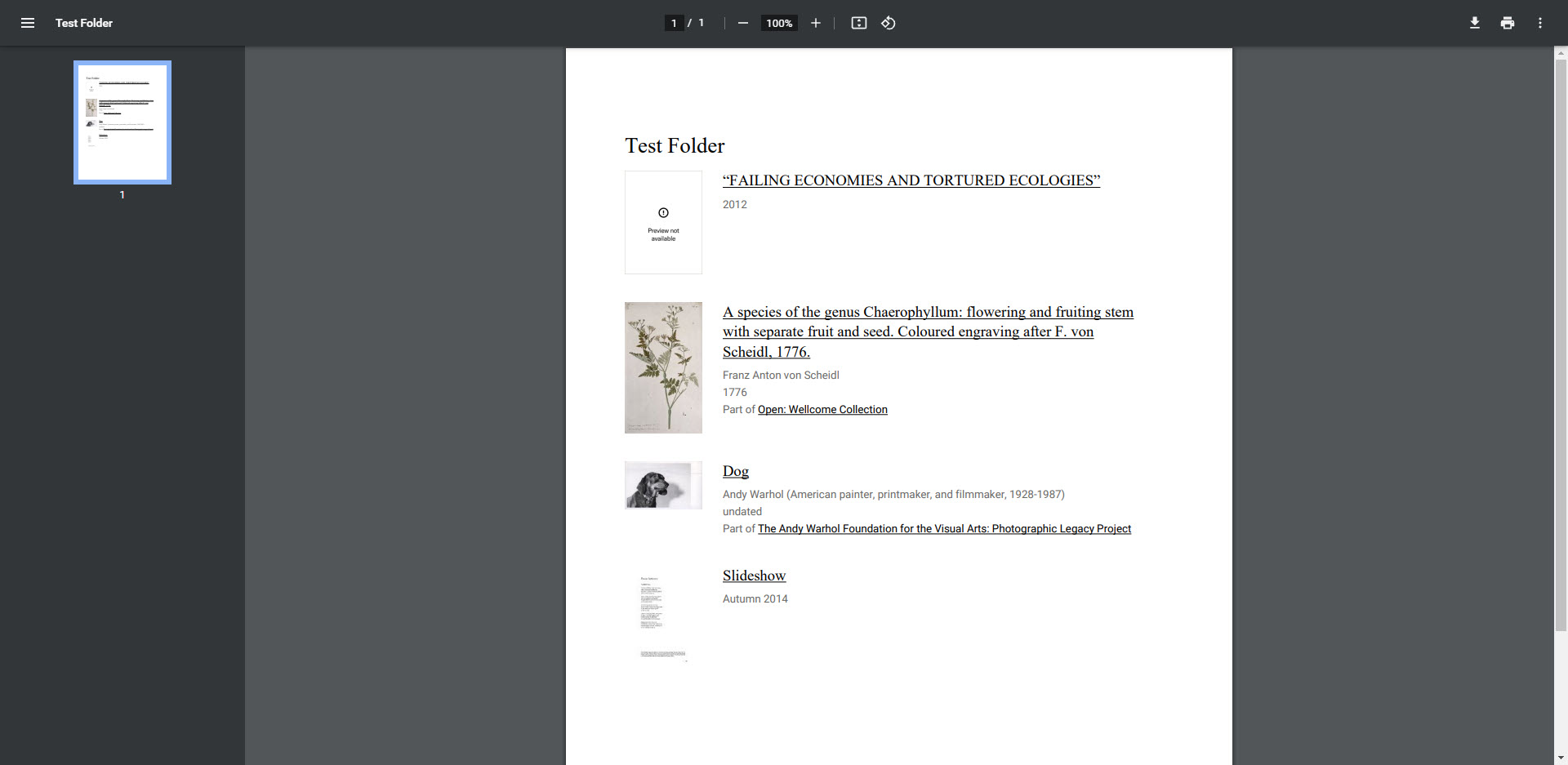 Exporting Images to PowerPoint
The ability to export image collections to PowerPoint enables users to review, describe, manage, and add images for presentation in a visual format on- or offline. It can be a valuable tool for sharing, instruction, presentation, and studying with visual content.
Once you have selected a folder to export, note that your presentation folder description will export as the public title of your PowerPoint slide deck. Any description details you wish to add about the presentation will also export as a private note in the deck.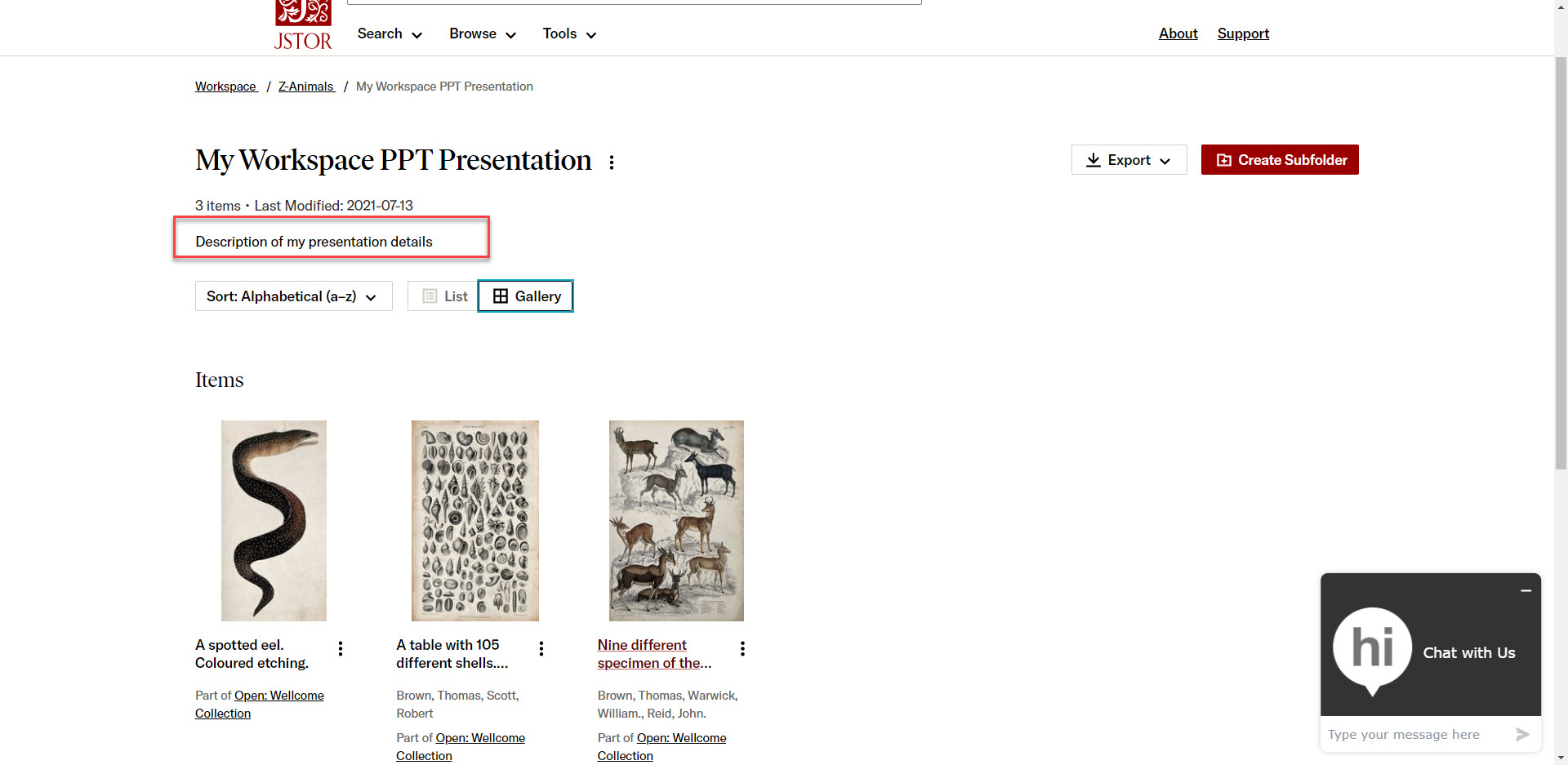 Once you have selected a folder of images that you would like to use for your PowerPoint and have added any description detail text, select "Export" and then confirm.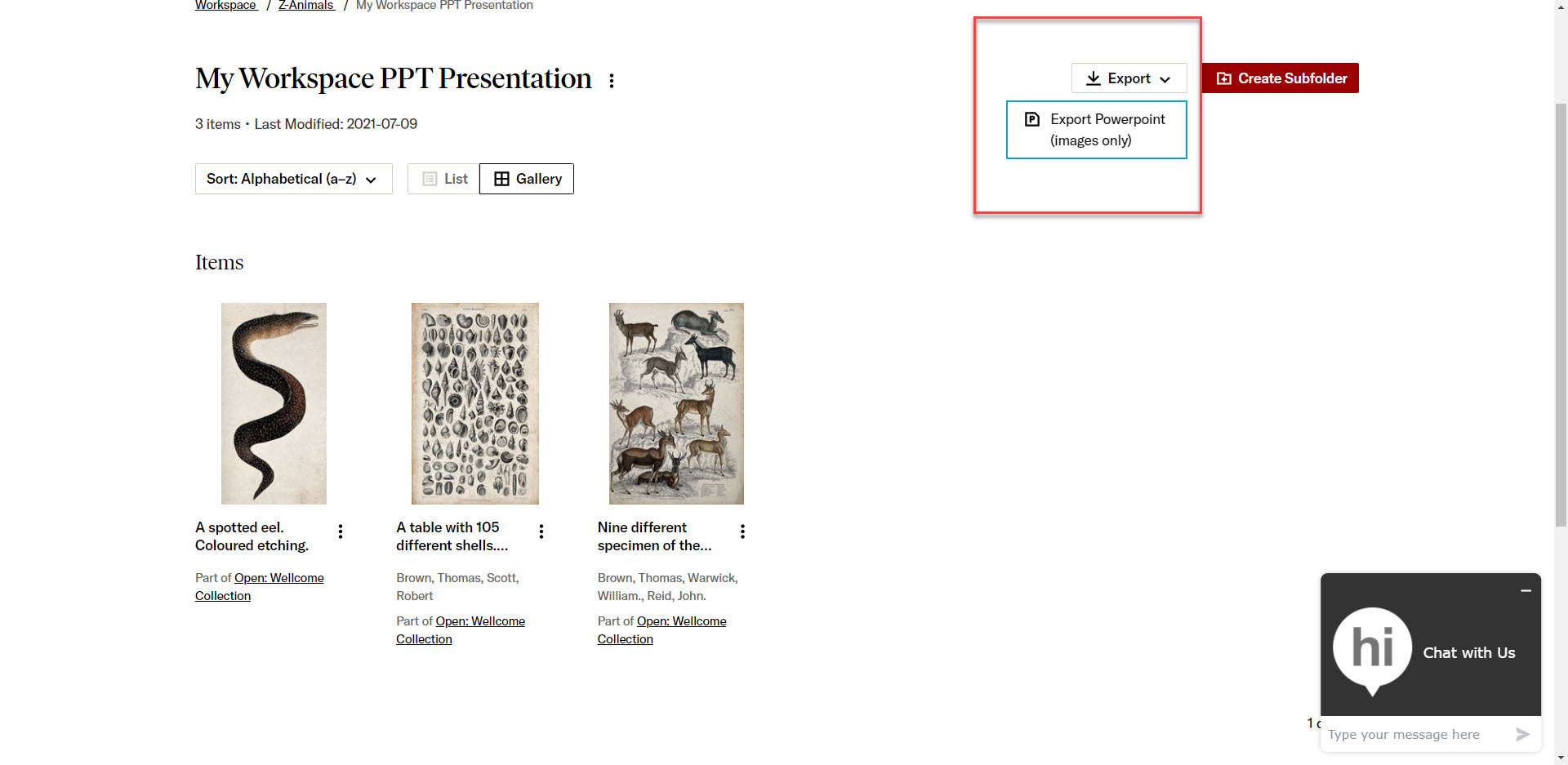 You will know your export is working as a progress bar will inform you of the file's status. The export speed will vary, depending on the number of images selected.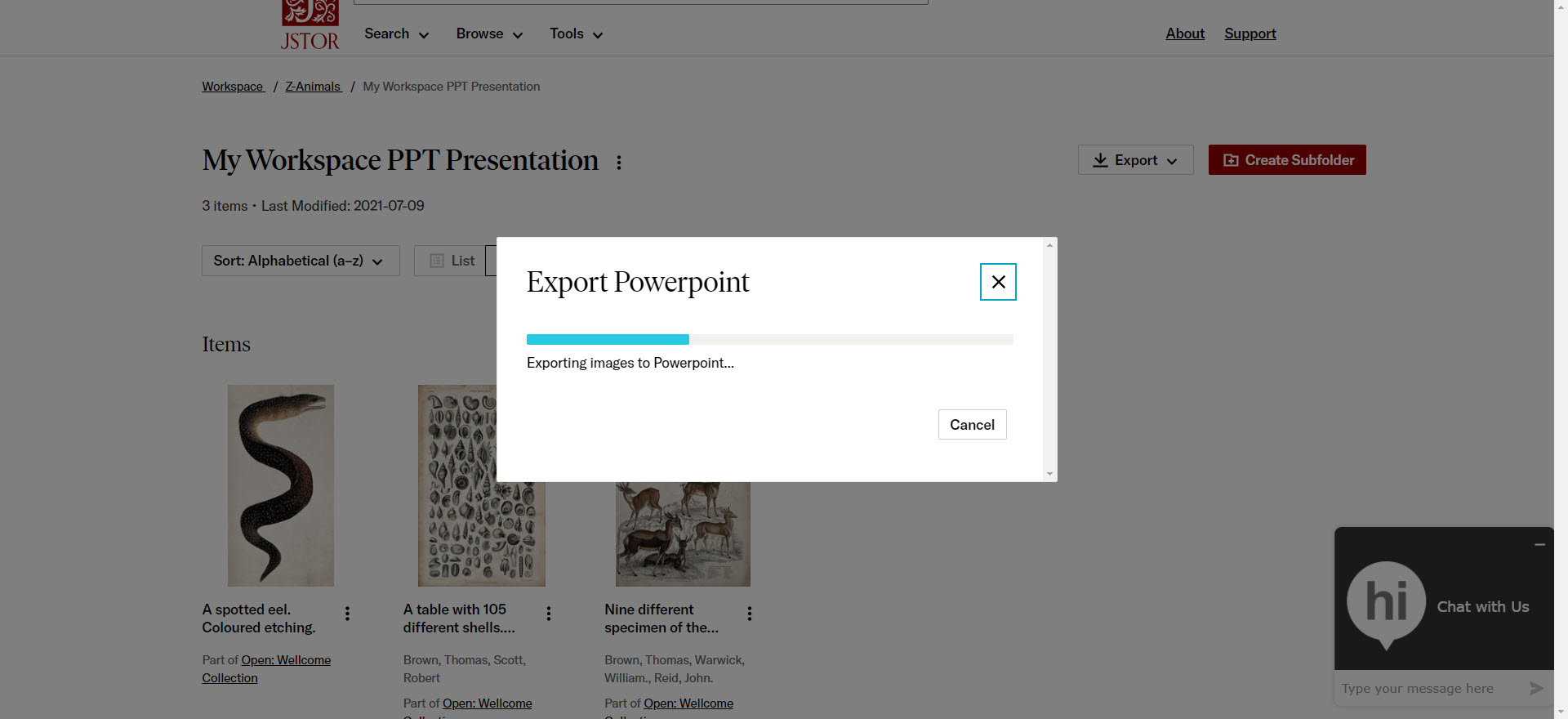 Once your .pptx file is ready, you will find it in your Downloads. To open, you must have Microsoft PowerPoint software installed. From your new downloaded file, proceed to make changes as desired within the presentation.
Export to Powerpoint additionally automatically includes any author notes for an individual item as well as descriptions for their folders. The folder description will be included in the notes section of the title slide (for example: "My Workspace PPT Presentation"), and item notes will be included with respective image slide notes. This makes it possible to work using Workspace offline, without having to go through the extra step of replicating any work.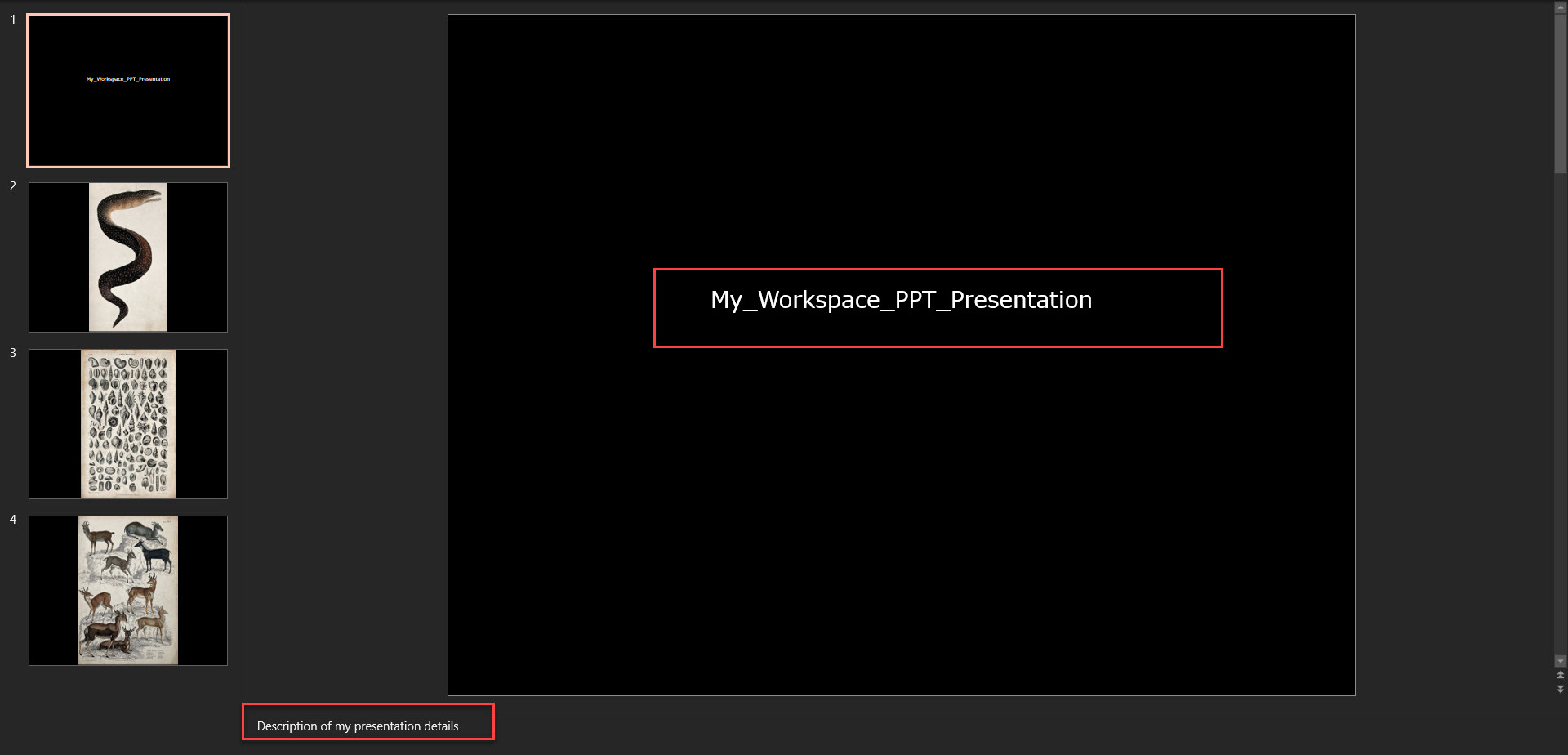 Detailed metadata about your content will appear in each individual slide note by default. This can be edited as desired in PowerPoint.
Custom Ordering
Custom ordering makes it possible to add context to your curated content through item placement and presentation. Workspace items will be displayed alphabetically by item name by default, however the option to create custom ordering within your saved folder items enables you to rearrange them as needed using either manual drag and drop or keyboard control methods.
Customizations will be automatically saved, so you can return to them as you left them or rearrange/reset by selecting another default ordering setting offered in the Sort drop-down menu.
For keyboard control:
Use Tab to navigate to a specific image, then use Enter to select the image.
Use the arrow keys to move items, then select Enter again (or Escape) to save the image's new placement.
Drag and drop:
1) Select Sort:Custom order from the sort menu.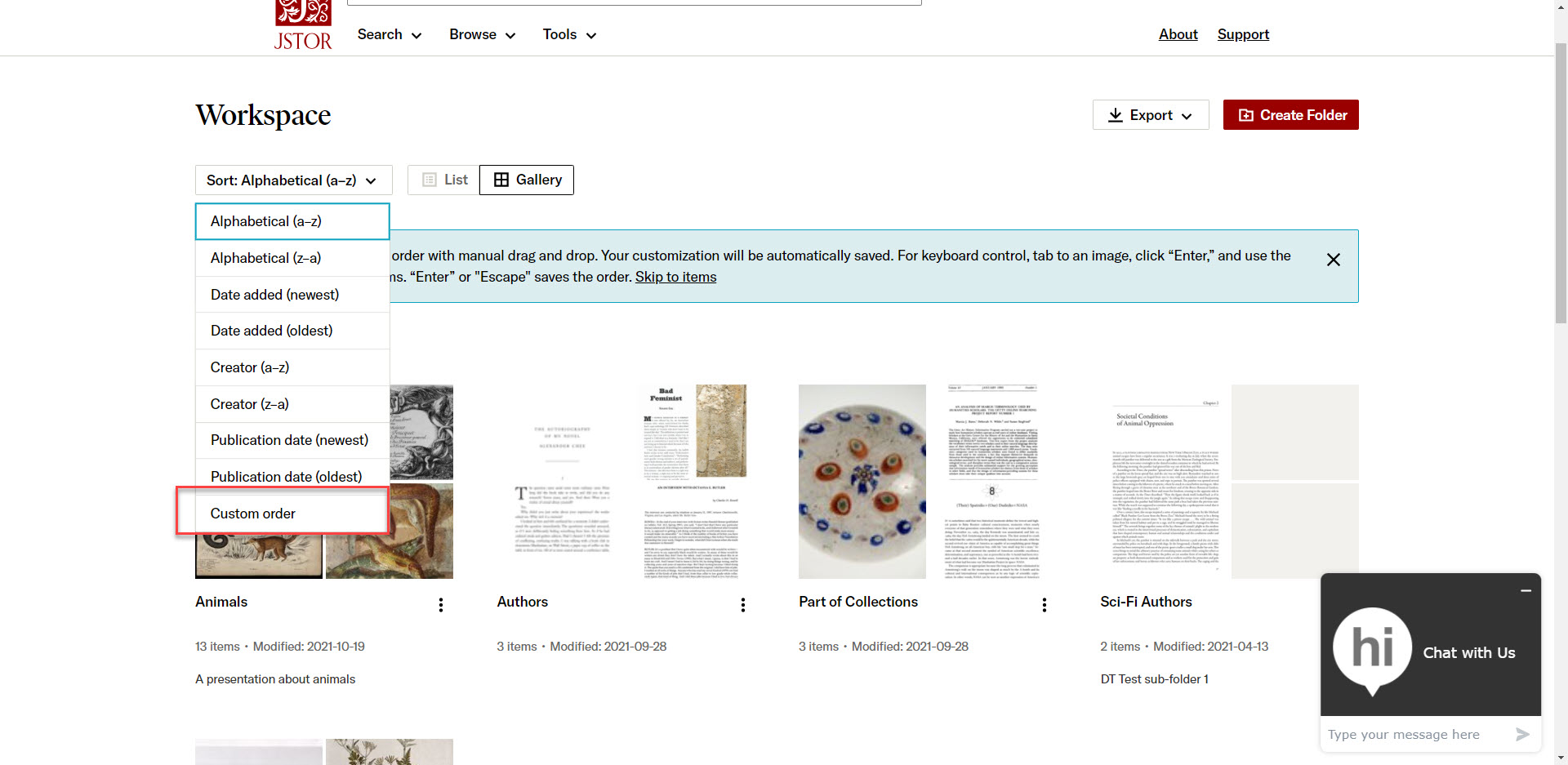 2) Scroll down to your items under "Items" and drag and drop each item by selecting the thumbnails (on click and hold- release to position the item) and rearrange until your items are in the desired order.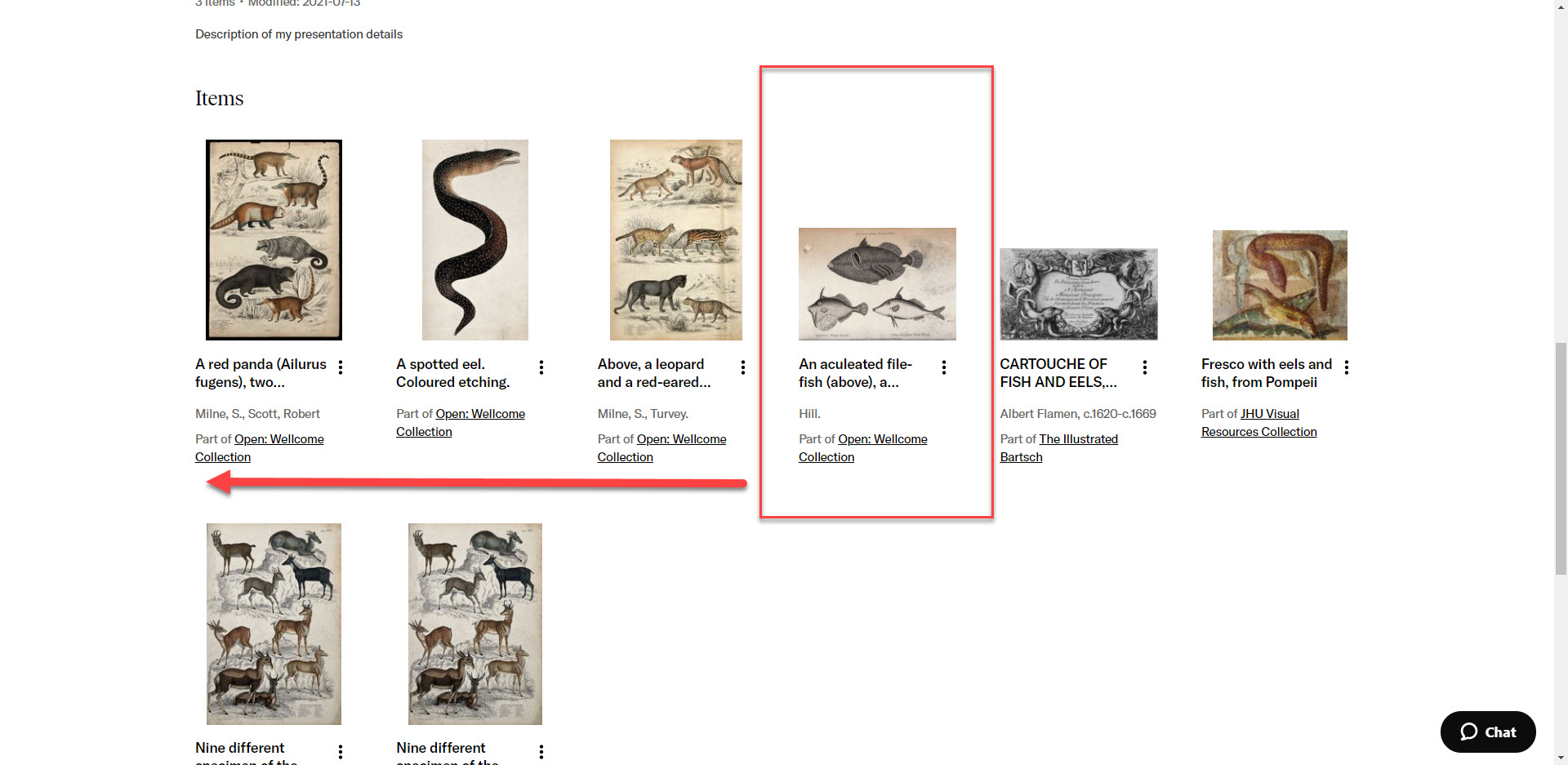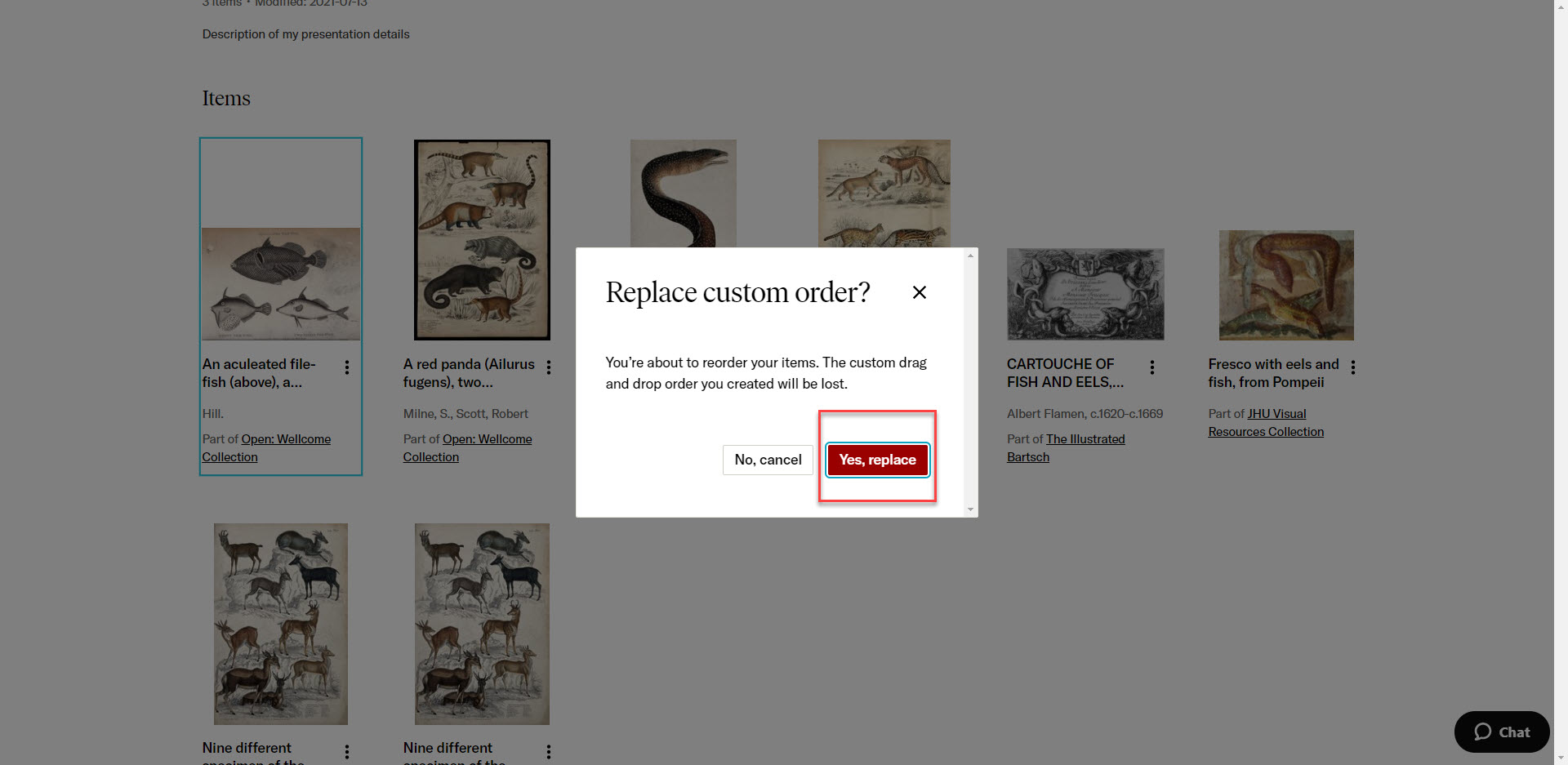 3) No further action to save is needed. When you refresh the page or log into to your Workspace again later, your Custom Order changes will persist until you decide to re-order your saved items again.