---
What's in this Article:
---
What is Workspace?
Workspace is a citation organization and management tool designed meet the needs of researchers. From gathering resources, to saving and exporting citations, to adding own notes, Workspace makes it possible to save and organize your research in your JSTOR personal account so you can return to it later.
Saving Items to Your Workspace
Example scenario:
You are searching for an interview on JSTOR with American science-fiction author, Octavia E. Butler. Enter your search term ["au: Octavia E. Butler"] Once you return the search results, on the right-hand side of each result there is an option to "Save" beside each of the search results.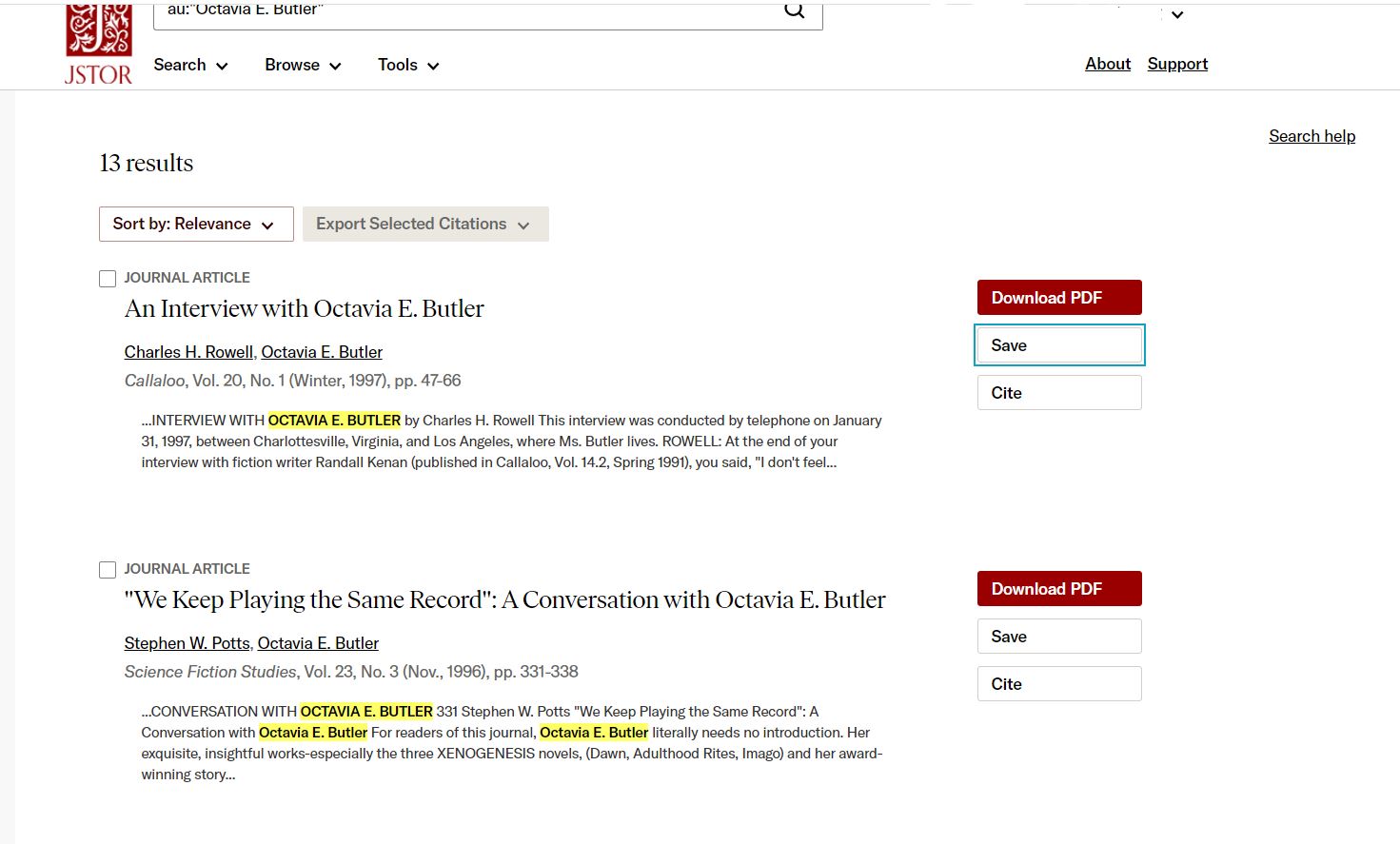 Tip: You can save items from almost anywhere on JSTOR. The "Save" option is available on JSTOR, including on the search results page, the journal page, or the item page
Once you have found an item and selected "Save," on-click a Workspace confirmation menu will open where you can select where you would like the item saved.
Within this "Save to..." menu, you have the options to:
Save an item directly to your workspace. Do this by choosing "Workspace" in the Workspace menu.
Create a new folder. If you're conducting new research or have not yet made a Workspace folder you can do by selecting "Create new folder" in the Workspace menu. If you wish to organize yourself further you can create a sub-folder within your top-level folder.
Save an item to an existing folder. Previously created folders will appear in the Workspace menu.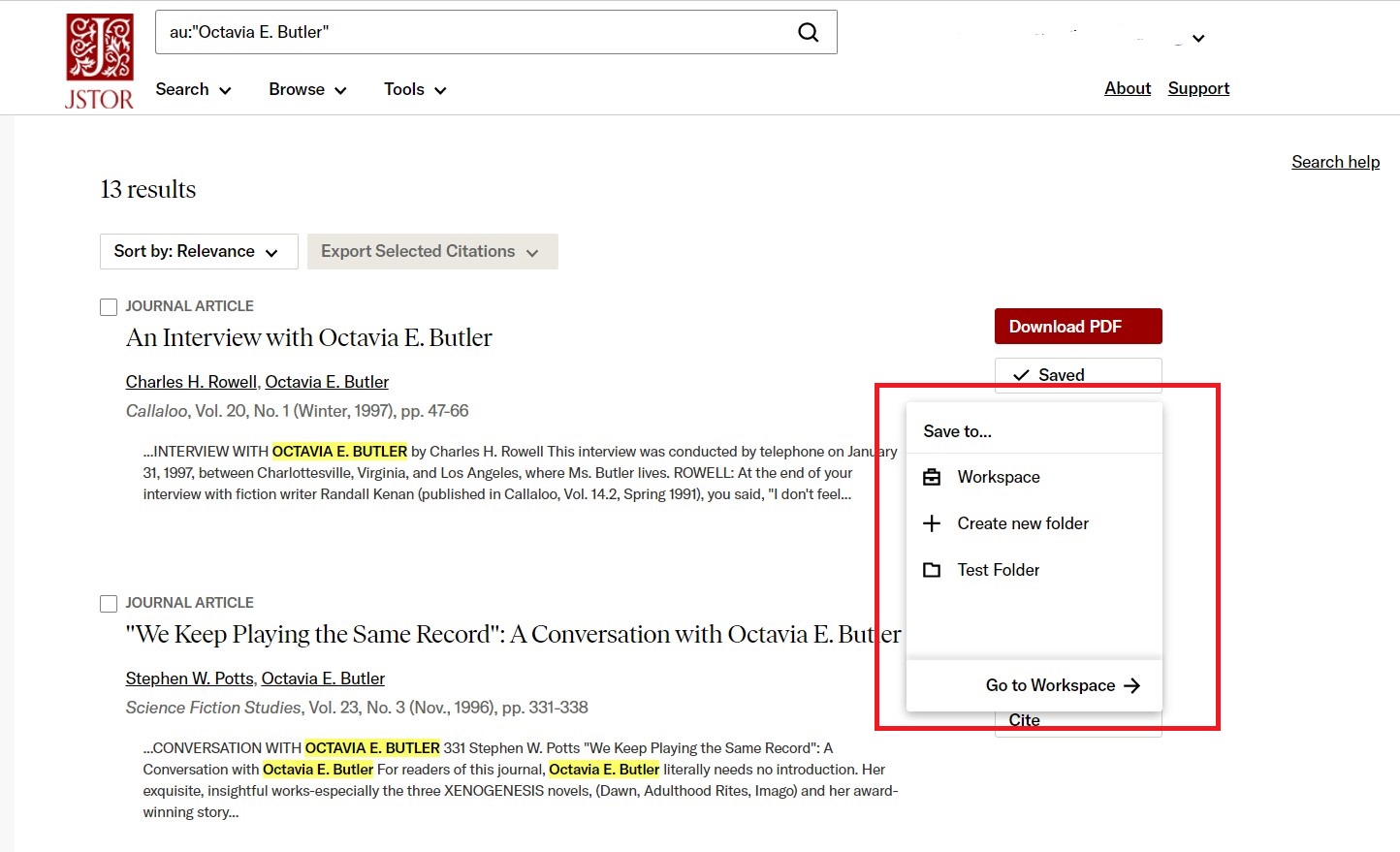 There are a few ways to be sure your items have saved properly. After you click to "Save" an item, a notification will appear confirming that the item was successfully saved. You will also note that for saved citations, the button text that previously had the option to "Save" will change to "Saved" instead.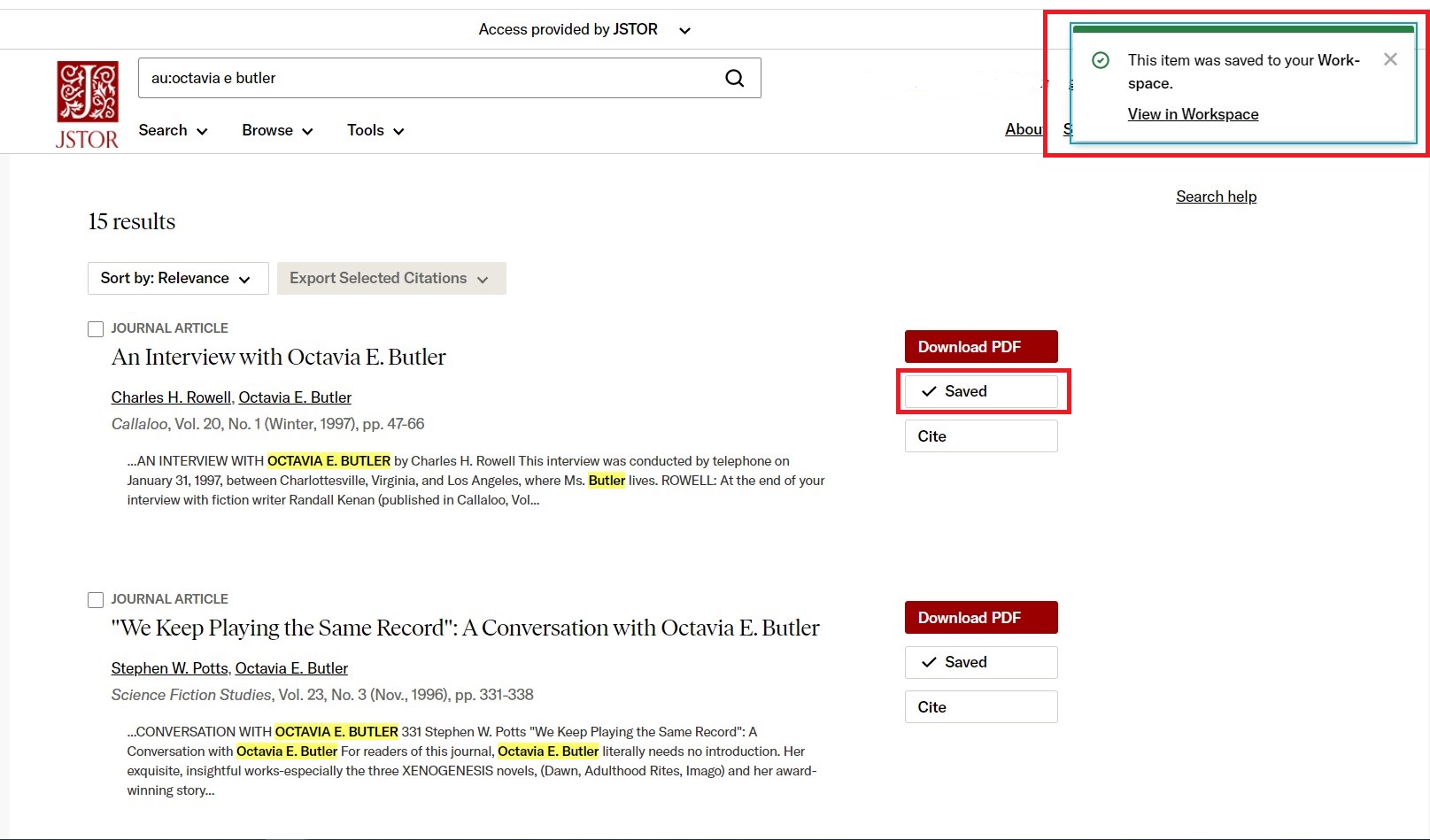 Viewing and Organizing Your Workspace
Viewing Your Workspace After Saving Item/s
There are several options to access your Workspace after saving. You might try any of the following:
Click on any of the "Saved" buttons from your previously saved articles. Select "Go to Workspace >" found at the bottom of the Workspace menu.

Click the "View in Workspace" button from the green Workspace notification window (pictured in above screenshot)

At the top of your JSTOR page, if you hover over the "Tools" menu, you will have an option to go to your Workspace.

After you create an account, you can also find your Workspace by selecting "Workspace" from the dropdown menu that branches off of your name at the top right of the screen (below screenshot).
Organizing Your Workspace
Once logged into your Workspace, you will see the articles you have already saved, each with several options included underneath.
To stay organized, you have the option to create different folders, which can be especially useful when you have many saved items that you might want to organize by theme, date, topic, project, or type.
You Can Do the Following Workspace:
Create new folders and sub-folders

Move saved articles to existing folders

Cite items and export citations in various formats and tools using auto-formatted citations

Delete Citations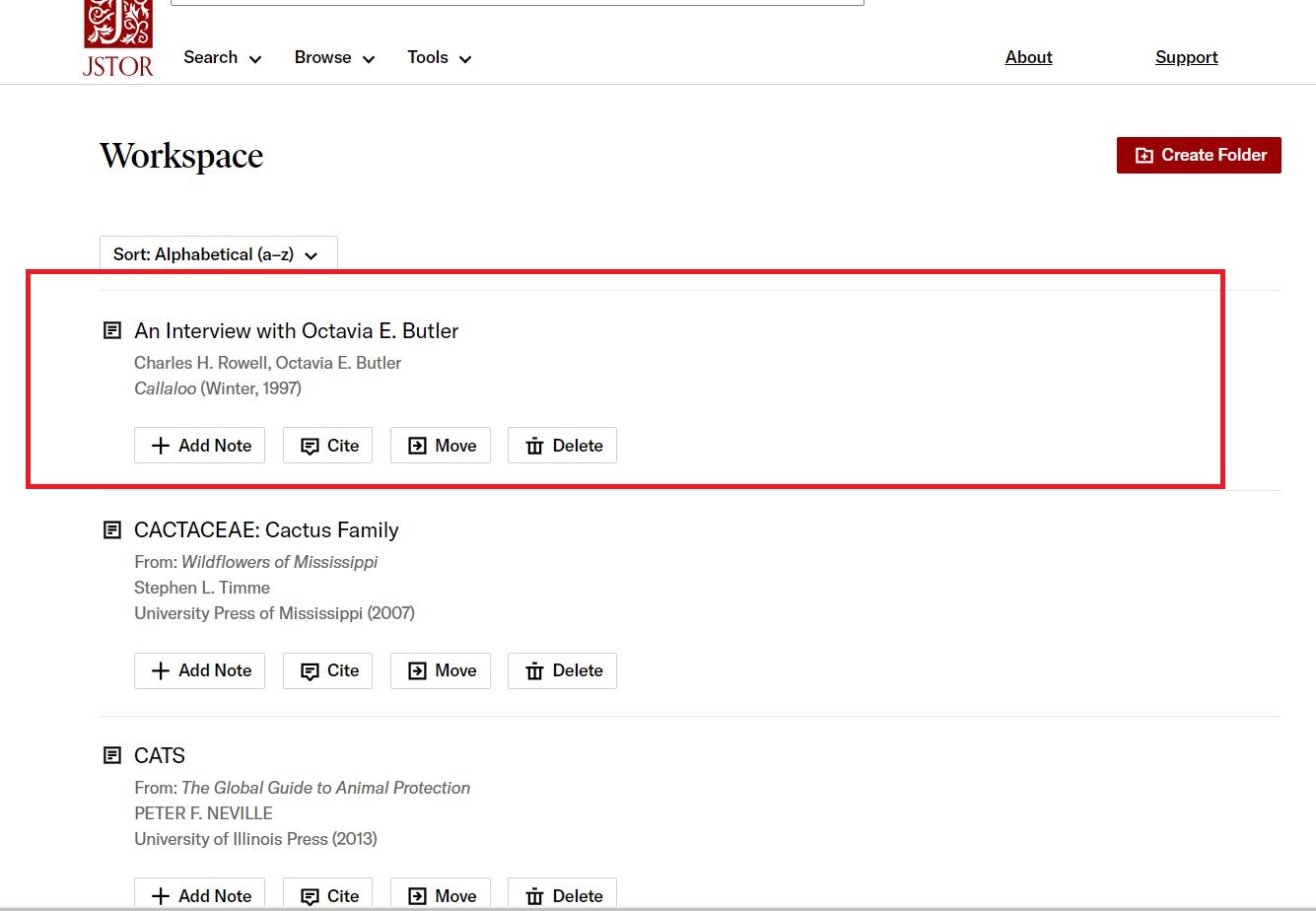 To move articles into or out of folders, select "Move" next to the item you want to organize, then click the desired destination from the "Move to..." menu to add them to an existing folder.