---
What's in this Article:
---
What is Workspace?
Workspace is a tool for students, researchers, and faculty. With your personal Workspace, you can:

Save articles, book chapters, images, and primary source materials to revisit anytime
Cite articles, book chapters, and images
Add custom notes to saved items
Organize your saved items however you want with a flexible folder structure and sorting options
Export content and citations to share with others
You must first have a registered JSTOR account and be logged into your account. If you are NOT logged in, you will be redirected to the registration page.
Saving Items to Your Workspace
Save the items you find to your personal Workspace, where you can access, share, and organize them as needed. Your saved items might include:
Articles

Book chapters,

Images
If you are new to JSTOR and/or the Workspace, your Workspace will not yet have any saved items: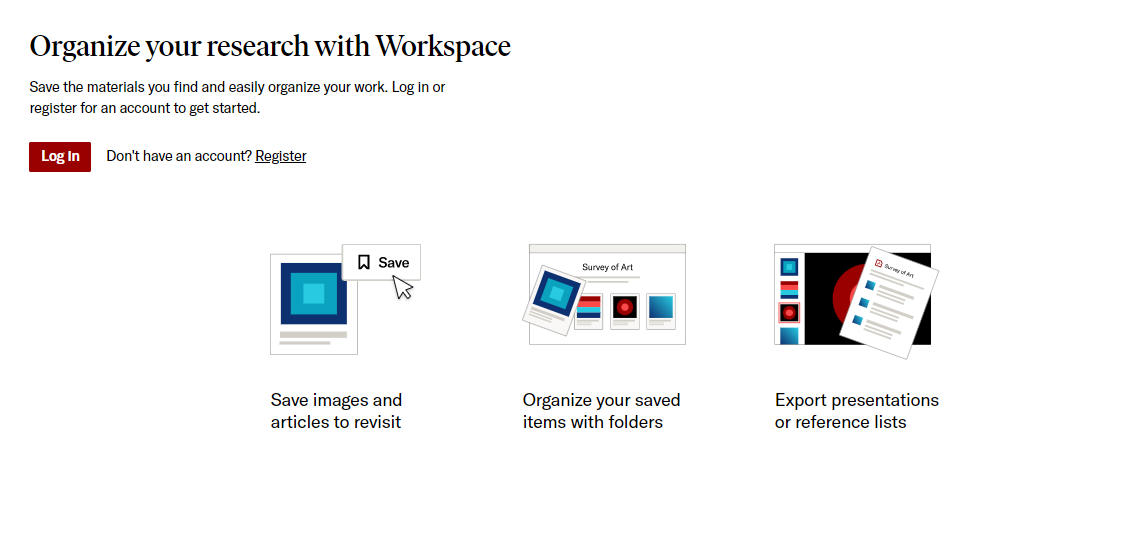 Learn more about how to save items to your Workspace, refer to the below example scenarios, or watch this short video:
Example scenario: Saving an Article
You are searching for an interview on JSTOR with American science-fiction author, Octavia E. Butler. Enter your search term ["au: Octavia E. Butler"] Once you return the search results, on the right-hand side of each result there is an option to "Save" beside each of the search results.
Tip: You can save items from almost anywhere on JSTOR. The "Save" option is available on JSTOR, including on the search results page, the journal page, or the item page.
Once you have found a specific citation you would like to save, select "Save," on-click a Workspace confirmation menu will open where you can select where you would like the item saved.
Within this "Save to..." menu, you have the options to:
Save a text or image citation directly to your workspace. Do this by choosing "Workspace" in the Workspace menu.
Create a new folder. If you're conducting new research or have not yet made a Workspace folder you can do by selecting "Create new folder" in the Workspace menu. If you wish to organize your items further you can create a sub-folder within your top-level folder. 
Save a text or image citation to an existing folder. Previously created folders will appear in the Workspace menu.
There are a few ways to be sure your items have saved properly. After you click to "Save" an item, a notification will appear confirming that the item was successfully saved. You will also note that for saved items, the button text that previously had the option to "Save" will change to "Saved" with a checkbox instead.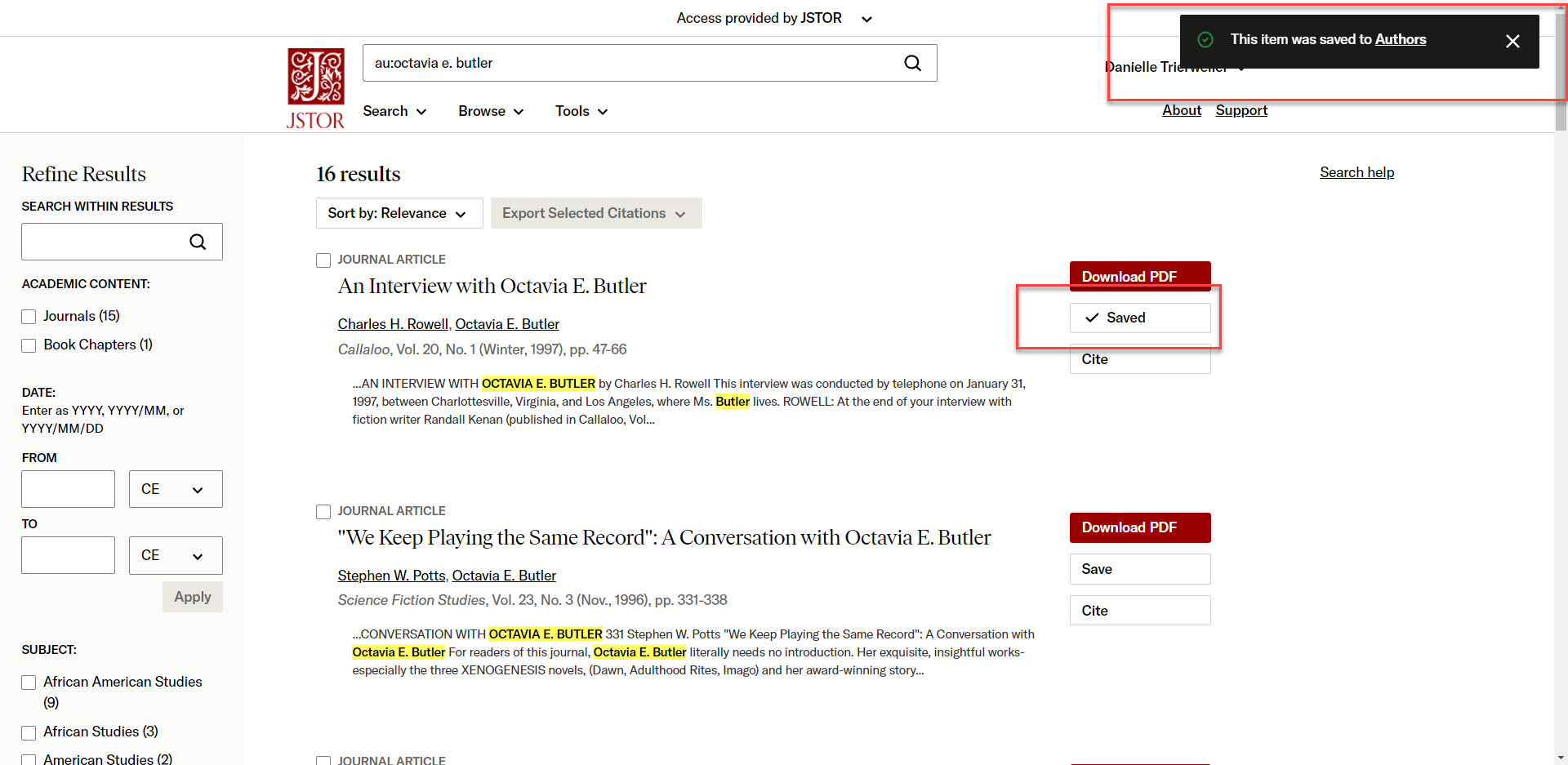 Example scenario: Saving an Image
Your image access will vary across collections and image rights. 
You searched for the keyword "dachshund" and although many interesting text-based search results were returned, you note that in image results for your keyword, there is a specific photo of artist Andy Warhol's dog that might be a great example or most relevant to your research topic, Famous Pets in Art History.
You want to Save this image to your Workspace so you can find it later.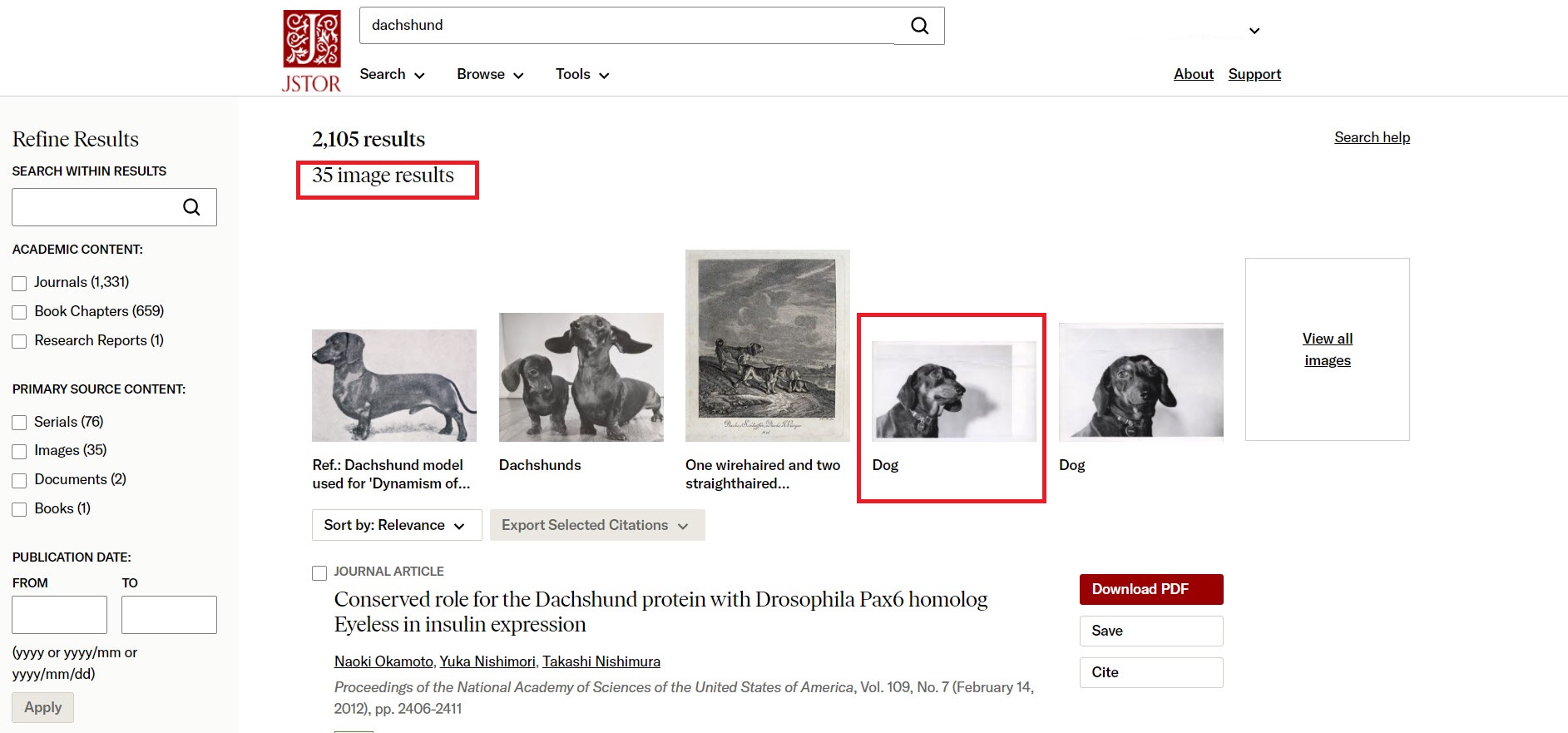 Once you are on an item detail page for an image that you wish to save, select "Save." Several other actions are available including the options to cite or download the image if you have access.  
In this example, I do nor have a folder for this project yet, so I chose to place the image of Andy Warhol's dog into a temporarily-name folder which labeled "Test Folder." 
Once you save your item, from either List or Gallery view, you can select from additional options including:
Add custom notes
Cite the individual item
Move the individual item
Delete the item from your Workspace