You must first have a registered JSTOR account and be logged into your account. If you're not logged in, you'll be prompted to register or log in.
Present mode lets you to display items in your Workspace in full screen, zoom and pan content, and compare items from your Workspace or search results side by side.
Presenting your items in Workspace
There are two ways to present items in your Workspace:
While in your Workspace, open the drop-down menu next to your folder's name and select Present.

Or go to the folder you wish to present and click the Present button in the Menu bar.

Note: Present mode is only available within a folder and doesn't display the contents of subfolders within the folder being presented.
Using Present mode
To zoom in on an item, you can use your mouse or trackpad's built-in zoom functionality or use the Zoom in or Zoom out buttons. See How to Zoom in on a JSTOR Article for more information.

To reset an item to fit the screen, click the Fit to view button.

To exit Present mode, use the Escape key (Esc) on your keyboard or the Exit full screen button.

To pan around an image or panorama, click and drag or use the W, A, S, and D keys on your keyboard.
To tab through the items in your folder, use the left and right arrow keys on your keyboard or the Previous and Next arrow buttons.
To tab through the pages of an article or document, use the left and right square/curly bracket keys on your keyboard or the Next page and Previous page arrow buttons on either side of the page.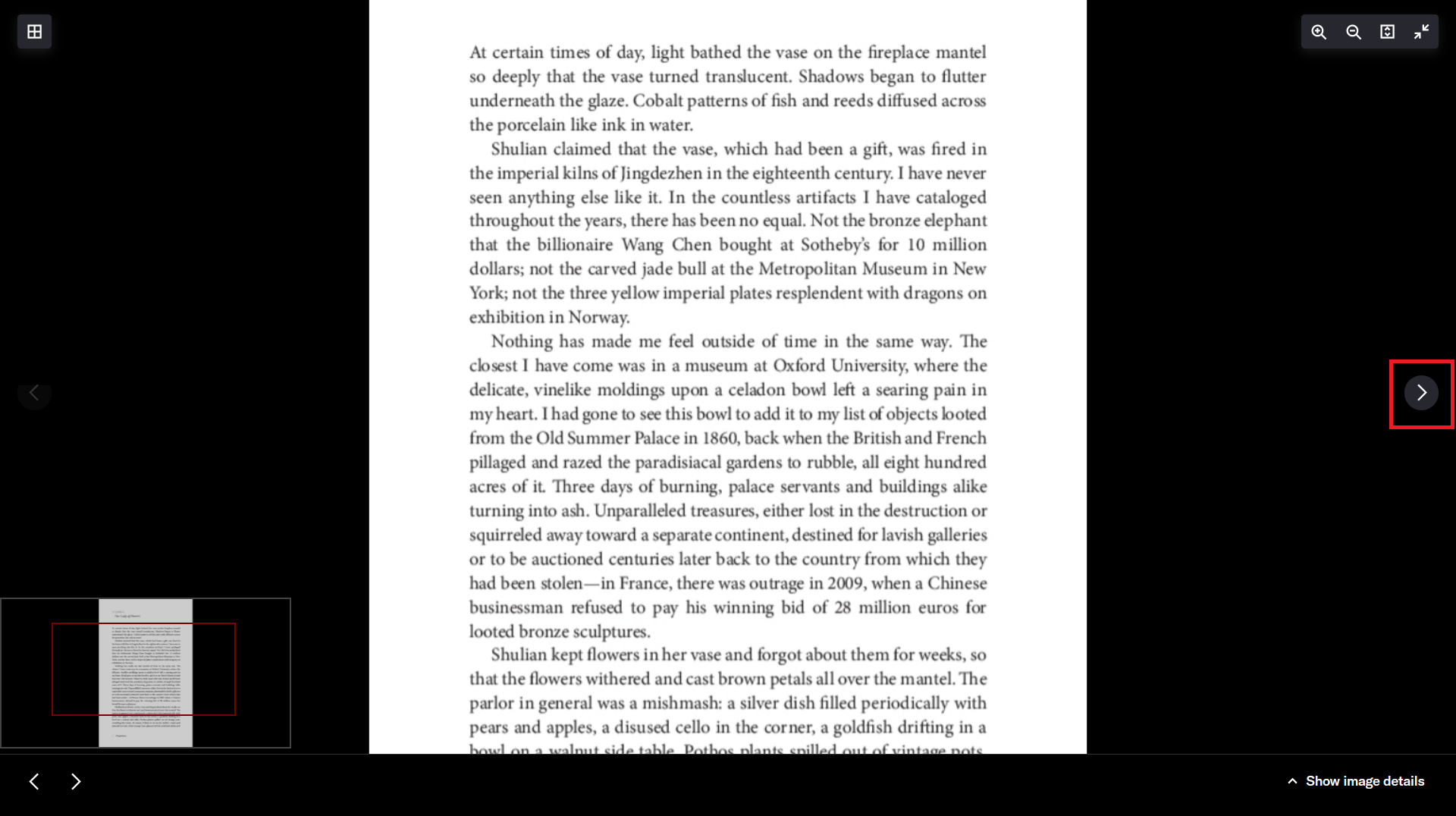 To display a document's page thumbnails, use the Toggle thumbnails button.

To show the title and date of your item while presenting, use the Show item details button. You can hide item details again with the Hide item details button.

To compare items from your Workspace or search results alongside your original item, use the Compare button. See Using Compare Mode for JSTOR Images for more information.