---
What's in this article:
---
You must first have a registered JSTOR account and be logged into your account. If you are NOT logged in, you will be redirected to the registration page.
Viewing Your Workspace After Saving Item/s
There are several ways to view and organize your saved items and citations in Workspace. Once you have completed searching for and saving new items, you may use any of the following to access them:
Option 1: Select "Workspace" in the main navigation at the top of the page.
Option 2: Hover the "Tools" menu in the main navigation at the top of the page, and select "Workspace" in the drop-down menu.
Option 3: Select the "Workspace" link in the notification pop up that appears after after saving an item.
Once you're in your Workspace, you'll find "Items." Under "Items" you will find individually listed citations for any content you saved below any existing folders. Each with the same several options included underneath.
Below is an example of the options available while viewing a saved item citation in your Workspace: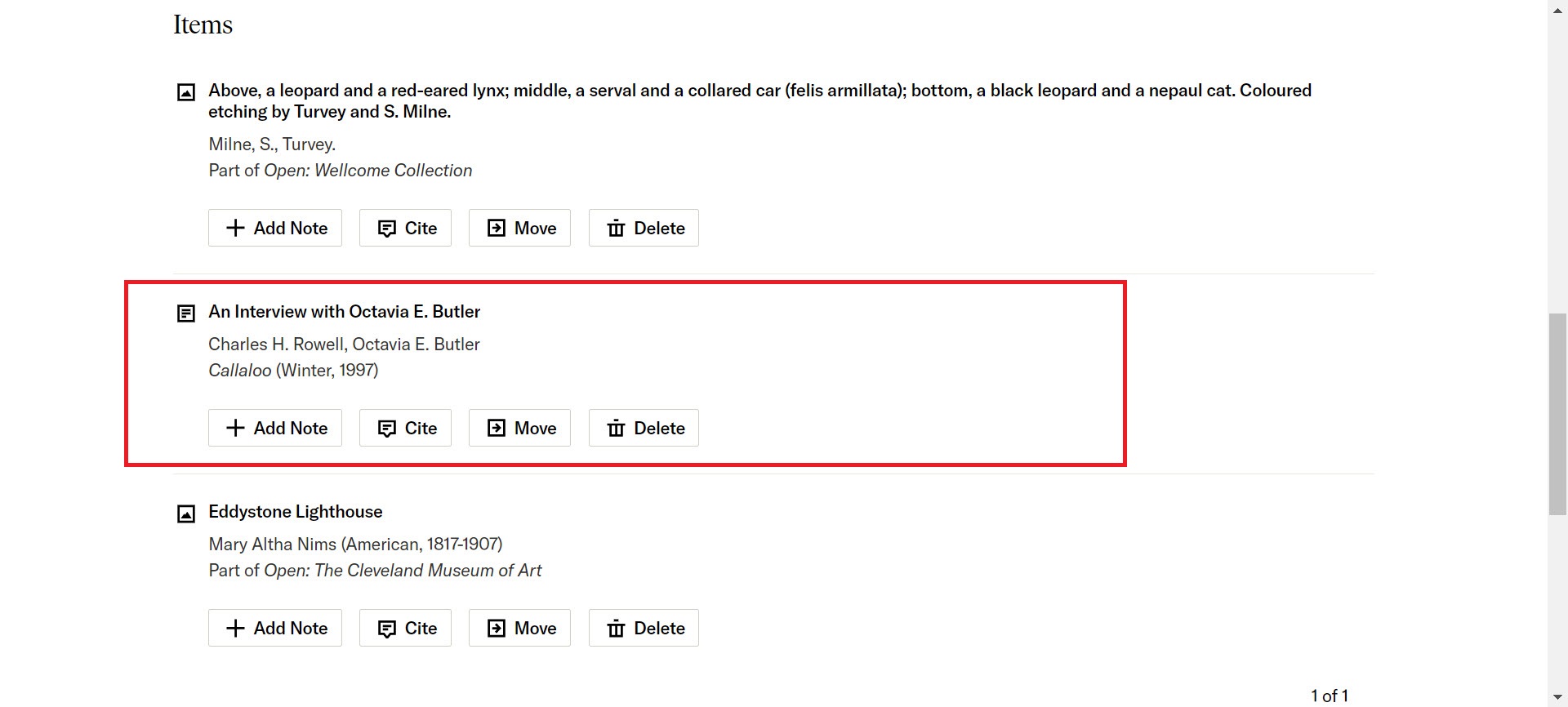 To keep your research organized, you have the option to create different folders, add custom notes, create and export item citations, and delete citations as needed.
Folders
To keep your research items organized, you have the ability create new and manage existing folders and sub-folders in your Workspace. You can also move, duplicate, name, and re-name folders. These abilities can be especially useful when you have many saved items that you might want to organize by theme, date, topic, project, or any other type.
Example scenario: You find a piece of content on JSTOR that you're interested in referencing for your research on American authors, "An Interview with Octavia E. Butler." This article citation is already saved to your Workspace and you have added it to a folder you created earlier named "Authors".
In your Workspace, you're able to view your saved items in addition to any other items previously saved to the same folder in "List" view: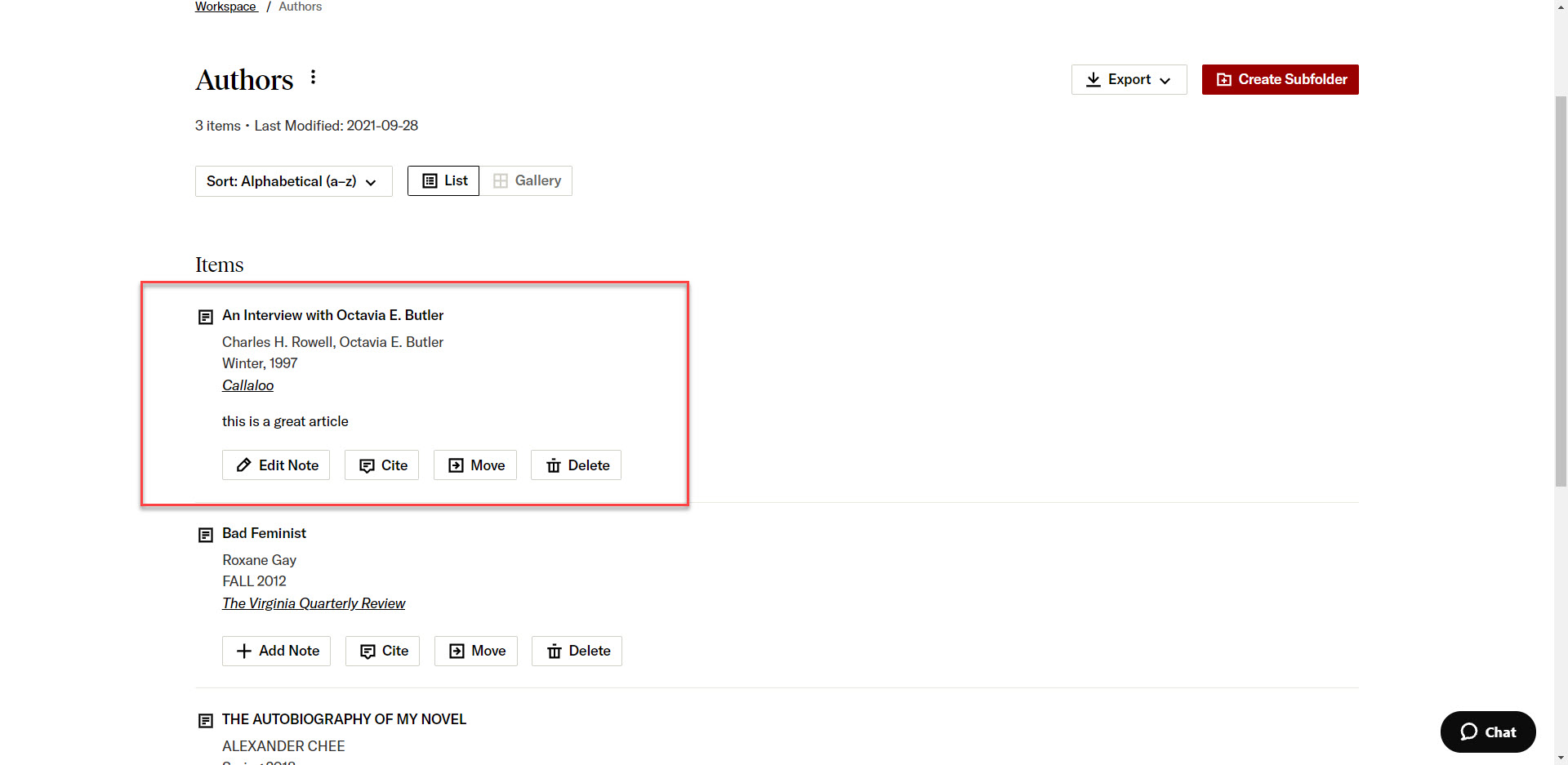 To move items into or out of folders, select "Move" next to the item, then select the arrow next to the name of the folder (in this example, it is "Authors.")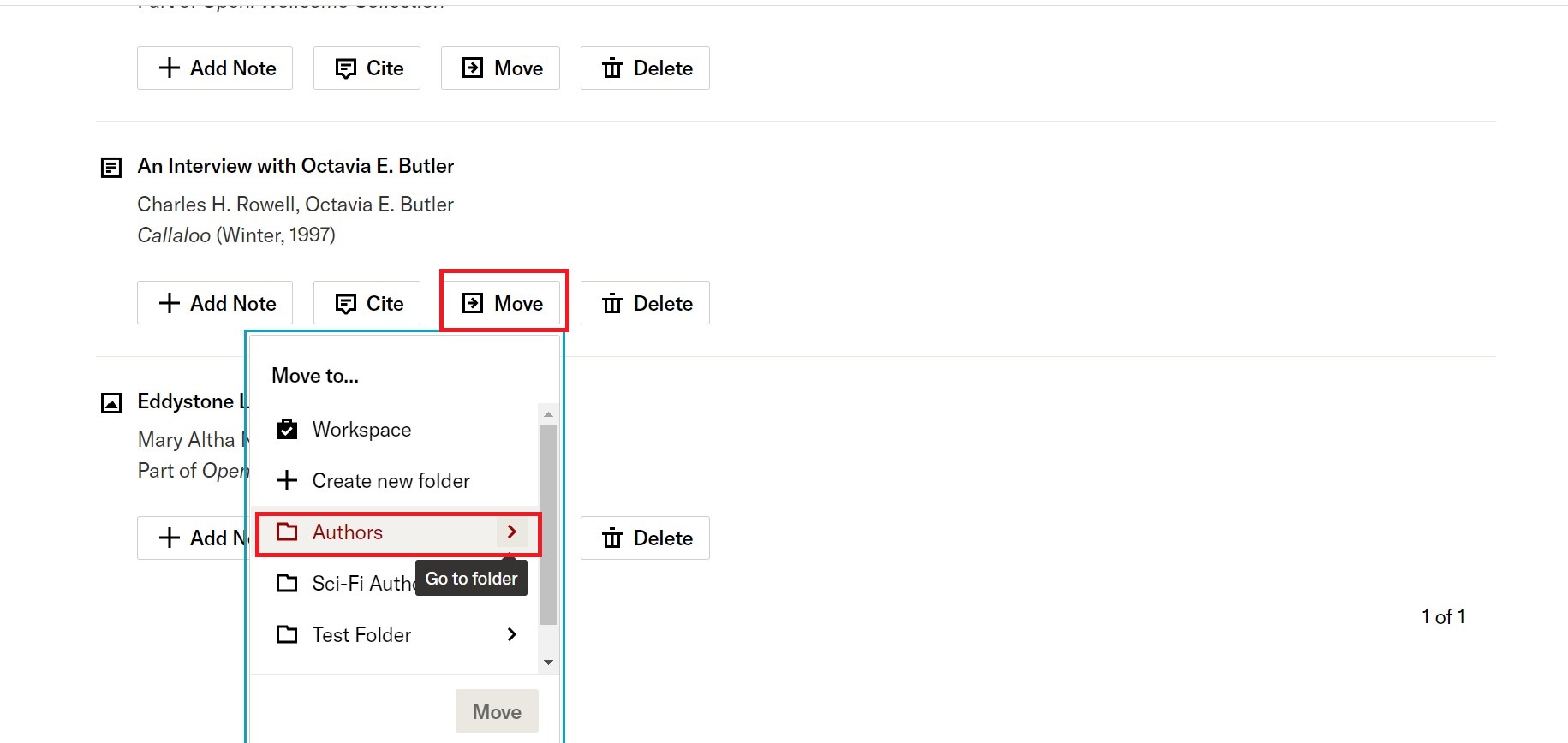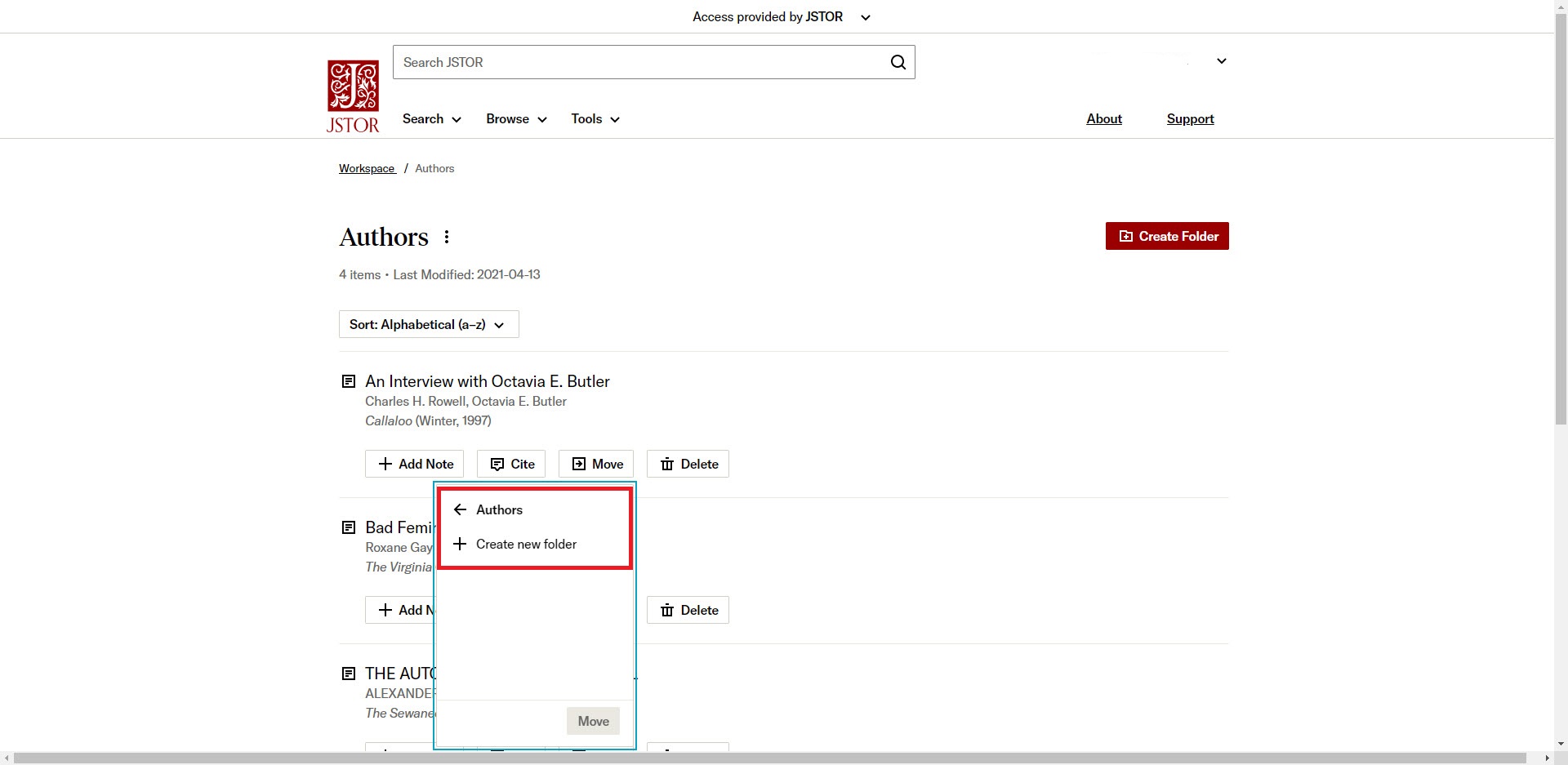 A "Move to..." menu should appear where you may select the desired destination from the existing folder/s.
In this example, the article you are moving is already in the "Authors" folder, so it appears with a small folder with a check-mark on it. If you wanted to move the article to a different existing folder such as "Sci Fi Authors" select the destination folder (which highlights when selected) and click "Move" to confirm.
To move a citation into a sub-folder, click on the parent folder twice (once to highlight, once to access the child folder-or as many times as needed to reach the destination sub-folder,) and then click "Move" to confirm. 
Note: If you have many folders in your Workspace, you may need to use the scroll bar on the right-hand side of the "Move to..." menu in order to view the desired destination folder.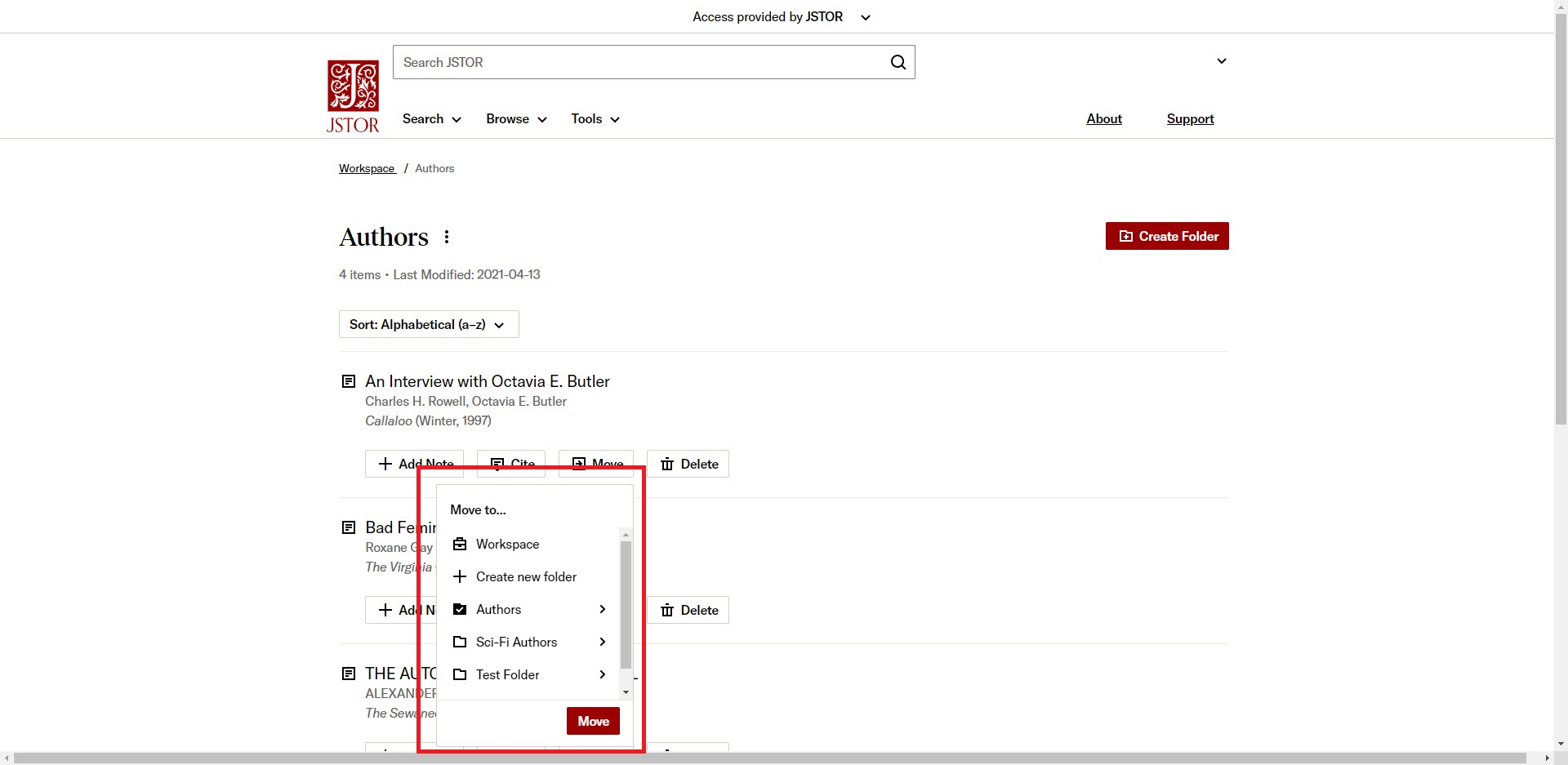 Citations and Notes
To cite items and export citations in various formats, Workspace includes tools that using auto-formatted citations. Select the individual item you would like to cite and select "Cite."
To Delete citations, select "Delete" underneath the individual item you would like to remove from your Workspace.
To add customized notes, select "Add Note" and type in your note. If an citation note already exists, instead you will have the option to "Edit Note."
Viewing and Organizing Folders
Workspace offers different ways to work with your saved content. You might use either List or Gallery view to organize your folders at the folder level. Additionally, folder-level views make it possible to sort and shift  multiple item views in ways that offer new ways to view and manage your item collections.
As available, thumbnail previews display for both text and images of your saved items offer a visual way to stay organized and identify content. 
Use the Workspace drop-down menu to choose from various sorting options for your folders (such as alphabetically, by folder creator, or by date)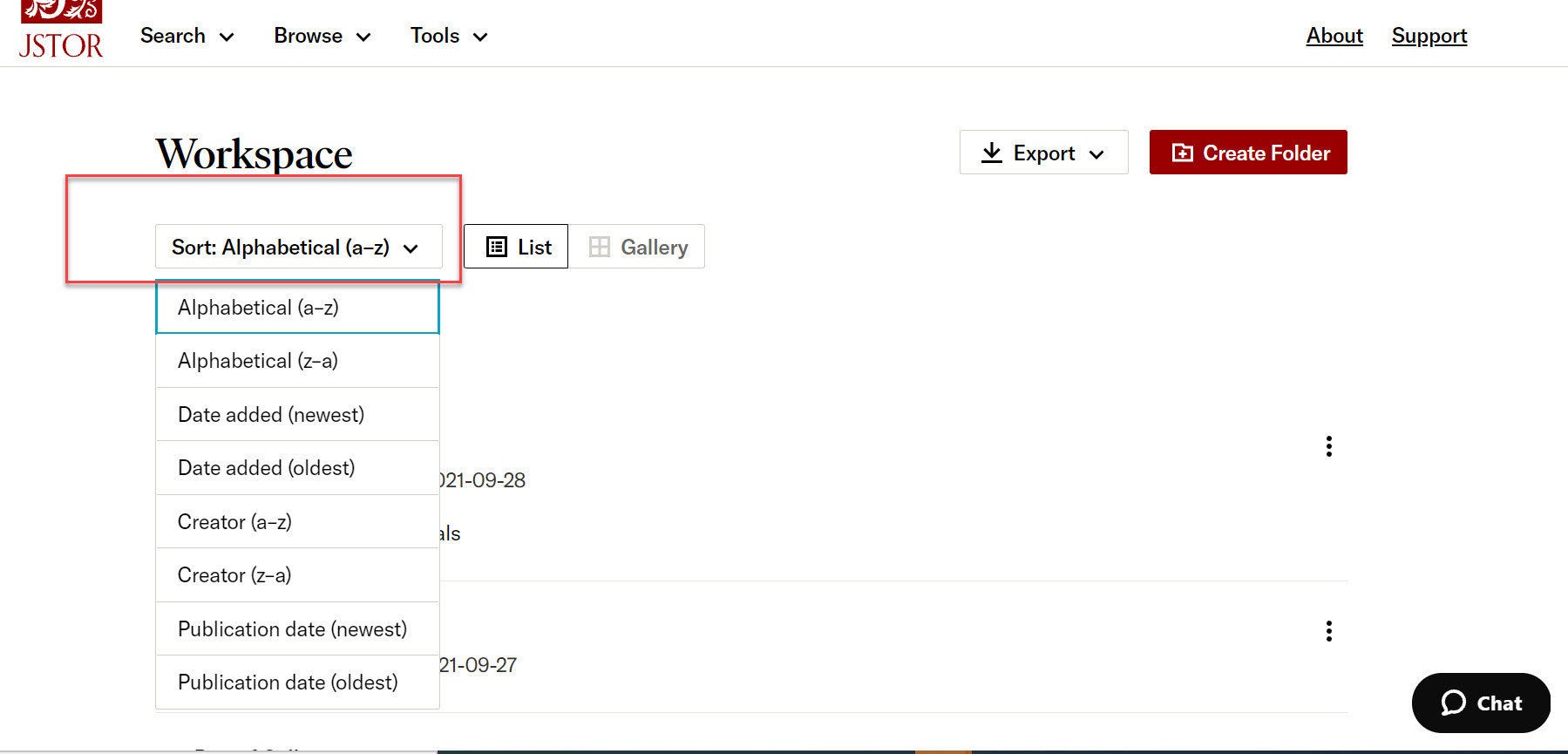 The options to select either "List' or "Gallery" views may be used at the item level as well.
List View
In List mode, your Folders (found at the top of the page) and Items (found at the bottom of the page)  are presented by the Sort order selected which defaults to Alphabetical (a-z).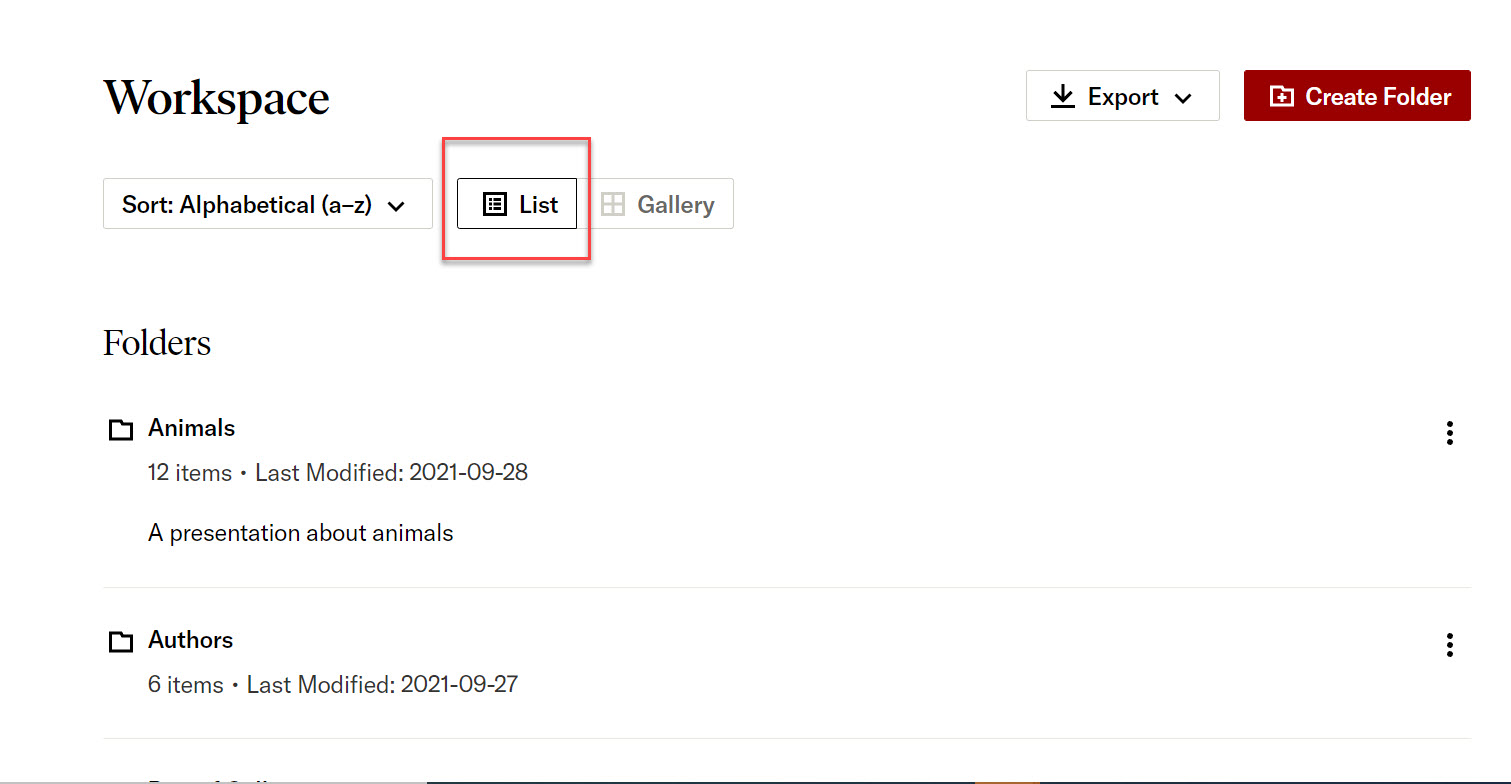 Gallery View
Gallery View is another option to display which presents your folders in a grid layout. Similar to List view, in Gallery your Folders are presented by the Sort order selected which defaults to Alphabetical (a-z).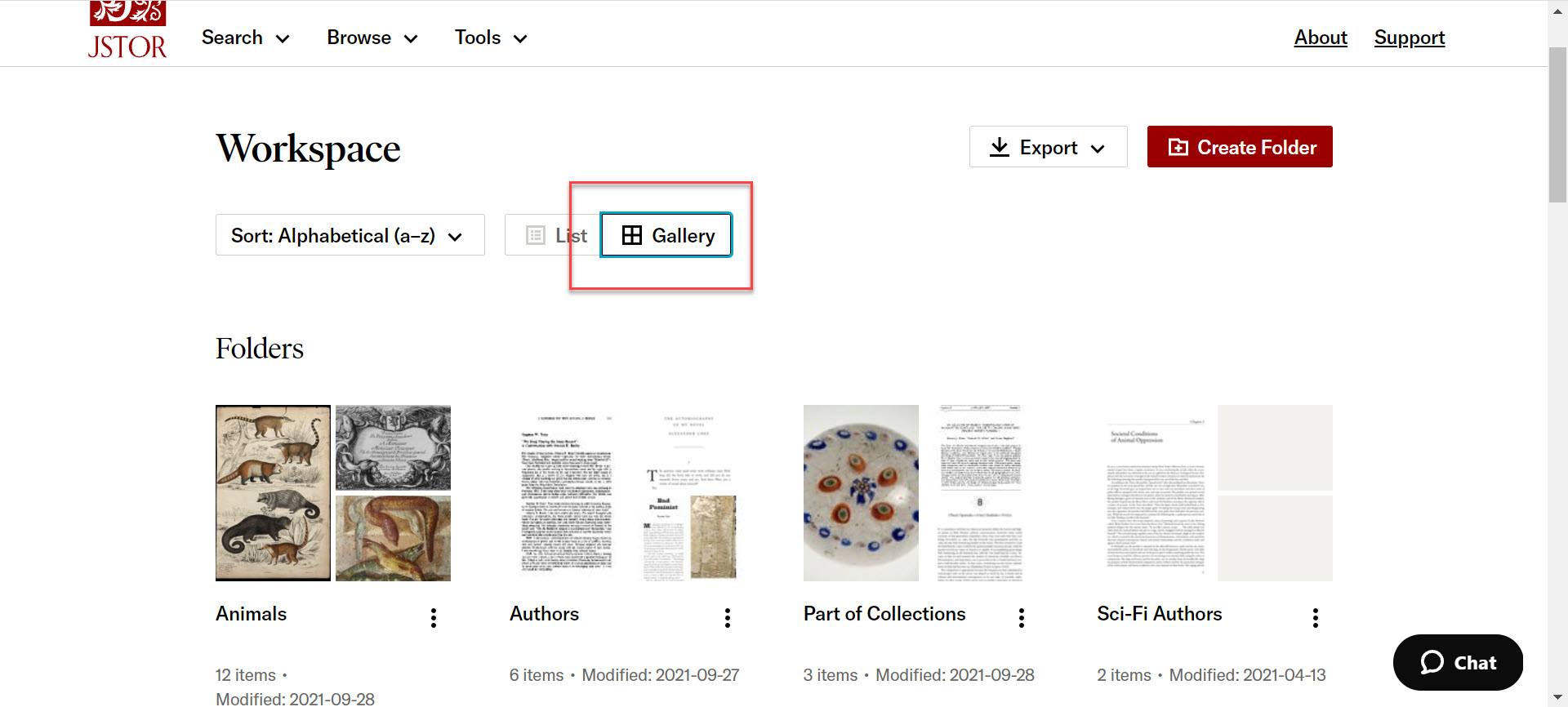 Duplicating Folders
You can duplicate folders in your workspace by clicking the three vertical dots next to your folder's name and selecting 'Duplicate' from the menu that appears.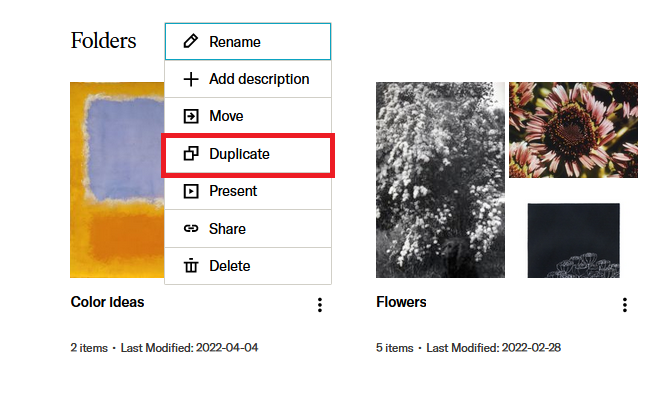 After clicking 'Duplicate,' you will see a pop up that allows you to rename the copied folder and add a description if desired. Click the red 'duplicate' button on this pop up to duplicate the folder. The duplicated folder will appear next to the original.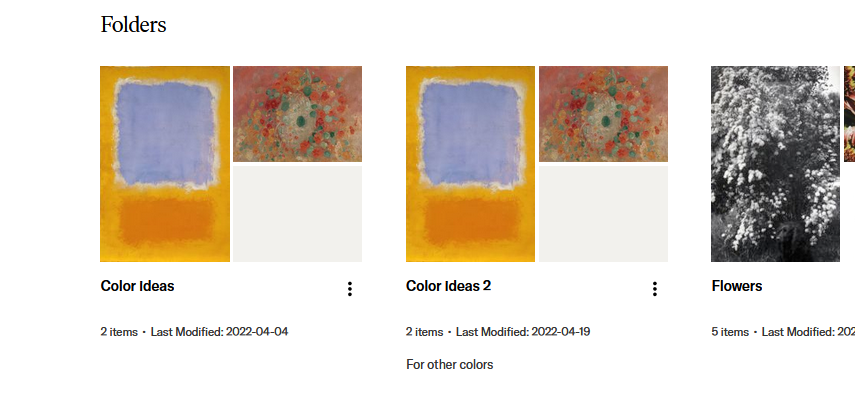 Viewing items that are part of a collection
If items added to your Workspace are a part of a collection of other items, "part of" metadata will appear below the item stable URL. This text is hyperlinked to other similar or curated content from the same collection and is a great way to discover related items that might be grouped by topic, time period, subject, or other grouping method.
Text and image content can be considered "part of" a collection.
In the following image example, "Eight Different Domestic dogs..." is considered part of the Wellcome Collection.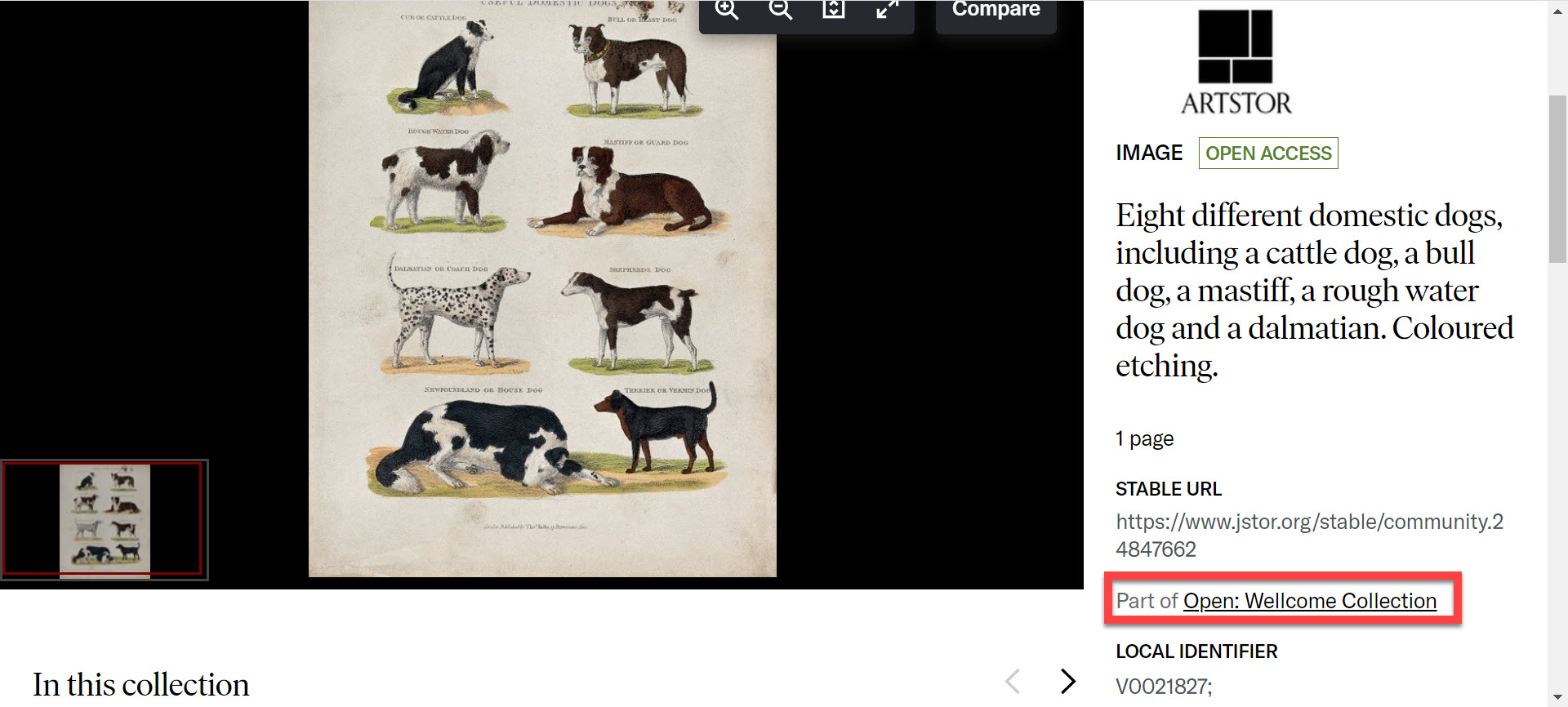 In the next image example, "Dynamism of a Dog on a Leash" is part of the SVA (School of Visual Arts) Image Library: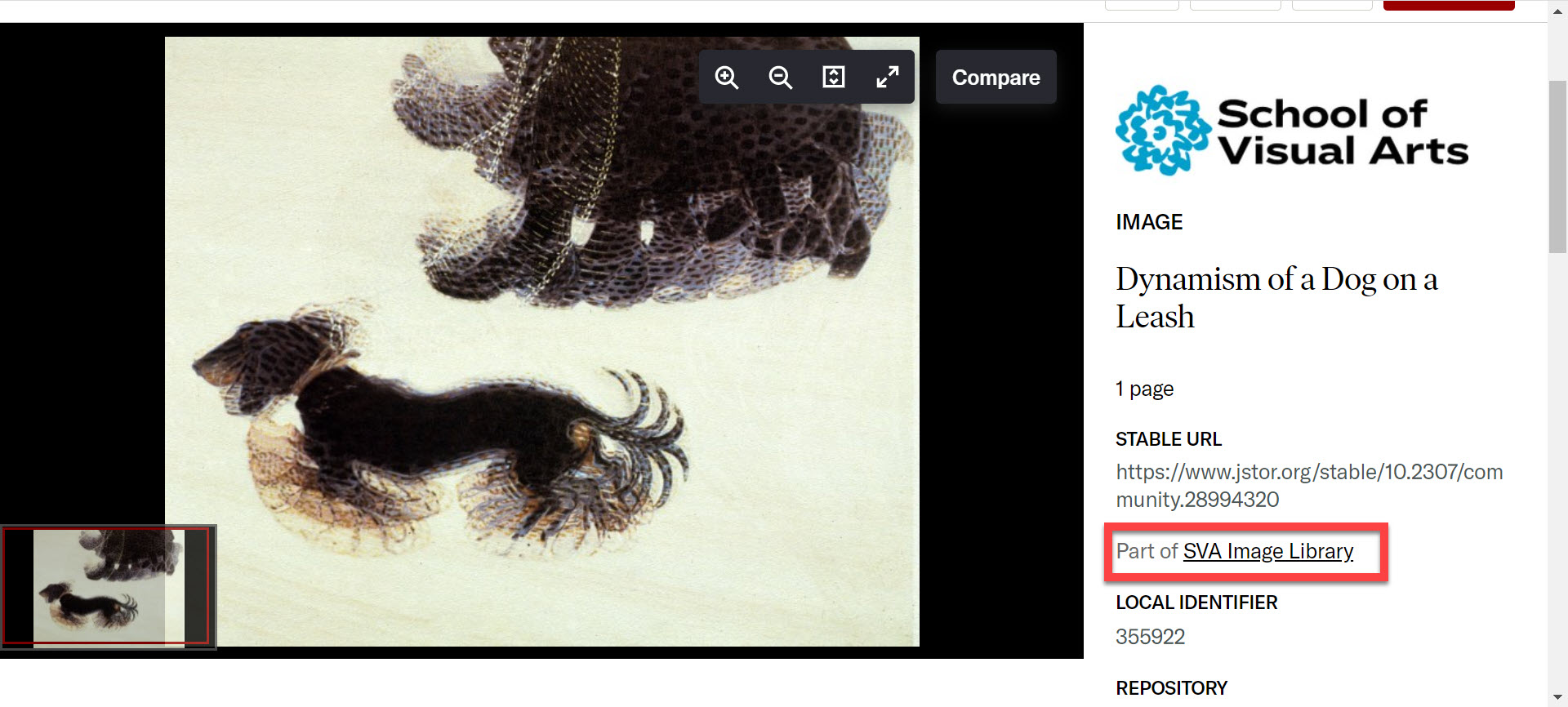 Text-based items also can be considered "part of" a collection of other items.
In the next example, items in the Workspace are "part of" a variety of content collections, including:
articles that are part of a journal
chapters that are part of a book
images that are part of a collection of other images or mixed content.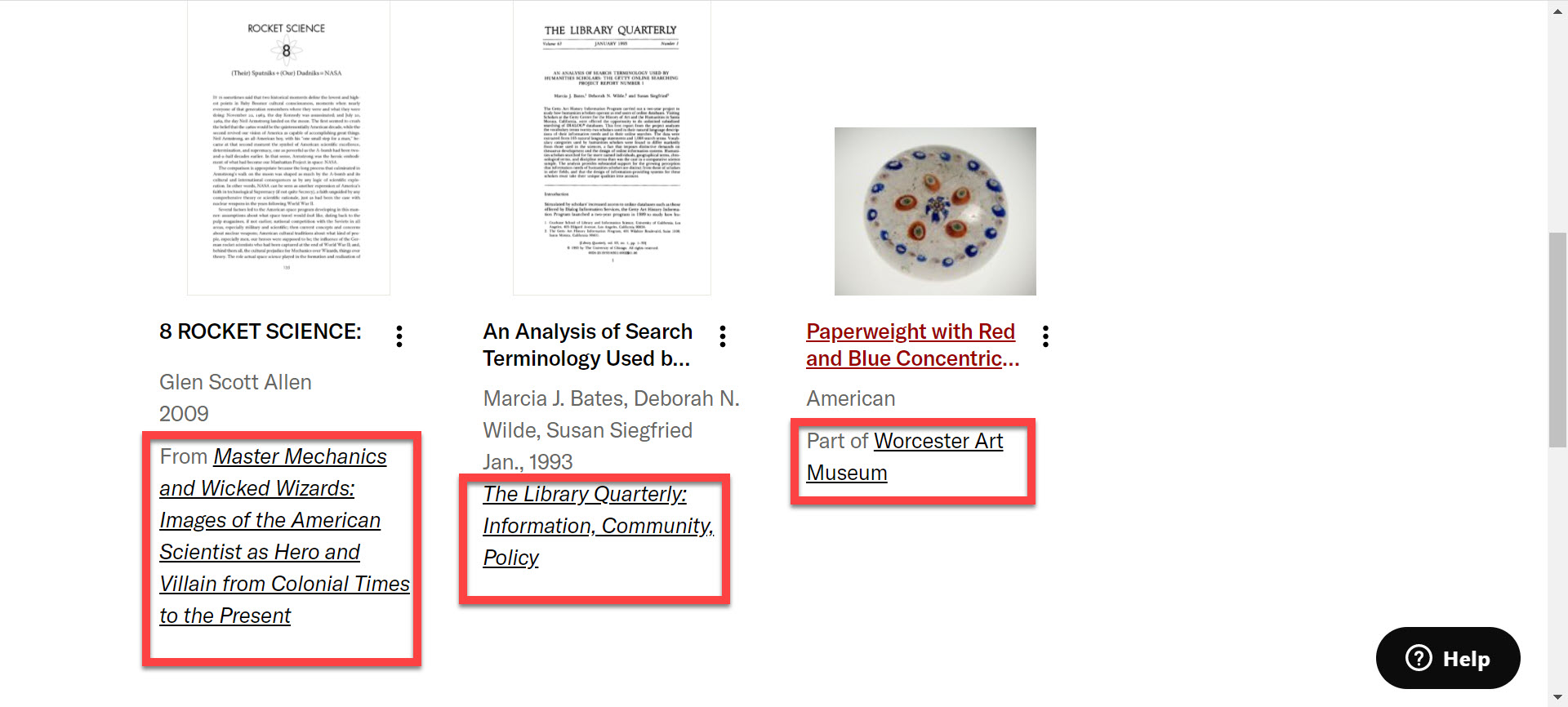 Custom Ordering
Custom ordering makes it possible to add context to your curated content through item placement and presentation. Workspace items will be displayed alphabetically by item name by default, however the option to create custom ordering within your saved folder items enables you to rearrange them as needed using either manual drag and drop or keyboard control methods.
Customizations will be automatically saved, so you can return to them as you left them or rearrange/reset by selecting another default ordering setting offered in the Sort drop-down menu.
For keyboard control:
Use Tab to navigate to a specific image, then use Enter to select the image.
Use the arrow keys to move items, then select Enter again (or Escape) to save the image's new placement.
Drag and drop:
Select Sort:Custom order from the sort menu.

Scroll down to your items under "Items" and drag and drop each item by selecting the thumbnails (on click and hold- release to position the item) and rearrange until your items are in the desired order.

No further action to save is needed. When you refresh the page or log into to your Workspace again later, your Custom Order changes will persist until you decide to re-order your saved items again.