---
What's in this article:
---
You must first have a registered JSTOR account and be logged into your account. If you are NOT logged in, you will be redirected to the registration page.
Exporting Folders to PDF
Exporting folders to PDF is a convenient way to share text and image content from your saved Workspace folder. PDFs might be used for printing or to upload to a learning management system.
After export, PDF handouts include the following:
Your folder title and description (in this example, "Test Folder")
A hyperlinked title and thumbnail that when clicked, opens directly to that content on JSTOR
Tombstone metadata for each item (date, creator, and linked collection/book/journal)
To export, select Export PDF found in the drop-down menu contained within the Export option. A progress bar will indicate that the download is processing. Export speed will vary depending on the size of the folder you are creating a reading list from.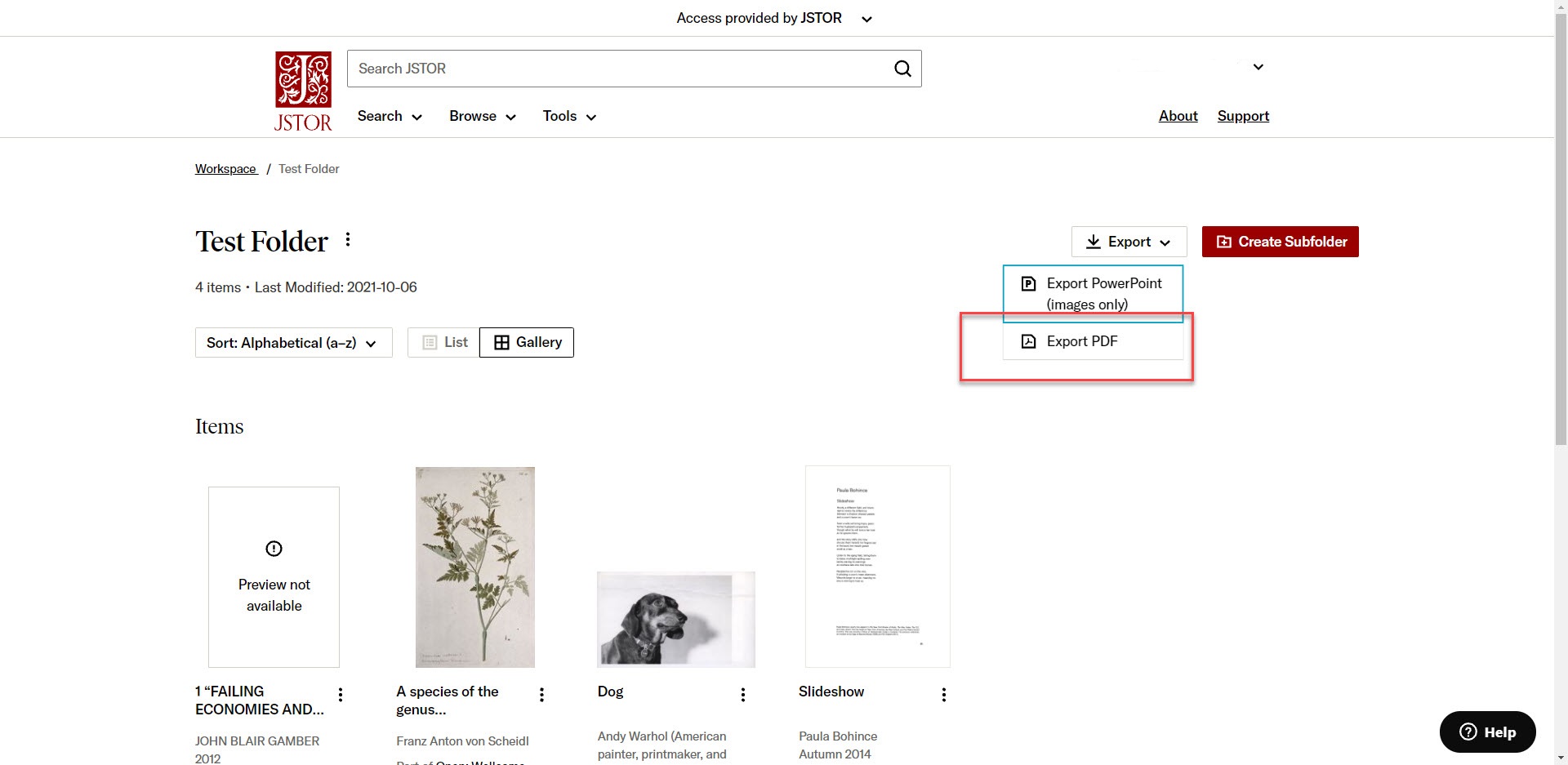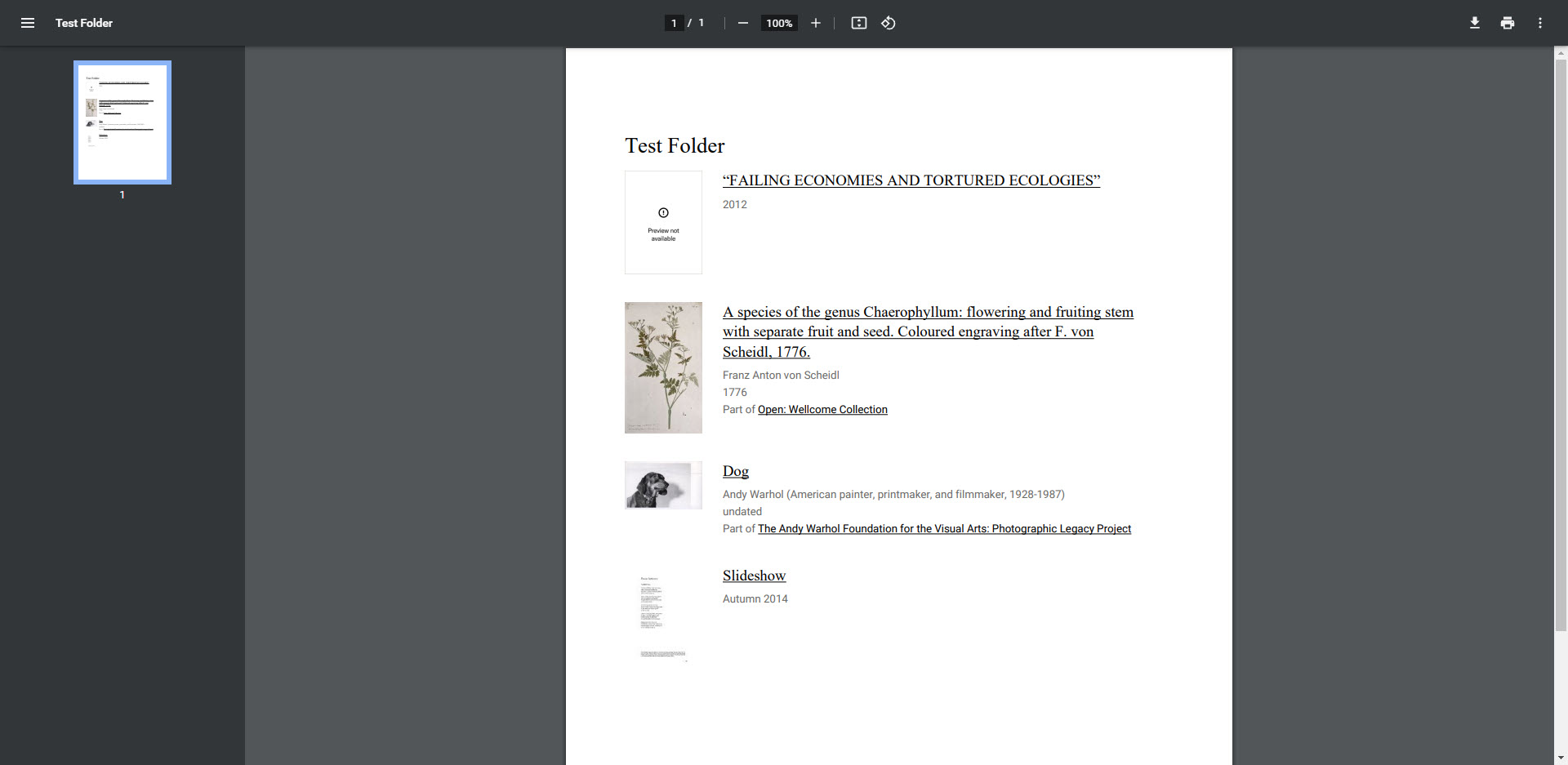 Exporting Images to PowerPoint
The ability to export image collections to PowerPoint enables users to review, describe, manage, and add images for presentation in a visual format on- or offline. It can be a valuable tool for sharing, instruction, presentation, and studying with visual content.
Once you have selected a folder to export, note that your presentation folder description will export as the public title of your PowerPoint slide deck. Any description details you wish to add about the presentation will also export as a private note in the deck.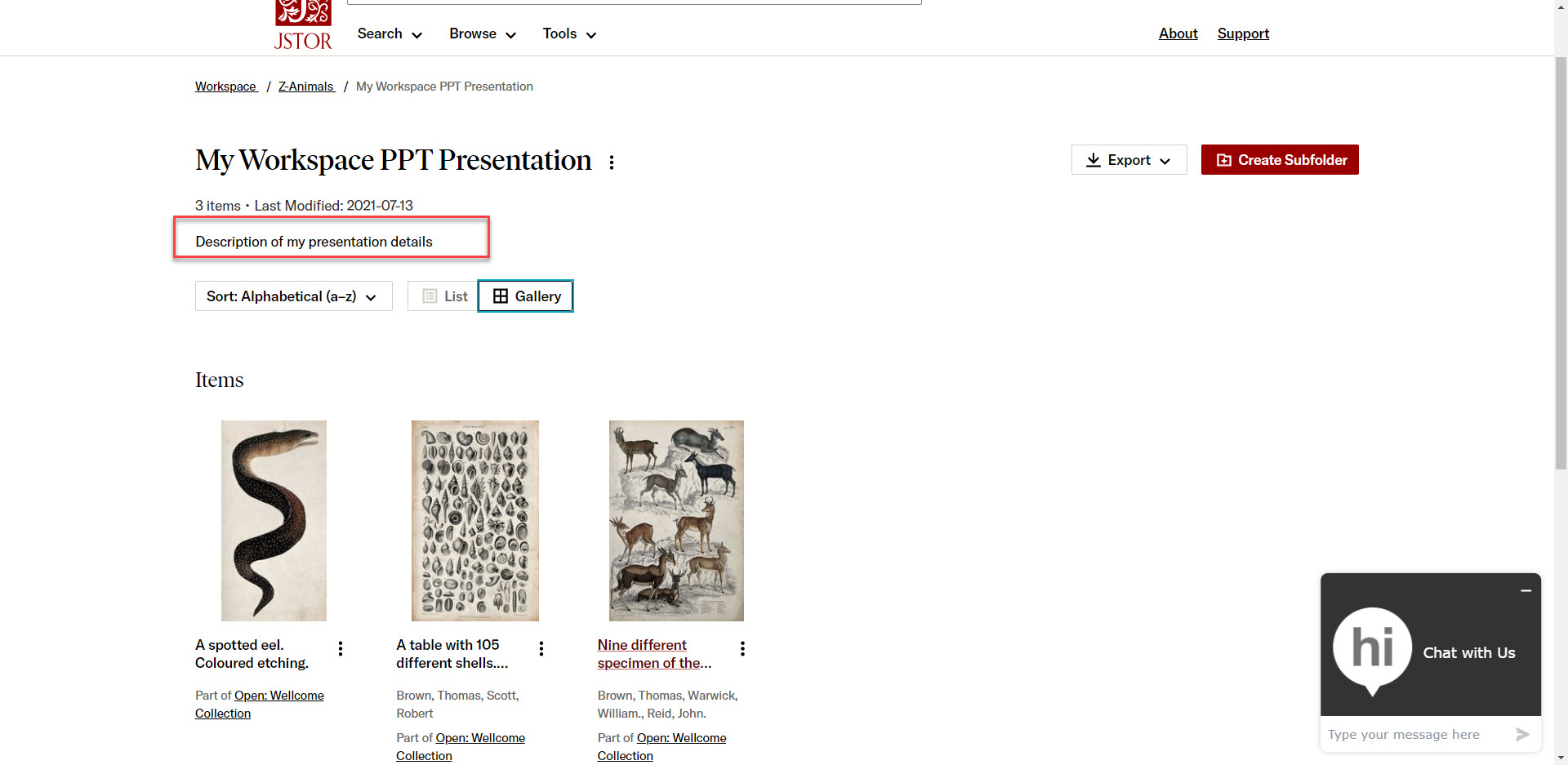 Once you have selected a folder of images that you would like to use for your PowerPoint and have added any description detail text, select "Export" and then confirm.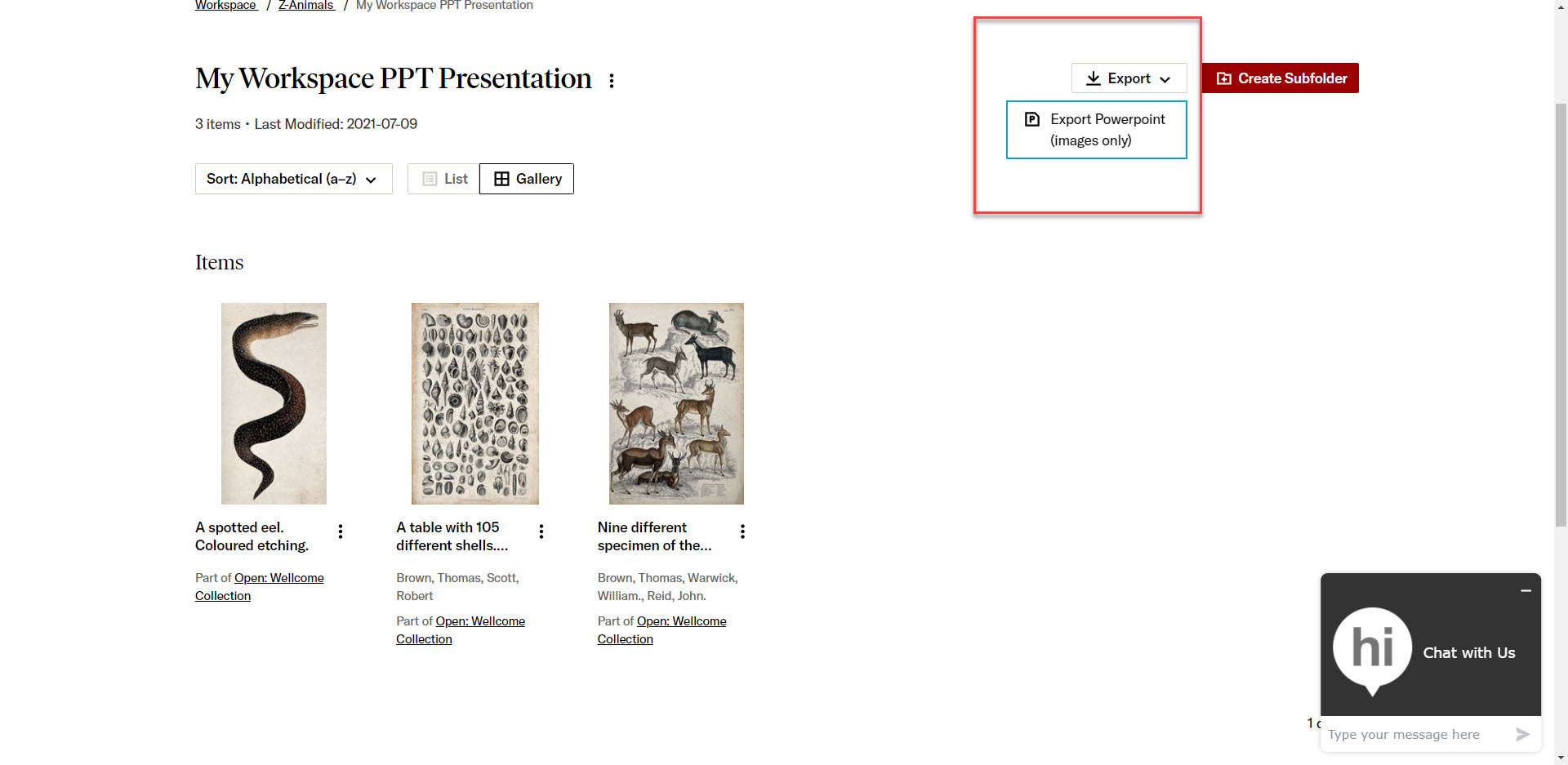 You will know your export is working as a progress bar will inform you of the file's status. The export speed will vary, depending on the number of images selected.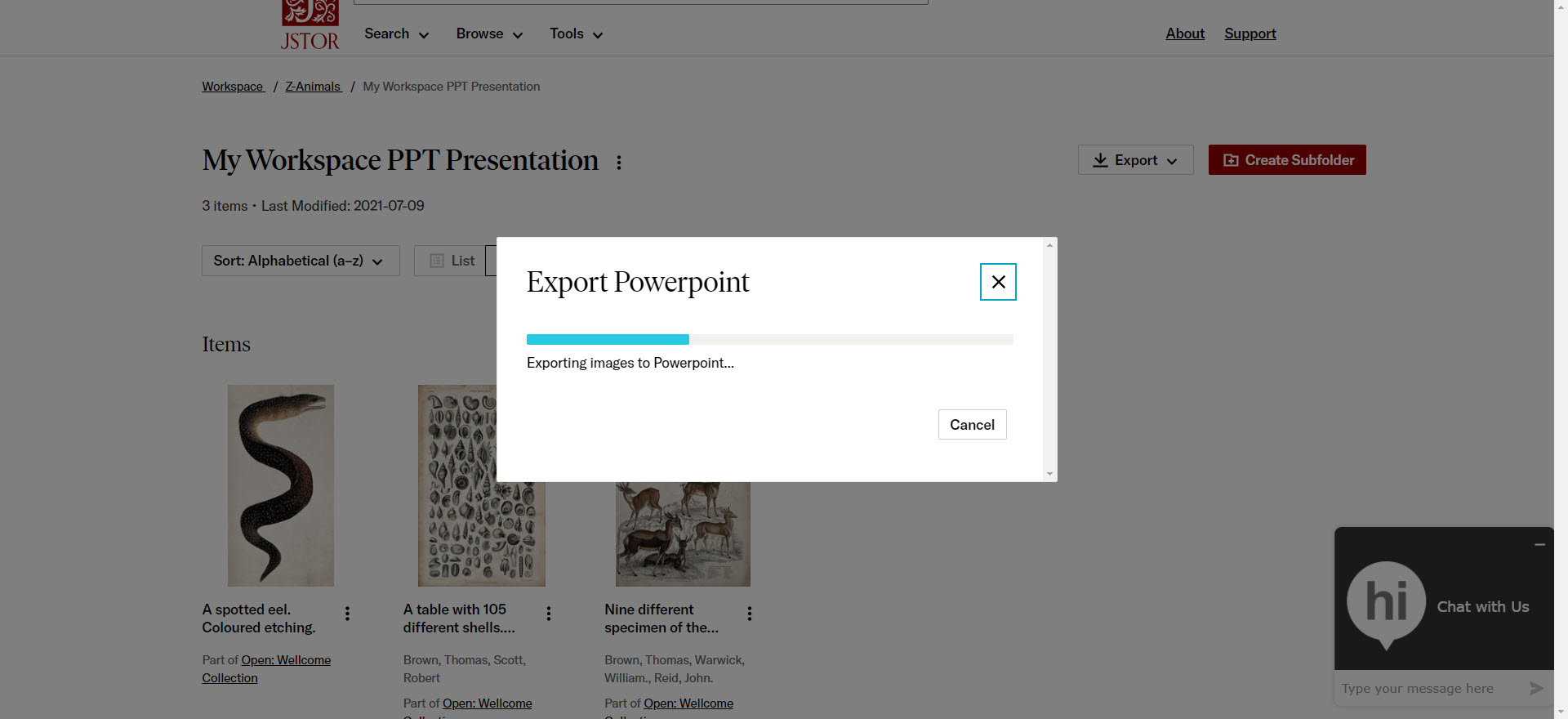 Once your .pptx file is ready, you will find it in your Downloads. To open, you must have Microsoft PowerPoint software installed. From your new downloaded file, proceed to make changes as desired within the presentation.
Export to Powerpoint additionally automatically includes any author notes for an individual item as well as descriptions for their folders. The folder description will be included in the notes section of the title slide (for example: "My Workspace PPT Presentation"), and item notes will be included with respective image slide notes. This makes it possible to work using Workspace offline, without having to go through the extra step of replicating any work.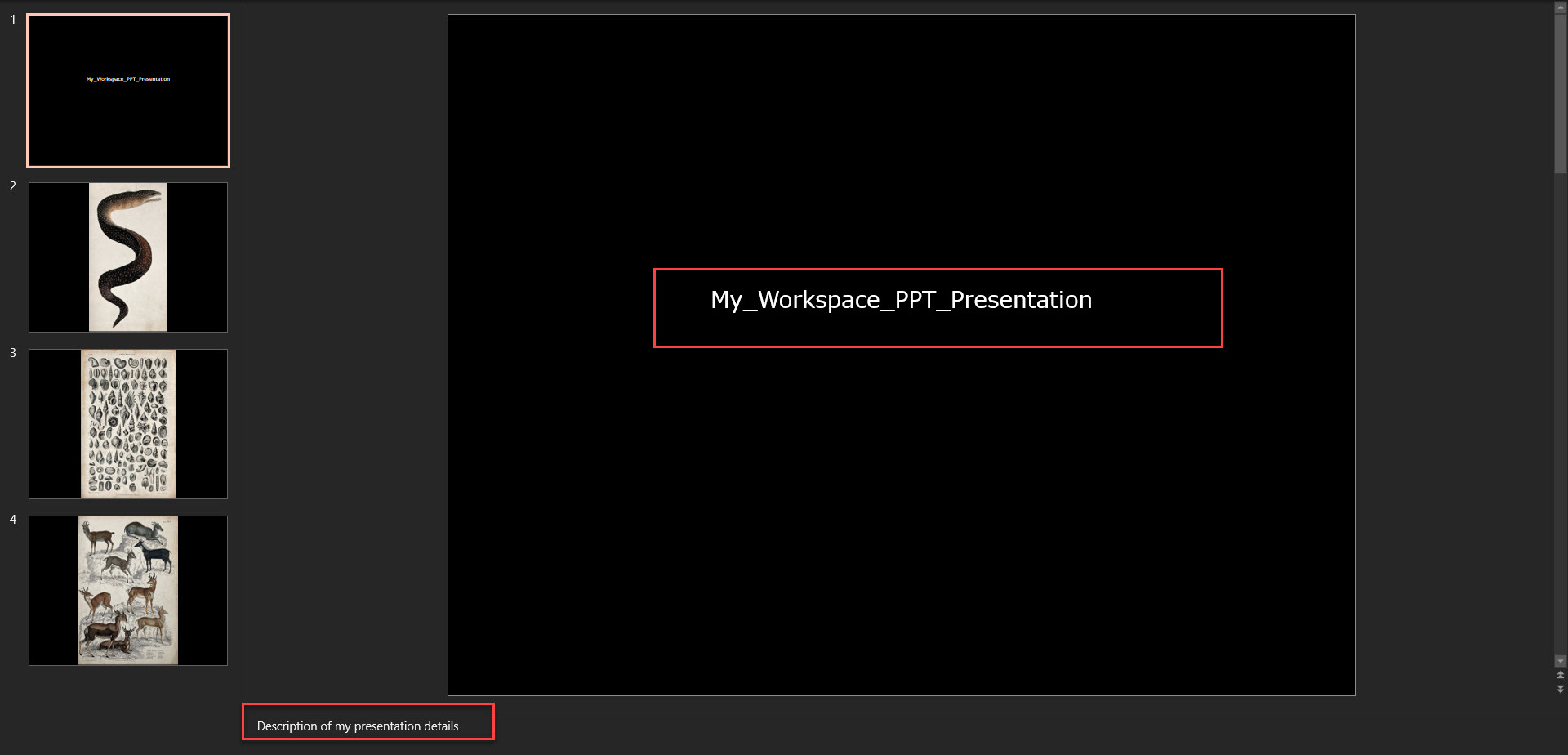 Detailed metadata about your content will appear in each individual slide note by default. This can be edited as desired in PowerPoint.