Accessing JSTOR Admin
Before you can access JSTOR Admin, you'll need to log in with a personal JSTOR account with administrative permissions for your institution.
If you have an account with admin permissions for JSTOR or Artstor, you're ready to log into JSTOR Admin.
If you don't have an account:

If you have an account but don't have admin permissions:
If you're a new administrator at your institution or would like to update your existing product, invoicing, and/or renewal communications, you can get started by filling out our institutional contact update form.
View usage data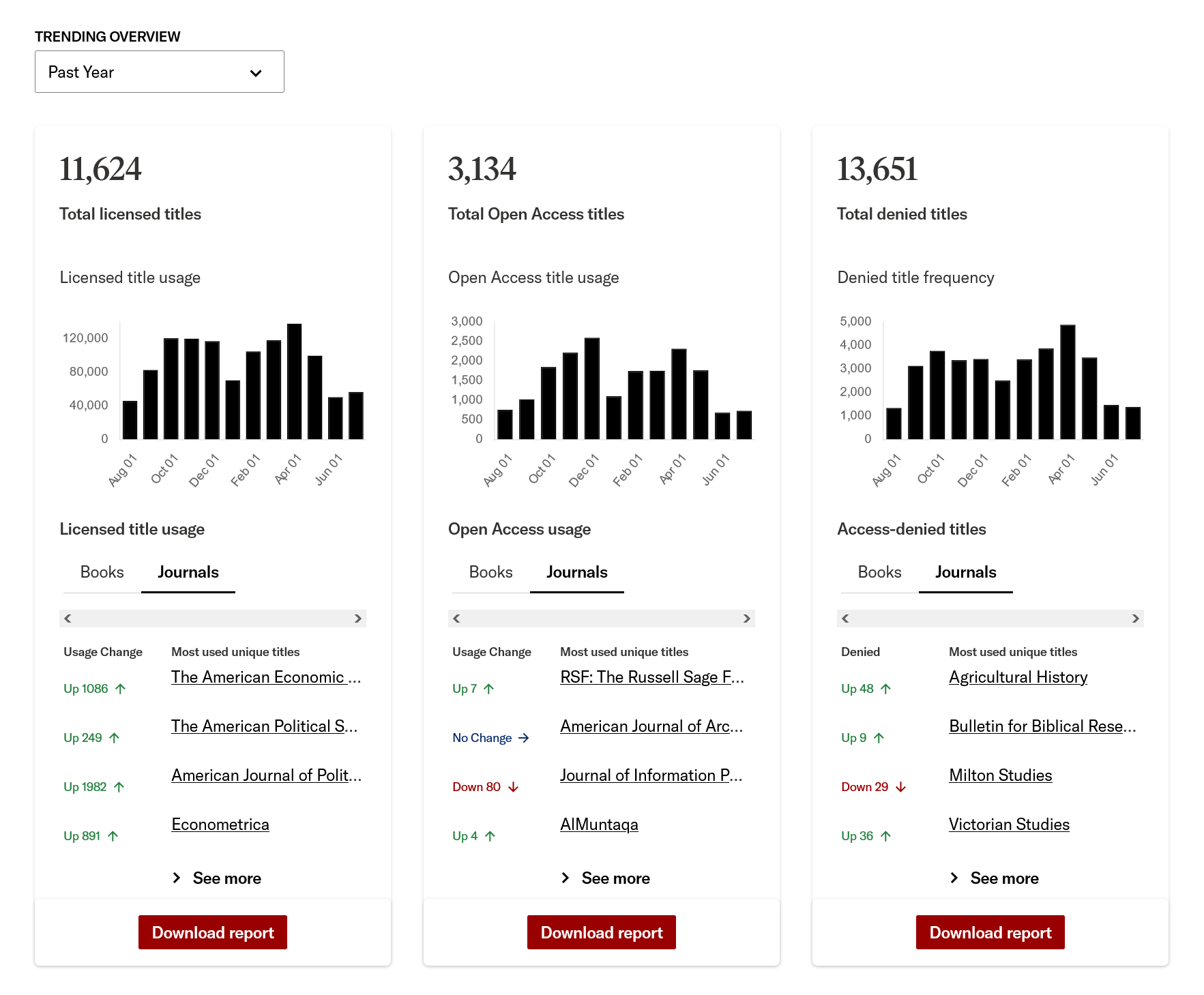 When you log into JSTOR Admin, you'll find book and journal content usage statistics for the following categories for your institution on the dashboard:
Licensed title usage
Open Access title usage
Denied title frequency
For each category you can view the total number of titles for the selected time range, as well as the change in usage of the most used titles (or most denied access titles) compared to the previous period. Available time ranges are: the past 4 weeks, past 6 months, or past year.
You can also download a report (Excel spreadsheet) containing the information shown for the selected usage category and time range. Note that these reports are not full COUNTER reports. See Download and schedule usage reports for more information.
View and manage access methods
You can review and manage your institutional access methods on the Access Methods page in JSTOR Admin.
On this page, you'll find information about your institution's:
IP Addresses
Proxies
Referring URL
Microsoft and Google single sign-on (SSO)
SAML (Shibboleth)
Remote username and password
To learn more about available access methods, see Access Management Overview.
View your account information
You can view your institutional account information on the Account Information page in JSTOR Admin.
On this page, you will find information about:
Institutional branding, including your provider designation
OpenURL information
SUSHI Harvesting account information
To learn more, see Where can I find my institution's account information?
View and manage users
You can view and manage your institution's user accounts on the User Management page in JSTOR Admin.
On this page, you'll be able to:
View existing users, including their status, remote access expiration date, and last login
Email yourself a list of your users
Invite new users to create an account automatically paired with your institution
Renew or expire remote access for users
Grant administrative permissions
To learn more, see User Management Overview.
Download content holdings
You can view summary statistics and download holdings files for your institution's current content holdings, as well as information regarding free and open content on JSTOR, on the Holdings page in JSTOR Admin.
On this page you'll find information and holdings files for:
Journals
Books
Primary Sources
Images
Institutional Collections
Free and Open content on JSTOR
To learn more and see what holdings files are available by content type, see Accessing and Downloading your Library Holdings.
Download and schedule usage reports
JSTOR provides a variety of usage statistics for book and journal subscriptions in the "Reports" section of JSTOR Admin.