---
What's in this article:
---
About images on JSTOR
Images on JSTOR are contributed by partnering institutions like universities, museums, community and private collections including Artstor Digital Library. For this reason, image quality and size can vary.
Access to images returned in your search results will also vary on an individual record-level, depending on whether or not you have authenticated access to specific licensed content.
Searches entered into the search bar that contain relevant text and image results are presented with both a total search result count (results) in addition to image-specific result count (image results).
Learn more about saving images, citation and export options, and downloading images
General Image Search and Filtering
Image searches can be entered into the general search bar and, like text results, may be filtered to narrow results from most pages or be entered from the image search.
Keywords or phrases that contain relevant text will return image results either as contained within the total results or may be filtered to include only image-specific results.
Search Images on JSTOR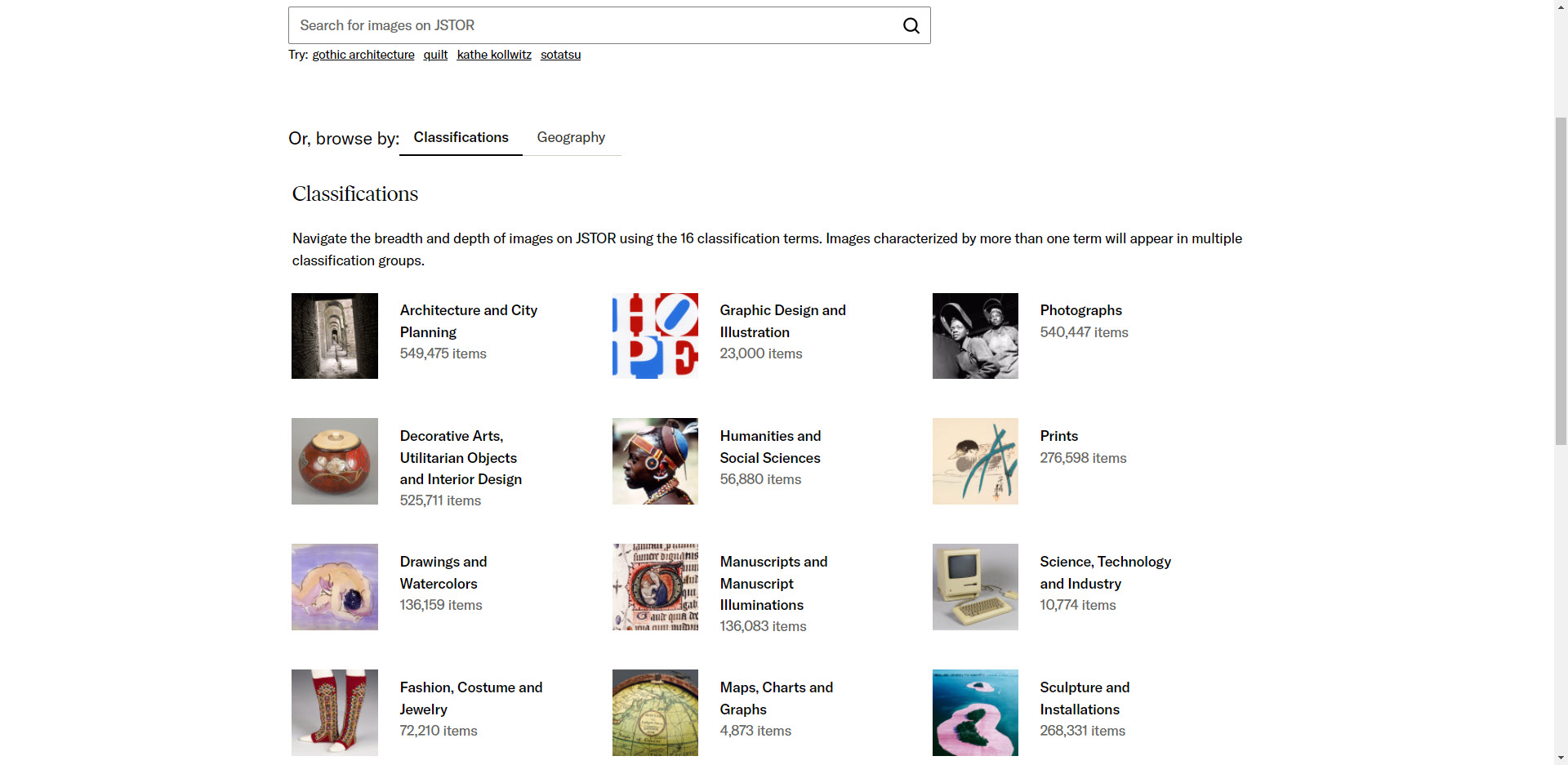 Once you have a keyword or phrase you are interested in researching using the general search, your result count will include both the total number of search results (of text and images) and the image-only results count.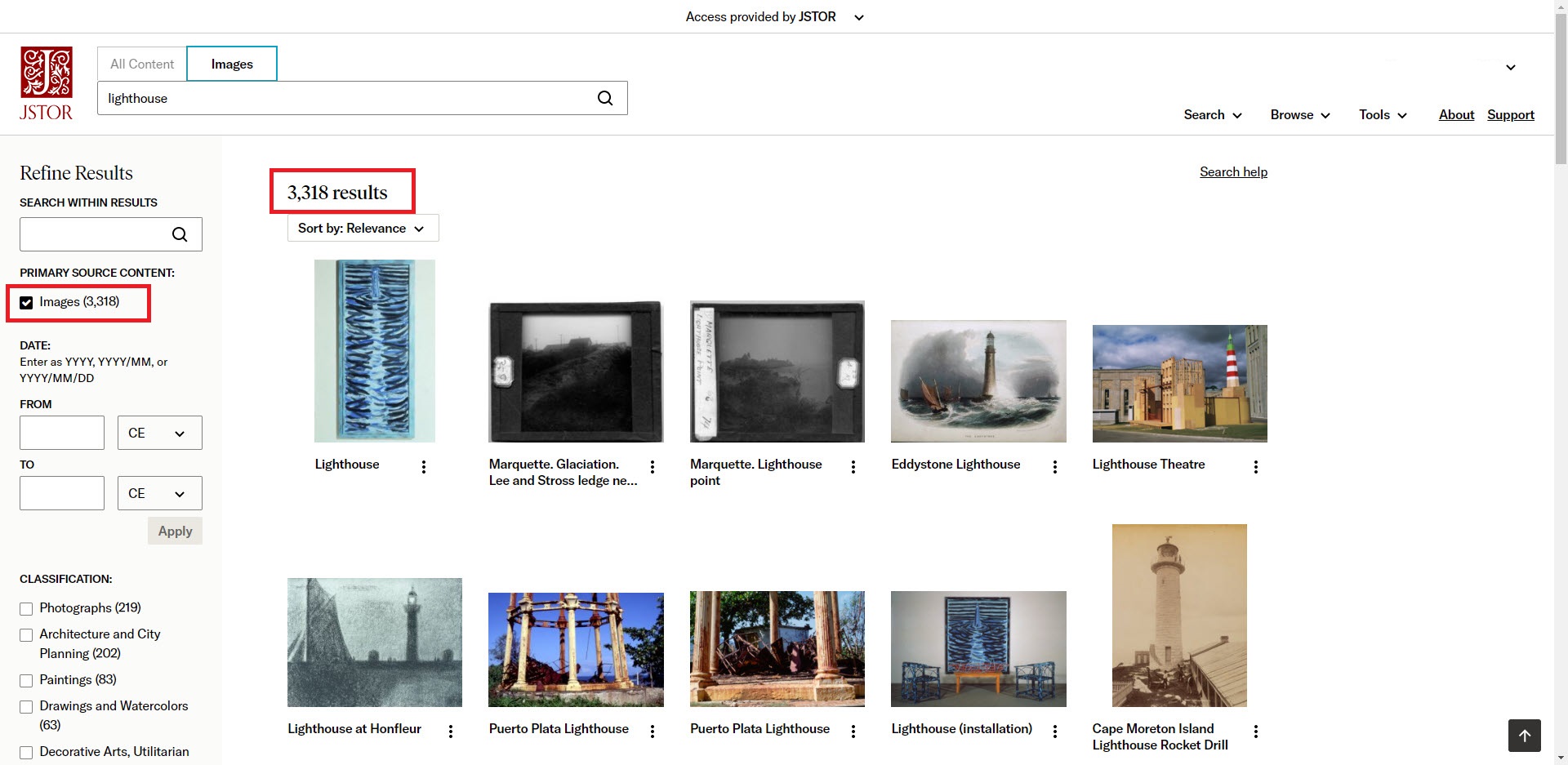 To view the full image detail page, select a specific image.
The full image detail page contains your selected image in an embedded image viewer in addition to a variety of information about the image including the source, date, medium, and copyright information related to the image. Here you may also export and adjust image citations, share the image, or save it to your Workspace.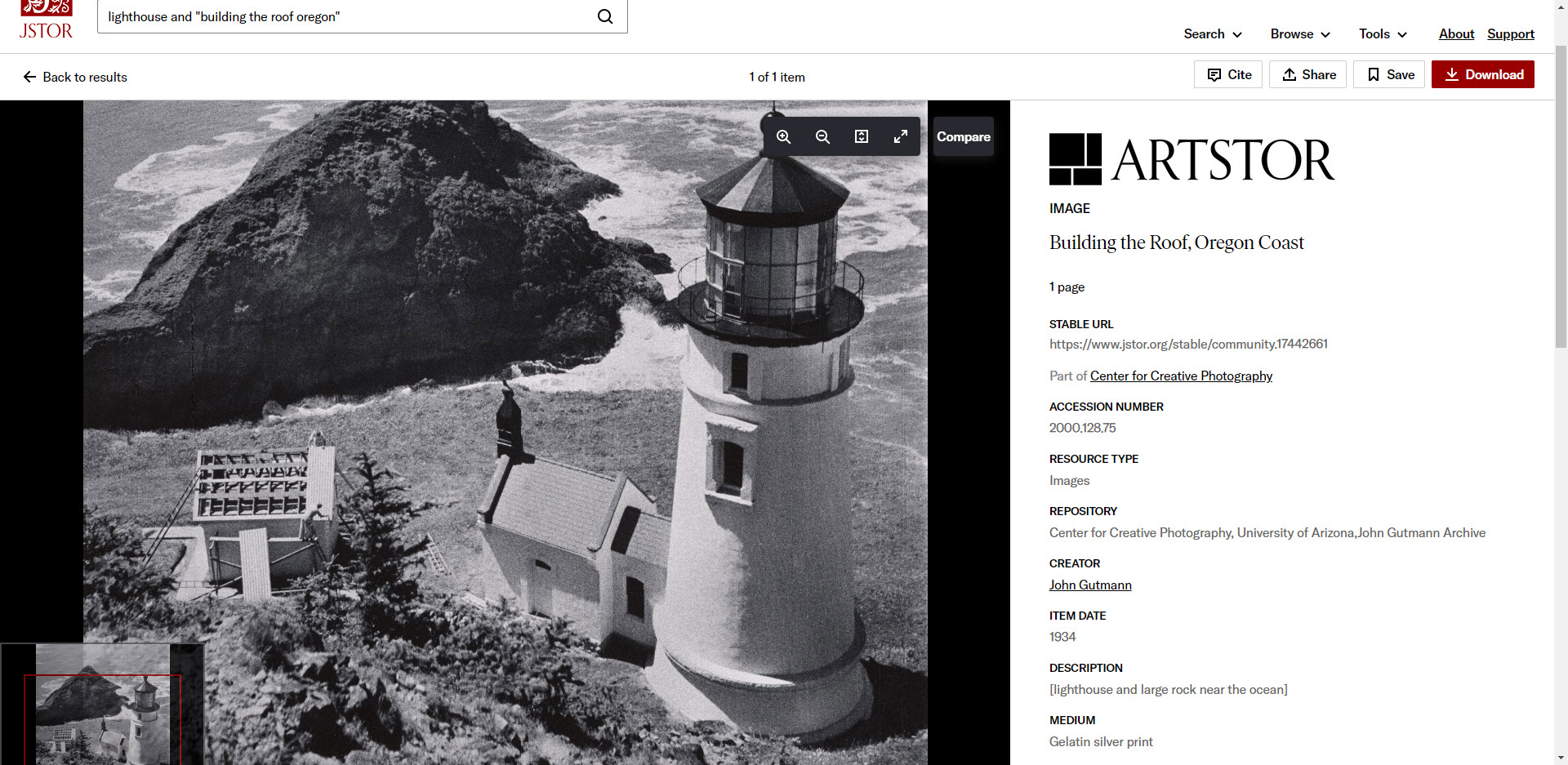 How are image results related to my search?
The keywords used in your search match metadata about the image. For example, if the word "lighthouse" is found somewhere in the description of the image, it might also appear in the search results for your JSTOR search for "lighthouse."
You can also select specifically for images from the main search bar query suggestions.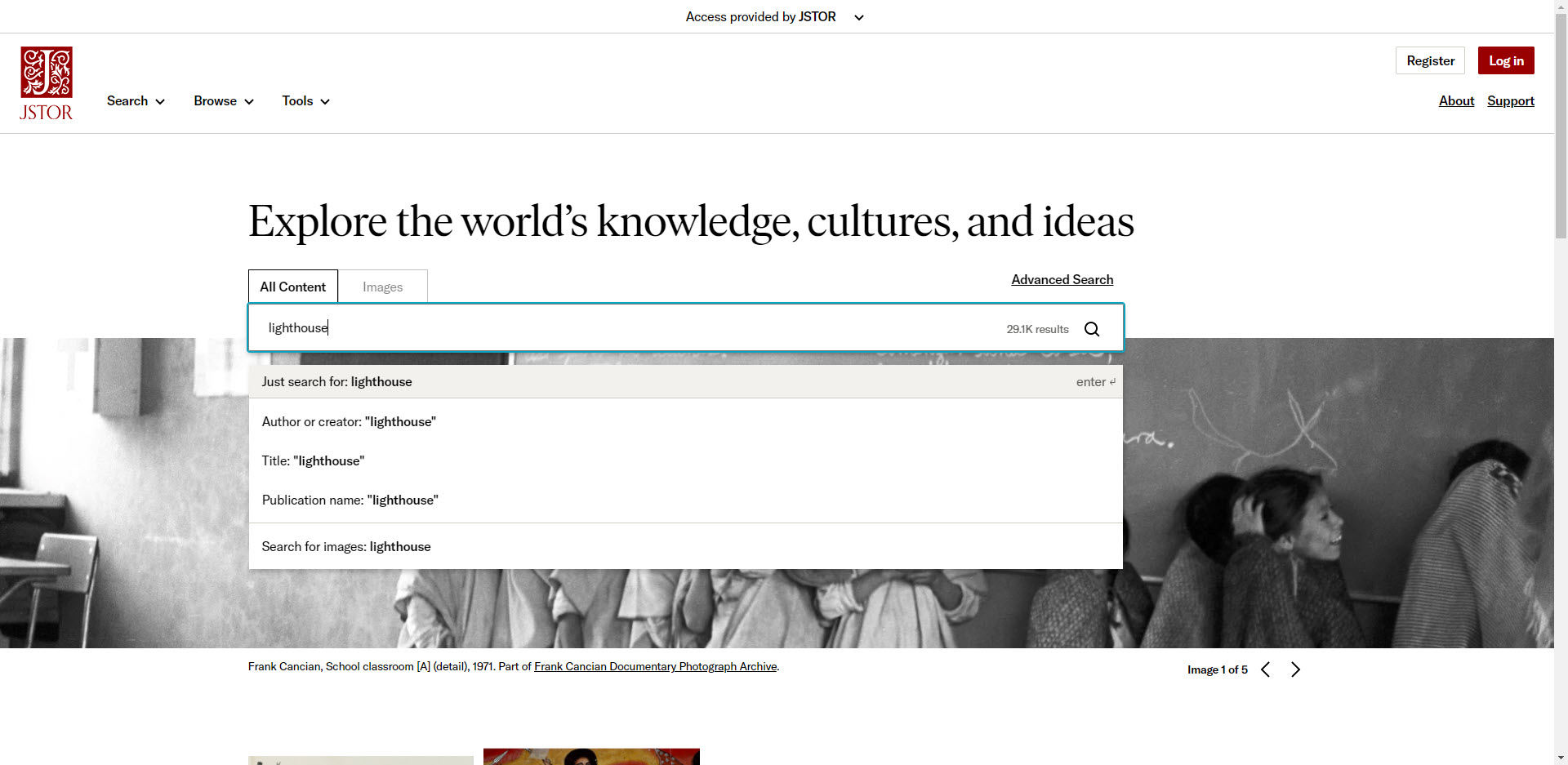 Not seeing any images in your search results?
This may be because:
either there were no available images relevant to your search or
your search was too complex to return results on JSTOR
Need an introduction or refresher to using JSTOR basic search? See An Introduction to Searching on JSTOR.
If you are searching for images within a particular collection, try Searching: Browse Collections
If you want to save images for later to your personal Workspace, see Searching: Images on JSTOR
Not sure or have questions? Contact Support.
View and compare images
The image viewer offers several options to manipulate and view images including the ability to zoom in and out of the image, fit to view, toggle to full screen, and use multiple images in Compare Mode.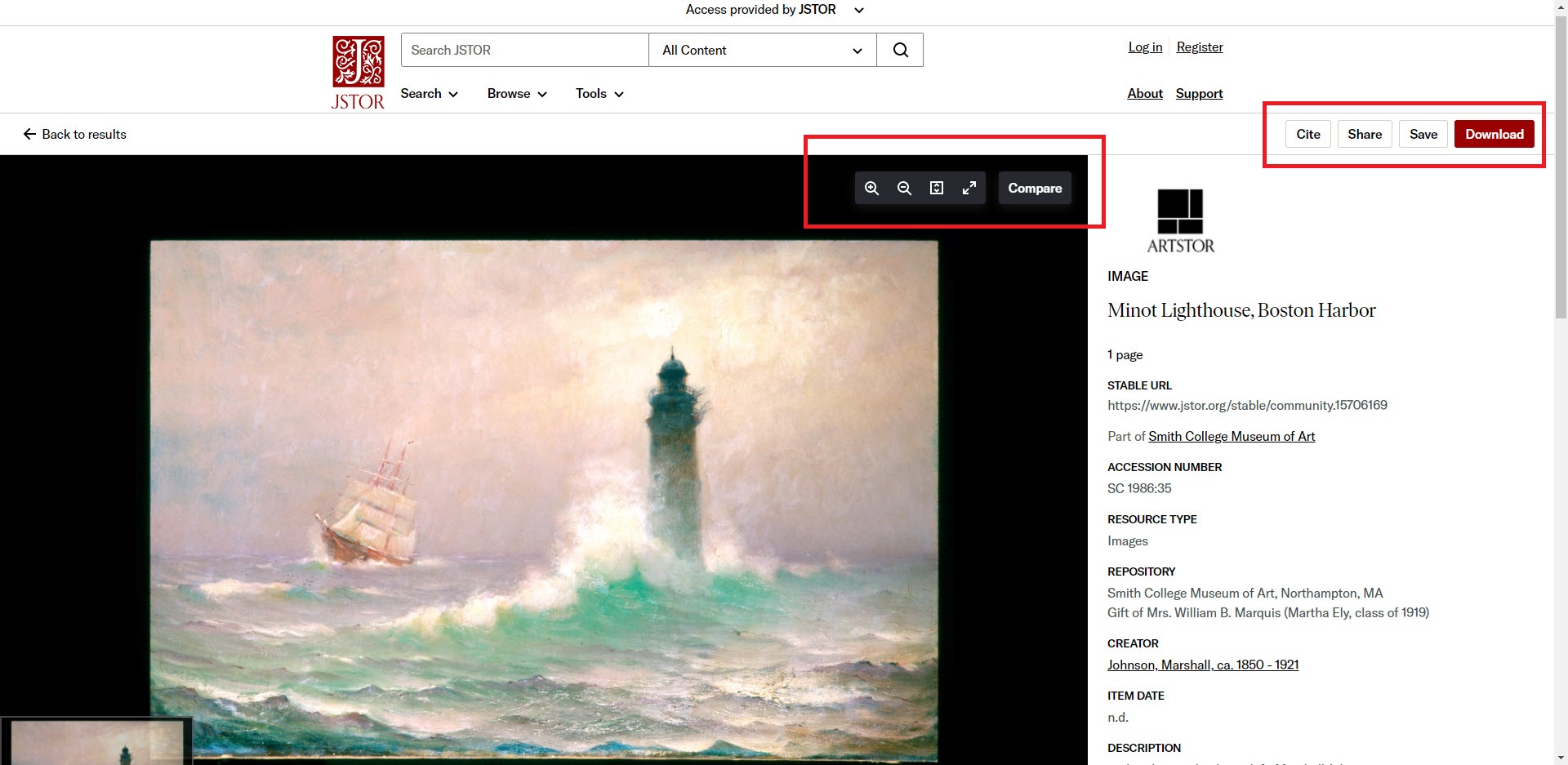 To view the image in full-screen mode, select the

icon.
When viewing the image in fullscreen, the image metadata will appear below the image. You have the option to turn this "off" or "on" by using the Hide or Show Image Details.
Example of showing image details: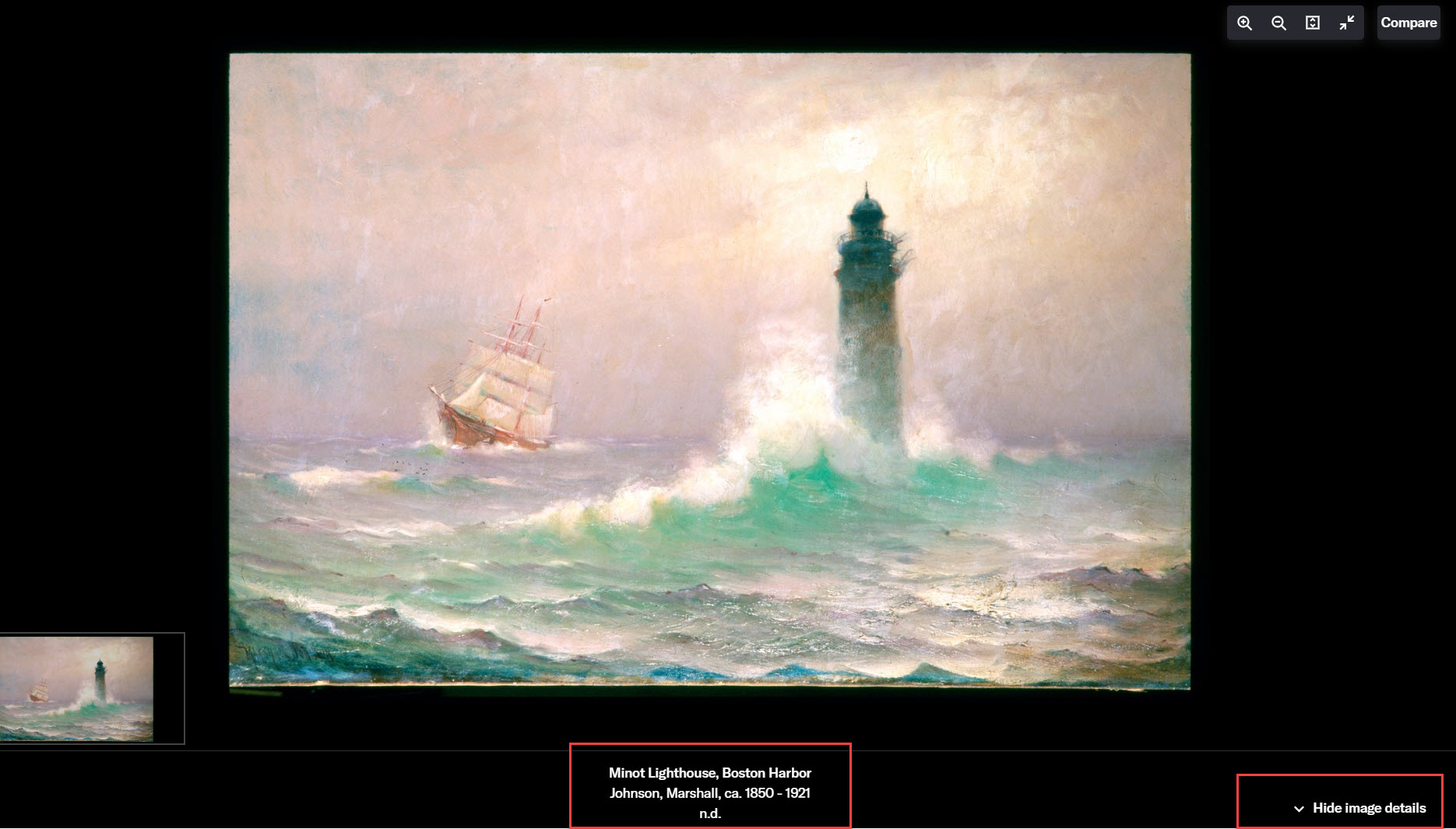 Example of hiding image details: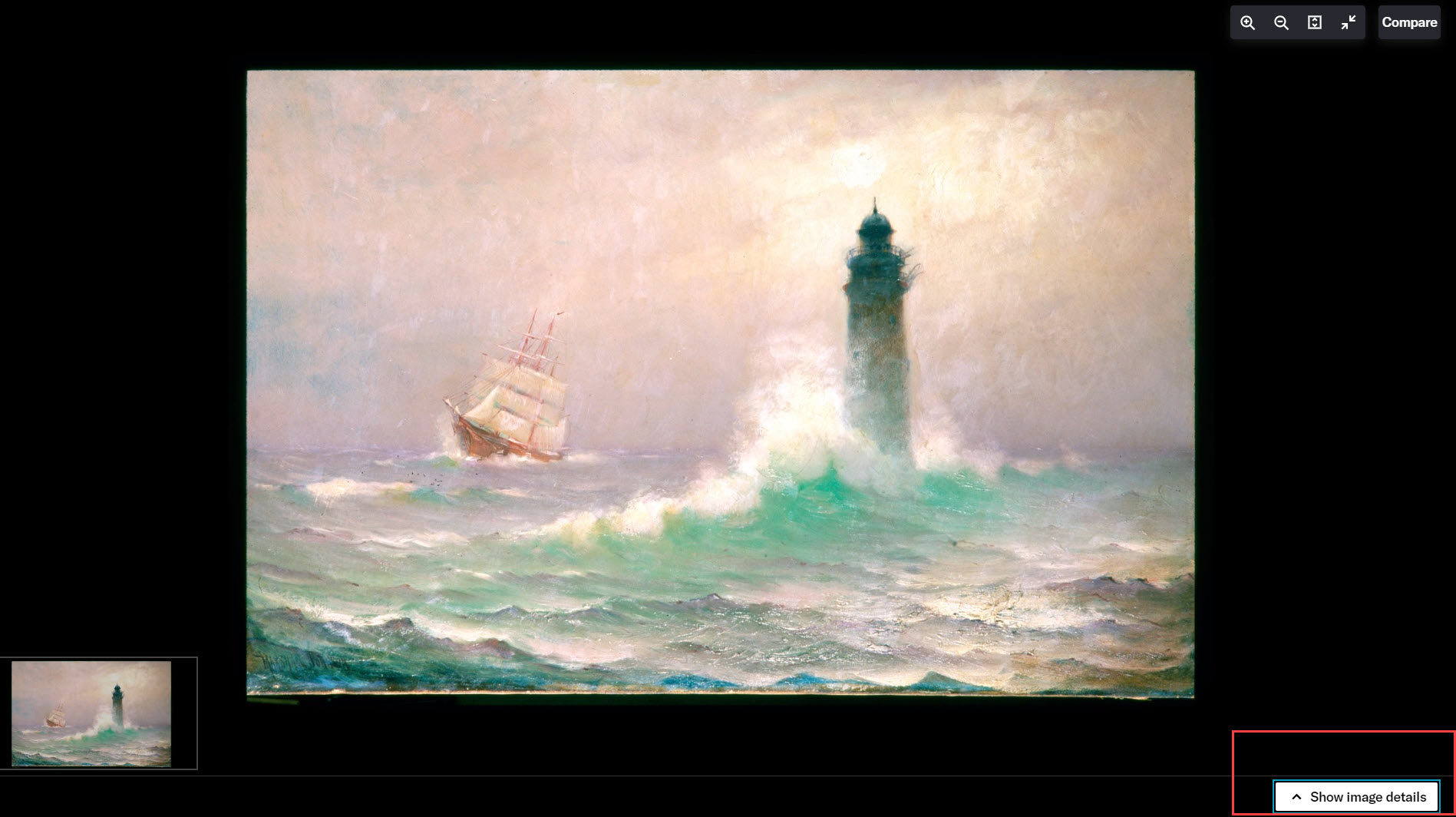 Note that whether you select to show or hide image details, your metadata viewing selection will persist for any images you view afterward. This is true for images in Compare Mode as well.
Below the image viewer you also have the option to view other images in the collection (In this collection) or discover other collections (Explore other Collections) Use the > to scroll and view the collections.