---
Why use filtered search?
Filtered search helps you narrow your search results to become more relevant to your research. Searches that are too broad often return too many search results or results that are only somewhat related to the information you are trying to find. Similar to searching with fields, filtered search makes discovery of related content and collections easier and more specific.
Filtered searching can be an especially helpful way to quickly narrow your search results and get a high-level understanding of the content if you do not yet know quite what you are searching for. Whether you are working with a specific content type (like images) era, discipline, or other aspect of your content, filters can help make too many results found more manageable for your research.
How Do I Use Filtered Search?
To run a filtered search:
Enter your keyword/s into either the General Search (under Refine Reults: Search Within) or Advanced Search (under Narrow Results).
Once you have a list of results to your search, you have the option to continue to refine them by using the available checkboxes, fields, and date-range options to narrow and/or widen your content result count as needed.
You might check one or more of these boxes to adjust your results, including:
Academic content
Primary source content
Dates
Subject
Access type
When specifically working with searching images on JSTOR, additional facets you might use to filter on include:
Classification
Country (of origin)
Collection
Primary Source and Academic Content as well as Subject can be filtered using the checkboxes found beside each available option for your search results. Beside each checkbox option, an available item count by content type displays. These numbers will change as you enter new keywords, filters, and/or load new search criteria.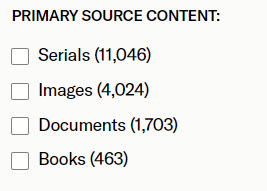 Filter dates for your search by entering ranges within either CE (Common or Current Era) or BCE (Before Common Era):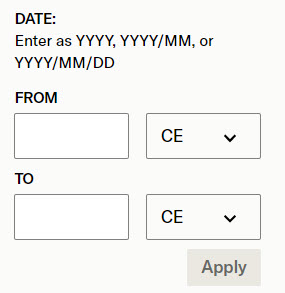 Classification is another option for filtering available using checkboxes that classify content by discipline, era, and artifact type:

Image Filtering
When working with image search results only (by selecting Images found under Primary Source Content), results will be displayed in a grid layout for quick scanning and clickable collection information.
You can further refine image results for a given keyword by checking any additional boxes.
In this example, we want to research "folk art" but only drawing and watercolor images specifically. Using the keyword phrase "folk art" will need to be filtered to select for only images as well as content that has the classification "Drawings and Watercolors."
To return relevant image results related to watercolor folk art:
Enter search term "folk art"
Select the facet: "Primary Source Content (type) Images"
and select the classification: "Classification: Drawings and Watercolors"