---
What's in this article:
---
About Images on JSTOR
If you're a member of an institution that subscribes to both JSTOR and Artstor (a database of digital images for education and research), you might see a few images appear at the top of your search.
The images are pulled from Artstor and previewed on JSTOR. You can click into each image or "View more images" to explore more images related to your search terms.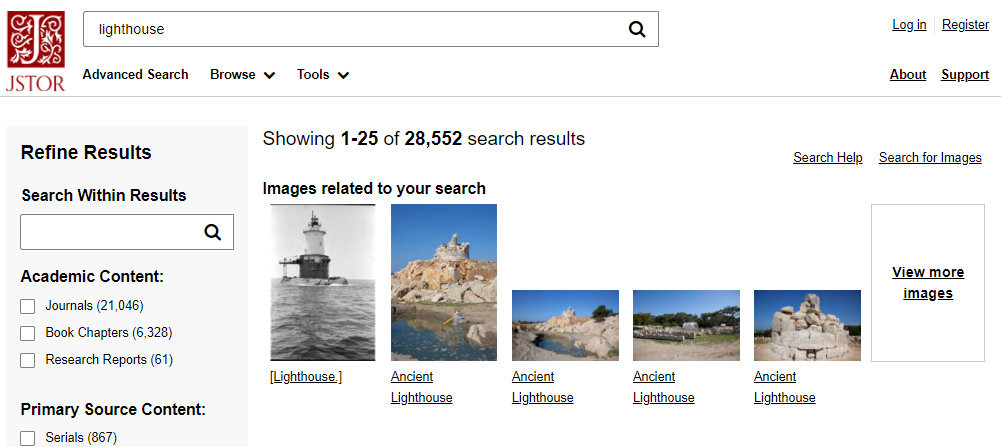 How are these images related to my search?
The keywords used in your search match some of the metadata about the image. So, for example, if the word "lighthouse" is found somewhere in the description of the image, it could appear in the search results for your JSTOR search for "lighthouse."
What is Artstor?
Artstor is digital library of images and digital media that can be used for education and research. If you want to learn more about your institution's access to Artstor, take a look at how to get started on the "Getting Started" support page.
Where do these images come from?
Images on Artstor are contributed by partnering institutions like universities, museums, and private collections. Because of this, the quality and size of images can vary. You can view the image source and copyright information by clicking directly on each image.
Once you click on an individual image, you'll see the option to "Explore the image in Artstor" to see more image details.
Find out more about the image details on the Image Detail Support page (hint: it will help you to discover source and image information).
I don't see any images...
If you're not seeing images, it may be because 1) your institution does not subscribe to Artstor 2) there were no images relevant to your search or 3) complex JSTOR search queries may not return results from Artstor.
If you're not sure if your library subscribes to Artstor, check this list of subscribing institutions or contact your librarian.
What do you think?
We're a learning organization, so your feedback on our site and features is extremely valuable to us. For feedback or questions, email us at support@jstor.org.