---
What's in this Article:
---
When you have a free MyJSTOR account, you can read 6 articles online for free every 30 days. When you click on an article, there is a banner at the top of the page that tells you how many free article reads you have remaining for the month.
Create a free MyJSTOR account here.
Clicking on "Read Online" next to participating articles will allow you to read all of the pages of that article, online: instantly.
Now, everyone who logs in with a free MyJSTOR account will see the following when they view an article that is available through the My Free Articles program: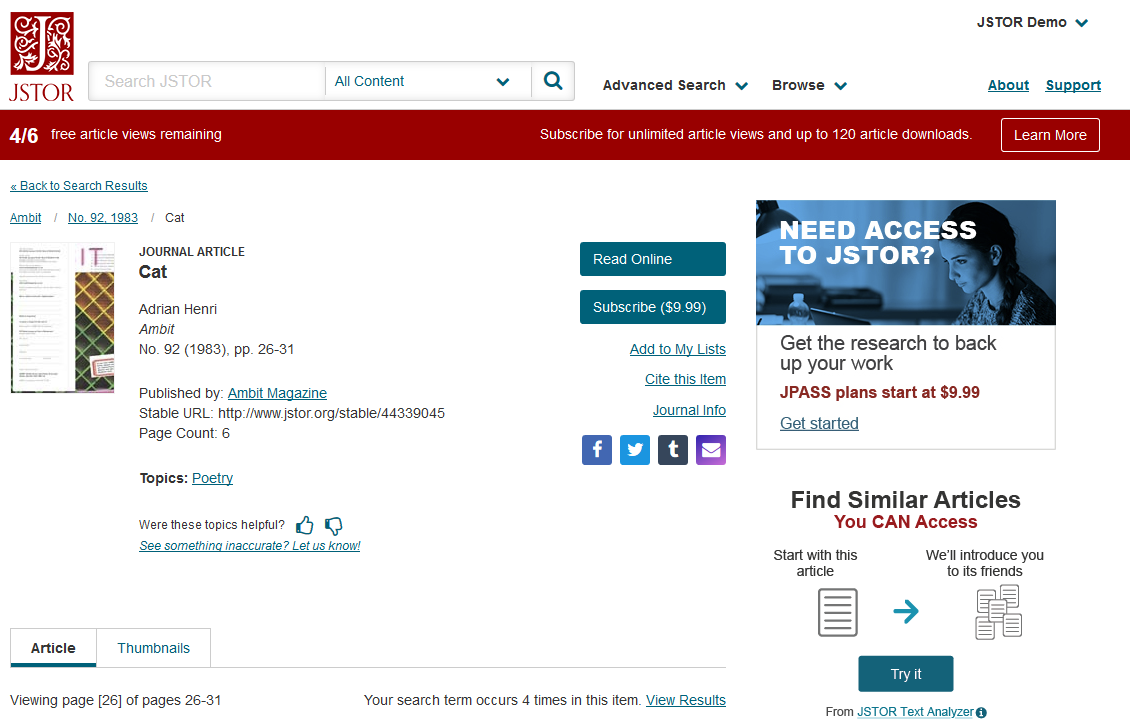 How to Use MyJSTOR Shelf to Read Articles for Free
After you click on "Read Online," your page will refresh, and the banner at the top of the screen will update to show you how many articles you have left in the 30 day period.
Once you've clicked "Read Online," you will see an arrow appear to the right of the article viewer: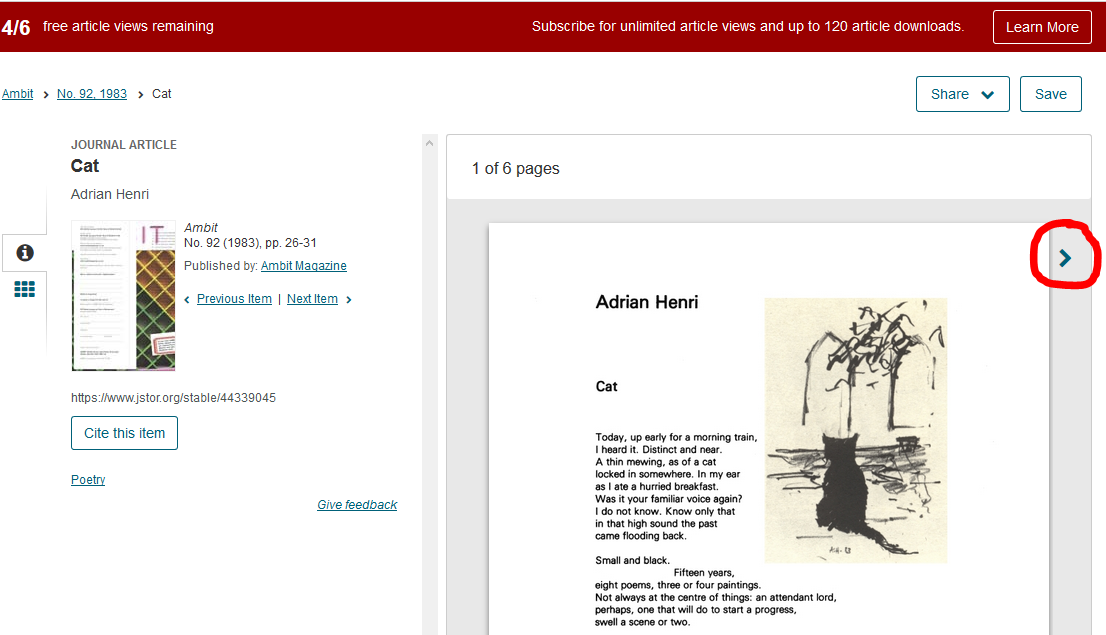 Simply click these arrows to "turn the page" to read! As soon as you click "Read Online," you have 30 days to read this article, plus 5 others, for free. 
Quick Tip: Did you know your MyJSTOR account can also help you organize your research? Read more about how in our article: My Workspace for Organizing Research.
How to Find Articles You've Read in the Past:
So you read an article, and now you need to reference it again. There is a record of the articles you have read under the "My Free Articles" section of your MyJSTOR account. (Make sure that you're logged in to your MyJSTOR account to be able to see this section. You can confirm that you're logged in if you see your name in the top right corner of the page).
To find your articles, hover over or click on your name, and select "My Free Articles" from the menu that opens.
You can also click "My Free Articles" on the left side of the screen if you are in your profile view: 

You will be redirected to your "My Free Articles" page, where you will be able to click on the article titles you've selected to read them again. 
Note that under "My Free Articles," you can see how long it will be until your 6 article reads reset. You can read 6 articles every month. From the first time you click "Read Online" to read an article, you have 30 days to use the remaining 5 article reads before the counter resets and you can read 6 more articles. In other words, if you read your first article on April 15th, your 30 day period begins, and will reset on May 15th. If you read another article within the same period, say on April 30th, your reset counter is not affected--your counter will still reset on May 15th, and you have until then to read your remaining articles.
What happens when your countdown ends/How can I remove articles?
While it is not possible to "remove" items from your "My Free Articles" until your 30 days count resets, after after 30 days, you can then read another 6 articles for free within a new period.
Afraid of losing your research? Fear not: when the 30 days is up, all of the articles you have read online will move to "Previously viewed articles" on the same "My Free Articles" page so that you don't lose your research. If you want to read the same article again, you can click on that article, then use another view for that new period.