To better support researchers through the COVID-19 crisis we are increasing the number of articles you can read online for free from 6 to 100.
---
What's in this article:
---
What is a personal account?
A registered personal account is a free account that enables you to access, cite, and return to JSTOR content. Your personal account may support your research in a variety of ways depending on your role and affiliations, including:
Access to free, read-online content for participating publishers for all registered personal accounts
Additional content access and account Admin permissions for individuals who manage JSTOR for  subscribing institutions, such as librarians
The option for faculty, students, and staff to connect your personal account to the institution's subscription for matching access remotely, if you are affiliated with a subscribing school, university, or library.
Learn more about the Benefits of a Personal JSTOR Account
Who uses a personal registered account?
Anyone with an e-mail address may register for a personal account.
Personal JSTOR accounts are available for independent researchers, or individuals who are not affiliated with a school, organization, or library. They also provide citation management and research tools for all kinds of researchers. Students, scholars, and independent historians may use a personal registered account to conveniently save, manage, and organize citations for projects, articles, and papers directly on the JSTOR site.
Already registered?  Learn more about How to Use Your Free Reads with a Personal Account
If you are a librarian or administrative member of your school, library, or organization, you must first have a registered personal account before you can be granted Admin permissions for the institutional account.
For individuals requiring Admin permissions, through your personal account you will also be able to review and manage:
Usage statistics
Holdings
Account information
Learn more about what Librarians and account Administrators can do with Admin permissions.
How do I register for a personal account?
To register for a new free account, visit the JSTOR registration page.
You may use any e-mail address to register. The e-mail you choose to register your account will be your default username.
Items marked with "*" are required to register
Provide an email address*
Confirm your email address*
Select a strong password (includes at least one upper or lowercase character, one number or special character, 6 characters minimum, and no whitespace)*
Confirm your password*
Any additional information you would like to share (role, area of study, etc.) is optional
After reviewing the Terms and Conditions of use, select the checkbox before submitting the form*
To stay logged in, select the checkbox "Keep me Logged In"
To opt-into updates from JSTOR and/or JSTOR-participating publishers, select the checkbox "JSTOR Updates"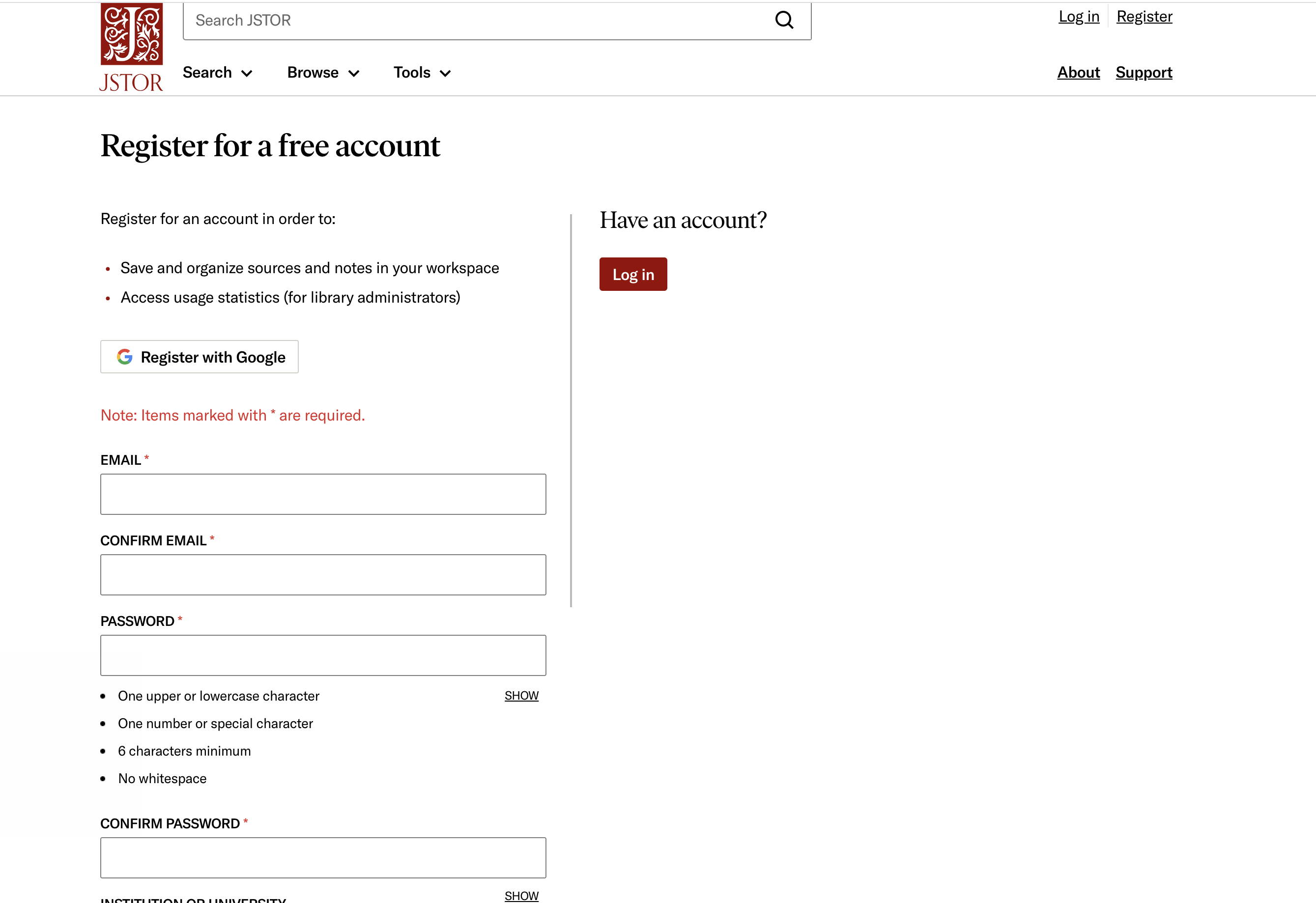 Watch this short video to learn more about how to register and create your free, personal JSTOR account and pair or link your new account to your institution, if required:
What can I do with a Personal account?
Personal accounts can help with your research, whether you are a student with access to an institutional subscription or an independent researcher:
Read up to six articles every 30 days online for free.  (Note that 

we have temporarily increased the number of articles you can read online for free from 6 to 100.)

Save your citations to your personal Workspace.
Students who have access to JSTOR through their school can use a personal account to save their work.
If you're a librarian or account administrator, a registered personal account is required in order to gain institutional Admin access. Institutional Admin access lets you access to manage the institution's usage statistics, holdings, and account information.
If you ever decide you want to buy a JPASS or an individual article, you can use the same personal account to manage and view your purchases.
Learn more about the Benefits of a Personal JSTOR Account
Already registered?  Learn more about How to Use Your Free Reads with a Personal Account