If you're not familiar with JSTOR, writing a paper using it can be overwhelming. We're here to help! This guide will give you steps to use to create a search based on your topic or assignment, narrowing that search to the best results for you, and using a variety of JSTOR features to help organize your writing efforts.
Creating a Search
Let's say you get this assignment:

Using library research, identify a monument you want to research. Find at least five resources that give you a sense of that monument's history: the event that precipitated the memorial, the origins of the memorial, any controversies surrounding the monument, etc. What is the dominant narrative this site tells and what is the subversive narrative that may be read between the lines?
All of the content on JSTOR is from scholarly sources, but some of the older content may not be peer-reviewed. Make sure you ask your teacher whether you need peer-reviewed items before starting.
First, we have to choose a monument. For our purposes, let's talk about the Vietnam Memorial. The first think you'll want to do is search. Let's start with this:

You can see in the screenshot, the estimate is that will get over 16,000 results. There's no way to look through that many results, so let's see if we can decrease it. First, let's look for other key words from our assignment. Now we enter:


We're getting closer. You can see adding the words narrative and controversy decreased the search results to around 2,000. Still, that's a lot. Let's take a look at our JSTOR Search tips. Well we have a lot of tips and tricks. Let's try mixing and matching some to narrow our search.
Search for an exact phrase:
You can search for an exact phrase by adding quotation marks around the words in the phrase. In this case, we want articles about the Vietnam Memorial, so let's put quotes around that. This will give us results only where both words, in that order, are available.
Boolean search:
Boolean terms allow us to tell our search when to add things and when to leave things out. So let's tell it to give us any items about the narrative of the memorial or controversies about it. Now our search looks like this:

You can see that we told the search to look for the Vietnam Memorial along with articles about it's narrative or controversy. We're down to 300 results now!
You can continue to add or remove search terms as you like to further narrow your search results, or you can use the boxes on the left of the page. This will let you choose the format (Book or Journal), the year items were published, or the subject areas they apply to.
Saving your results
As you narrow your search, you'll start to see items you may want to read more closely. You can keep track of those by clicking "Add to My Lists" on the right side of the search results. We have more information about using lists on our Support site. If your teacher or professor has asked you to use a different way to keep citations (like Endnote or RefWorks) you can click on "Cite this item" instead. It will give you the option to export the bibliographic information for that article to another citation manager system.
Now that I've added items to MyLists, you can see I have a few options. One of those is to add External References. This means you can take an article you found in another database or from your library, and add it to this list. You can also use that article to do further searching through our Text Analyzer feature. This will try to find other articles similar to the one you upload.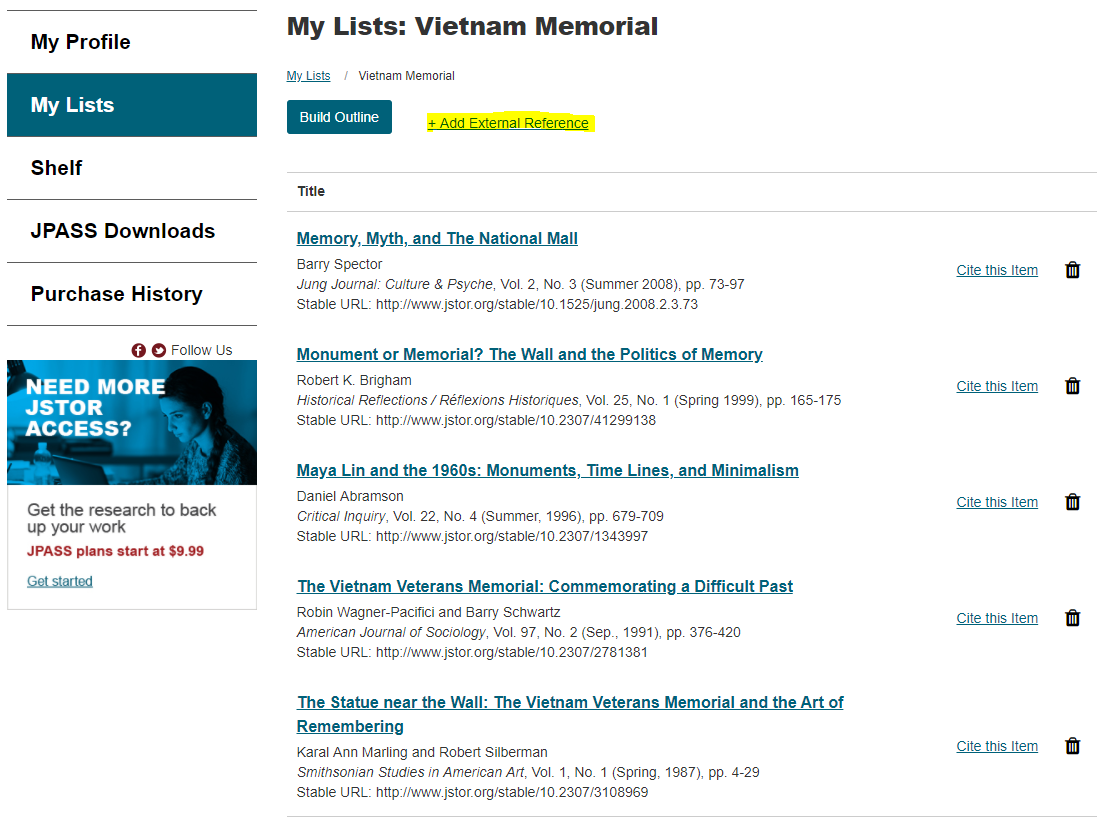 You can click on any item in your List to be taken to the article page. Once there, you can share the article through our sharing tools for email or social media. You can read the article through a participating institution or through one of our programs for independent researchers.
Other ways to find content
 You'll also notice that each article has a list of topics associated with it. These can be found in the search results as well as on the article page. You can use these topics to do what we call "scoped searches." This means that if you click on a topic, any search you do on that page will look for articles tagged with that topic. This is a good way to find further research related to your assignment.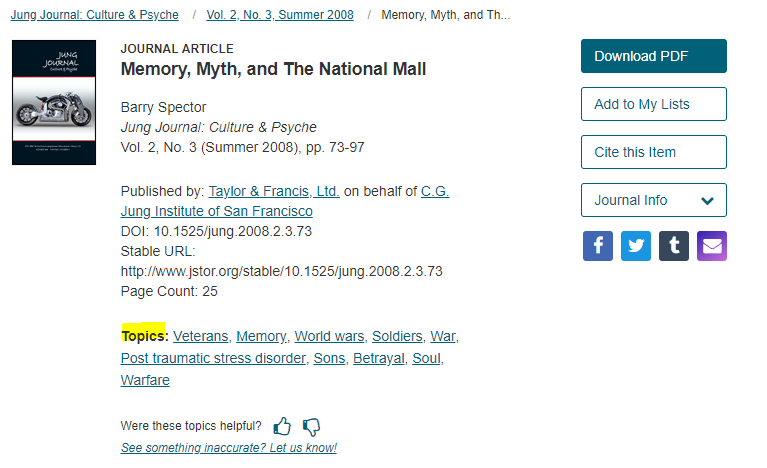 If you have a very complicated search, you may want to use the Advanced Search. This will allow you to break up a big search into smaller pieces. Here is an example of what our Vietnam Memorial search would look like: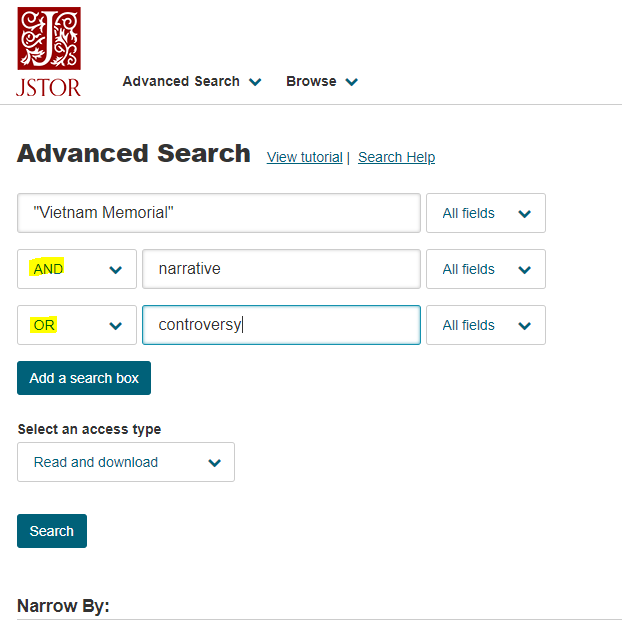 As you can see, there is a Narrow By section below the boxes. This will give you the same options to narrow your search as you would see on the left side of the search results page. Sometimes the search results in Basic and Advanced Search can come out a little differently. This is because there are different algorithms for each. So it can be best to run a search in both.
Completing your Essay
 Once you have completed your search and compiled all your resources in MyLists, then you are ready to build an Outline. Outlines can help you shape your essay and make sure you know how you are going to use all of your resources. Just click on Build Outline at the top left of MyLists to get started.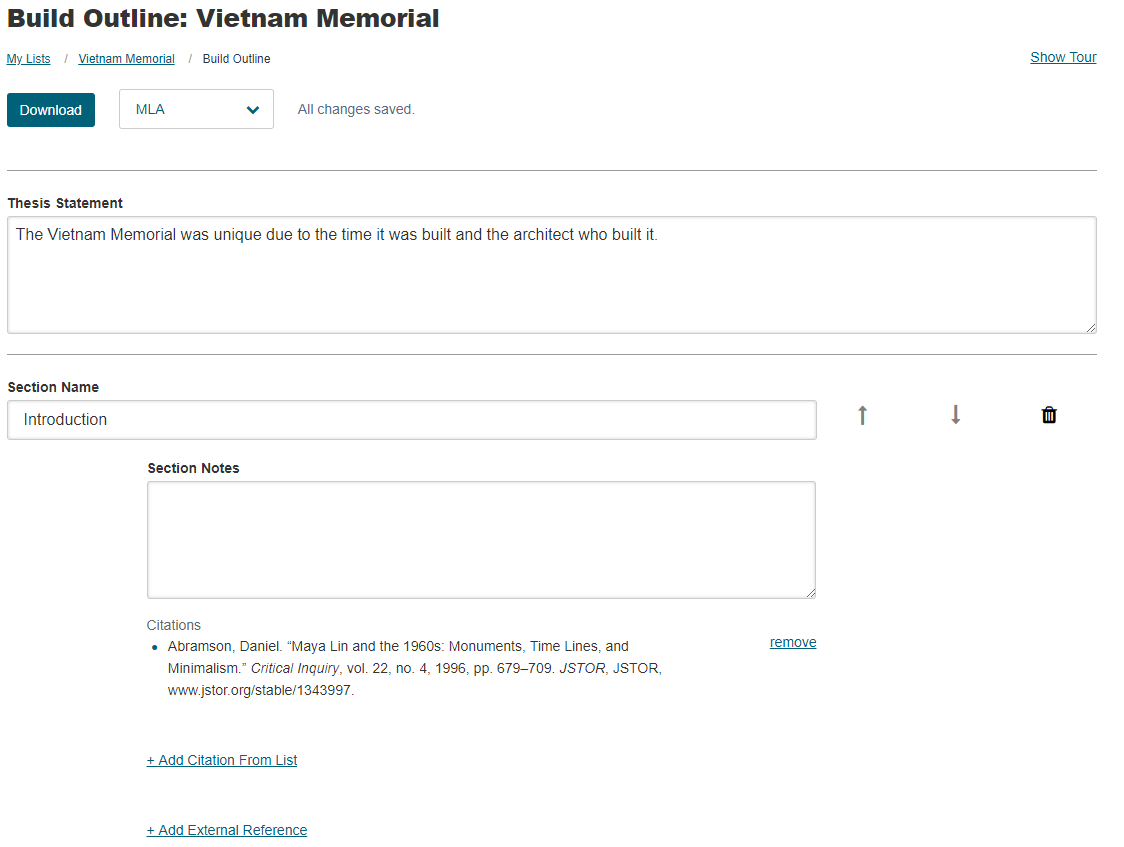 As you can see in this example, you can begin writing portions of your essay and making notes for each section while also associating articles from JSTOR and other sources just below the notes. At the top you can select the citation style you want to use. Once you complete all the sections of the essay and any notes you want, then you can download the Outline as a Word document. This will allow you to structure your writing and keep track of all of your citations in the same place.
We hope this helps you get your research and writing started off on the right foot. If you have any technical problems with JSTOR, please let us know. We're happy to help!