---
What's in this Article:
---
What citation styles are supported in JSTOR?
You can create citations in the following styles directly from sources on JSTOR:
MLA (version 8)
APA (version 6)
Chicago (version 16)
How to create citations with one click:
If you just want to cite one item, you can do so with one click:
Either next to your search result or on the article itself, you will see a "Cite this item" button.
Click that, then a window will appear
Copy and paste the citation of your choice.
Make sure you double-check the formatting before submitting a paper with one of these citations! Computers are great, but they're not perfect.
How to export citations as an RIS file or text file
If find several citations you want to save for later, you can export them to a .txt or RIS file to upload into the citation management software of your choice:
From the search results, select the check boxes to the left of the search results you want to export. If you just want to cite one article, click on that article and proceed to Step 2.
Chose "Export Selected Citations' in the upper right hand corner of the page.
From there you'll find a drop down menu with file options. Chose the file that suits your needs..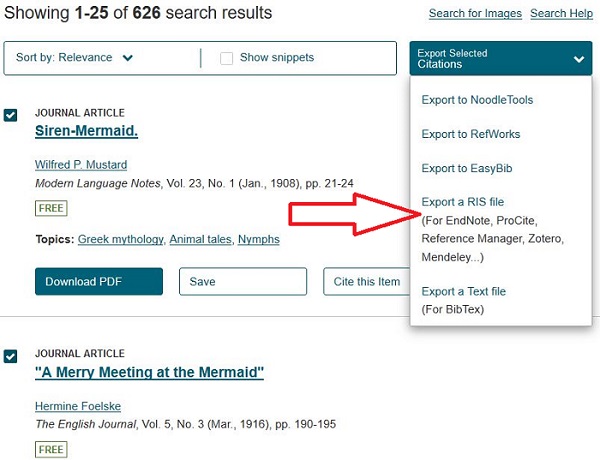 Note that at the moment, there is no ability to select citations in bulk from your search. Have questions or feedback? Contact us and we'll be happy to help