---
What's in this article:
How to make sure your browser isn't making your JSTOR experience crappier.
Who cares:
Anyone who's struggling with weird errors and slowness on the JSTOR website.  
---
Every so often, you come to JSTOR and something is...off. Maybe it's slow, you get an error or you can't get to an article that's just sitting RIGHT THERE. Before you throw your computer away, consider: the fault may be your browser. Lucky for you, we can guide you to a better one or help your existing browser be its best self. 
So which browser should you be using? The most popular (according to StatCounter) are Chrome, Internet Explorer, Firefox and Safari.
Although we support all the browsers mentioned above, JSTOR works best with Safari, Firefox and Chrome. As mentioned above, Microsoft won't be creating any new versions of Internet Explorer so the quality of your experience will only get worse.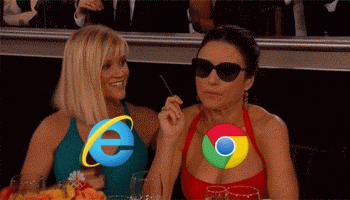 To keep your JSTOR experience from getting weird, make sure that your browser is updated. You can always find out what version you should be using by visiting the information pages for
 Chrome
, 
Firefox
, 
Safari
 and
IE
. Generally, browsers update automatically when connected to the internet but you can manually update too.
How to force an update on your browser:
Chrome: In the top right corner of the browser window, click the Chrome menu (the three parallel lines), click 'Help and About' and then 'About Google Chrome'. Your current version is the series of numbers beneath the 'Google Chrome' heading. When you're on this page Chrome will check for updates. 
Firefox: Click the menu button (three parallel lines) in the upper right-hand corner, click the question mark and select 'About Firefox'. When the 'About' window opens, Firefox will check for updates and download them. 
Safari should update without your help too. To make sure you have the latest version open the Apple menu and choose 'App Store'. In the top of the next window that appears, click the 'Updates' button.