---
What's in this article:
---
Using the Advanced Search (rather than the basic search) allows researchers to narrow their results using criteria according to discipline, journal, author, date, etc. The advanced search also allows researchers to search by multiple criteria at once.
This is especially helpful if you know exactly what you're looking for and don't want to have to narrow results after you search.
To perform an Advanced Search, make sure you put text in at least one search field. You can then add up to 7 search fields to your query. But the customization doesn't stop with search fields…
 Scroll down past the "Search" button to see more ways to narrow your search by journal, discipline, and result type. For instance, if you only want to view articles, but not books or book reviews, about Egypt from the field of Anthropology, simply enter "Egypt" in the search field, select "articles" and "Anthropology" as filter options, then hit "Search" to see your carefully customized results.
Advanced Search tools can vary widely across academic databases, in this article you will find how to use JSTOR's.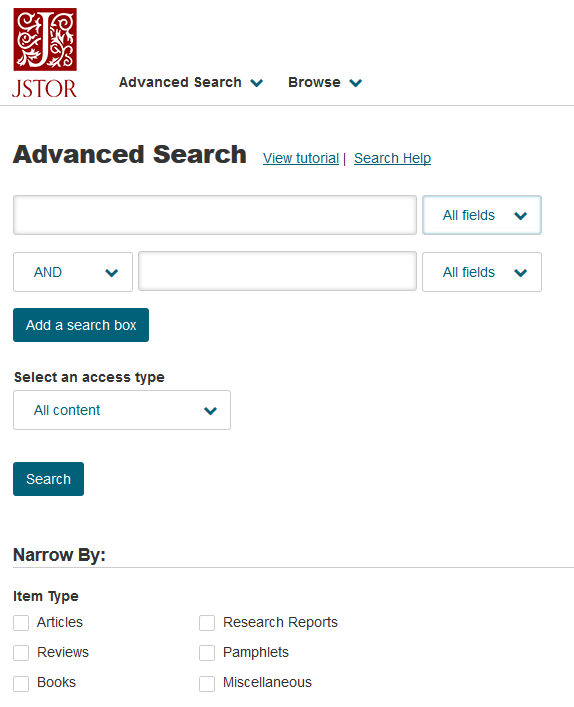 There comes a time in the life of every researcher when they hit a wall in their efforts to find relevant content. If you have too many results to sift through, results aren't quite what you're looking for, or you don't get enough results, we have the tools to help.
Enter Boolean Operators. Boolean operators are used to connect your search terms, and can be used to either narrow or broaden your search results. Boolean Operators are as follows: AND, OR, and NOT. You can type them manually, use them with the Boolean dropdown boxes on the advanced search, or use a combination.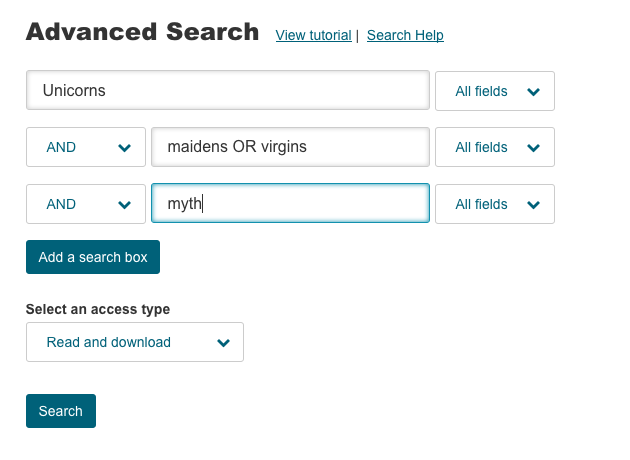 AND:
Using "AND" will narrow your search results by telling the search engine to return results that have BOTH/ALL search terms present. Here's how it works.
Searching JSTOR for the single word "unicorns" produces a very large set of results (over 4,000!).
But suppose a scholar is specifically researching the claim that unicorns appear to maidens. In that case, refining this set of results by adding the term "maiden" will decrease the number of results they have to sift through to find that perfect article.

 All 141 results will include both the term "unicorns" and the term "maidens."
OR:
Using the "OR" Boolean operator will expand your search results by telling the search engine to return results that have EITHER/ANY of the search terms present. It's particularly useful in the case of synonyms.
Using the OR operator links keywords together and expands the search results:

NOT:
Using the "NOT" Boolean operator will narrow your search results by telling the search engine to exclude results that have that search term present.

This set of results is smaller than the one previous, and no longer includes any content with the word "myth."
Boolean operators can be mixed and matched in any number of ways in an attempt to drill down and find that paper you didn't even know you needed. Boolean logic also works nicely with the other tools in your research arsenal, like exact phrase and fielded searching. The research possibilities are endless.
Parentheses:
When your search query includes multiple Boolean operators, it is important to group them appropriately. In the example above, (maiden OR virgin) is grouped together by parentheses, making it a sub-query. By grouping the terms this way, you are telling the search engine what terms must be present and what terms are optional.  This eliminates any confusion and ensures that the term "unicorns" must exist and that either term "maidens" or "virgins" may exist.
Looking for more ways to customize your search? We're impressed. You might want to look at Truncation, Wildcards, and Proximity next.