---
What's in this article:
How to search JSTOR, basically.

How to use JSTOR's basic and advanced search options.
Who cares:
Students, faculty and independent researchers in need of search help. 
---
JSTOR has over 2,000 journals in more than 50 disciplines, spanning from the 1600's to now. That's not even counting books and pamphlets. Where do you start when you want to look for something? Especially if you're not 100% sure what you're looking for? 
Before you go down any farther down the search hole, we encourage you to TALK TO YOUR REFERENCE LIBRARIAN. If you've never done high-level research, or are unsure about how to best construct a search query, the librarian(s) at your university are there to help. If you aren't a student, try your public library. 
Let's orientate ourselves with the search options on the JSTOR site.  
Basic Search:
When you visit www.jstor.org you'll see basic search first. It's the box in the middle of the landing page with the phrase "Journals, primary sources and now BOOKS" written above it. You can put in phrases, keywords, authors or titles without any special formatting. This will give you a broader list of results that will, at least, allow you to peruse some options. If you're a more advanced searcher, you can put Boolean commands directly into the search bar.
It's important to note that there is a 200 character limit (this includes spaces).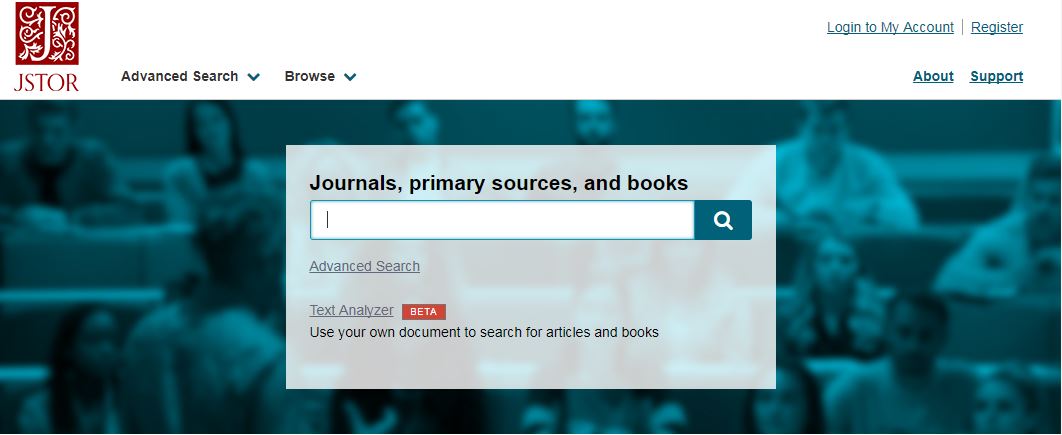 Advanced Search:
You can get to advanced search from the JSTOR landing page by clicking on the 'advanced search' link beneath basic search. You can also hover over the search option in the upper left hand corner of the screen (it's the option to the right of "JSTOR Home"). 
You will not be able to search without text in the first two fields. If you only chose a journal to narrow your search, for example, you will get an error that says, "We could not complete your search because nothing has been entered in the search form. Please try again."
The character limit on advanced search is 250 characters (including spaces).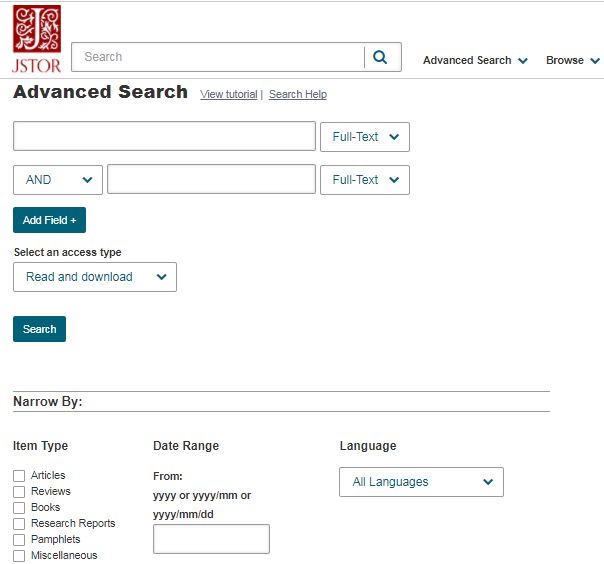 Once you're on the advanced search page, you can limit your search by: 
author
article/book/pamphlet/review title
searching ONLY abstracts
key words within full-text (a.k.a all the content ever)
type of content (articles, books, pamphlets, reviews, everything else)
date range
language
ISBN
discipline or journal
searching ONLY the content that your school/library subscribes to