What's in this article:
What is JPASS?
JPASS is a paid subscription to scholarly journal content that includes the archives of all the journals listed in the JPASS Collection which represents approximately 83% of the journals on the JSTOR website. New content is added to the JPASS collection each month. If you decide to become a JPASS subscriber, you will receive monthly emails indicating when new journals are available to you.
Content not included in the JPASS Collection includes scholarly books, primary sources (except Struggles for Freedom: Southern Africa, which is included) most recent issues of some journals, and, in some cases, journal archives. Some of this unavailable content may be found via the read online free program, for purchase as an individual article, or through an interlibrary loan from a JSTOR-participating library.
If you are unsure about whether or not a particular article or journal participates in the JPASS collection, you can browse the journals list on the JPASS browse collections page where you have the option to filter by subject and/or publisher.
Pricing and Subscription Options
JPASS subscriptions are available in either monthly and annual payment options.
Monthly plans cost $19.50 USD and include 10 PDF downloads per month and are eligible for auto-renewal.
Annual plans cost $199.00 USD and include 120 PDF downloads and while they do not auto-renew, annual plans may be subject to a discount. Contact support@jstor.org to learn more.
| | | | |
| --- | --- | --- | --- |
| JPASS Plan | Price | PDF Downloads Included | Auto-renew Available? |
| Monthly (resets unless you opt-into auto-renew before 30 days) | $19.50 | 10 | Yes |
| Annual | $199.00 | 120 | No |
Learn more about How JPASS Works and which plan is right for you.
How to buy a JPASS:
1 ) Create a personal JSTOR account. If you have not already done so. If you have an existing JSTOR personal account, log in and click "JPASS Downloads" from the drop-down menu under your username.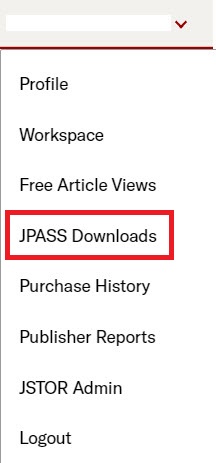 2) Select the "Learn More" button in your personal account, where you will be presented with general information on the JPASS-specific site.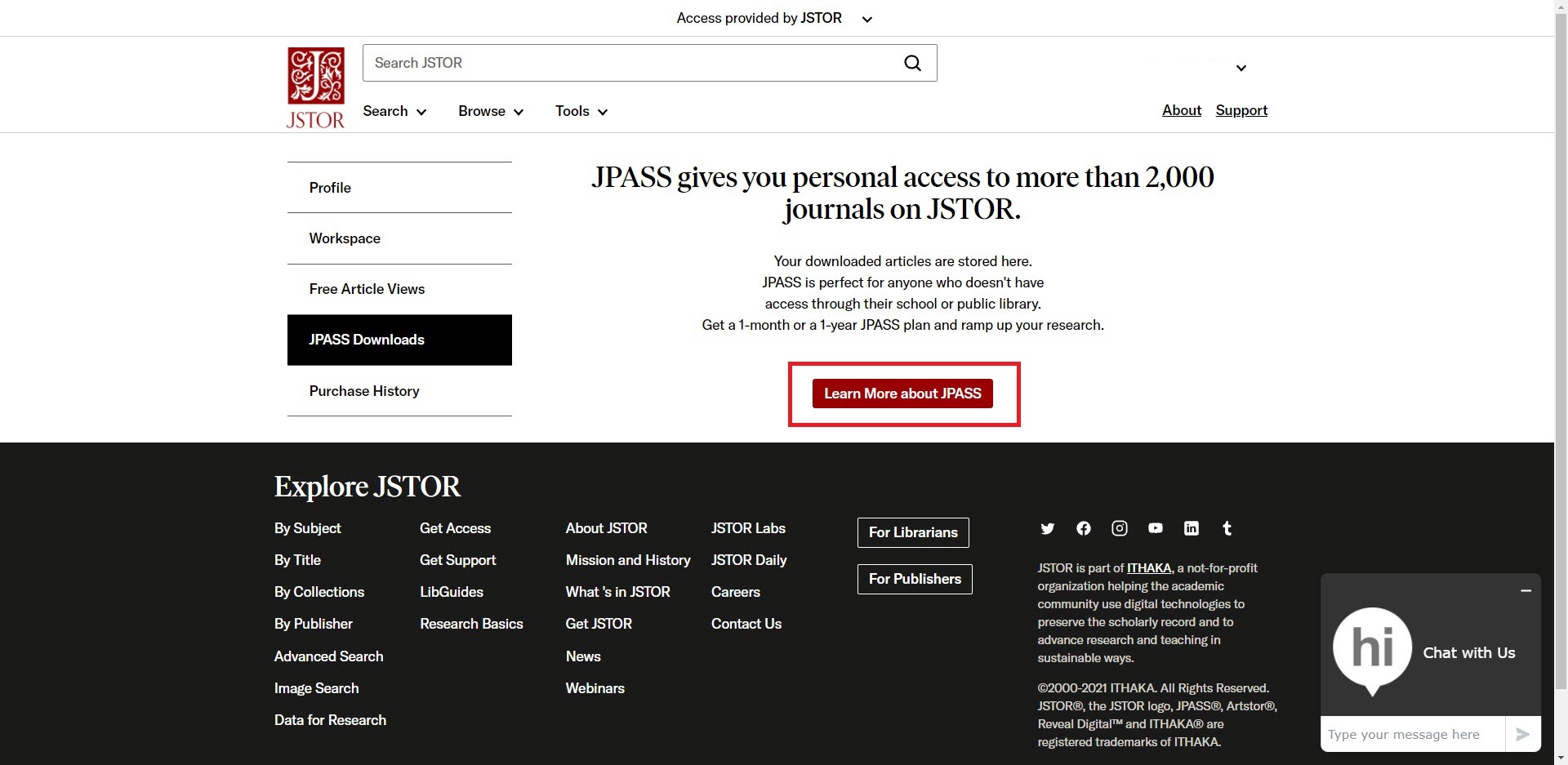 3) Learn more about JPASS on the JPASS site where you can browse the journals and issues included the JPASS collection. If you are interested in specific content, browse the content available through JPASS before your purchase as needed.
4) Choose from either a monthly or annual subscription plan. You will be presented with a check-out screen and check the box to accept our Terms and Conditions.
If you choose a monthly plan, you must manually select "Pay by the month" if you do not want your JPASS to automatically renew every month.
5) Check out. After clicking "Check Out," you will be taken to PayPal to process your payment.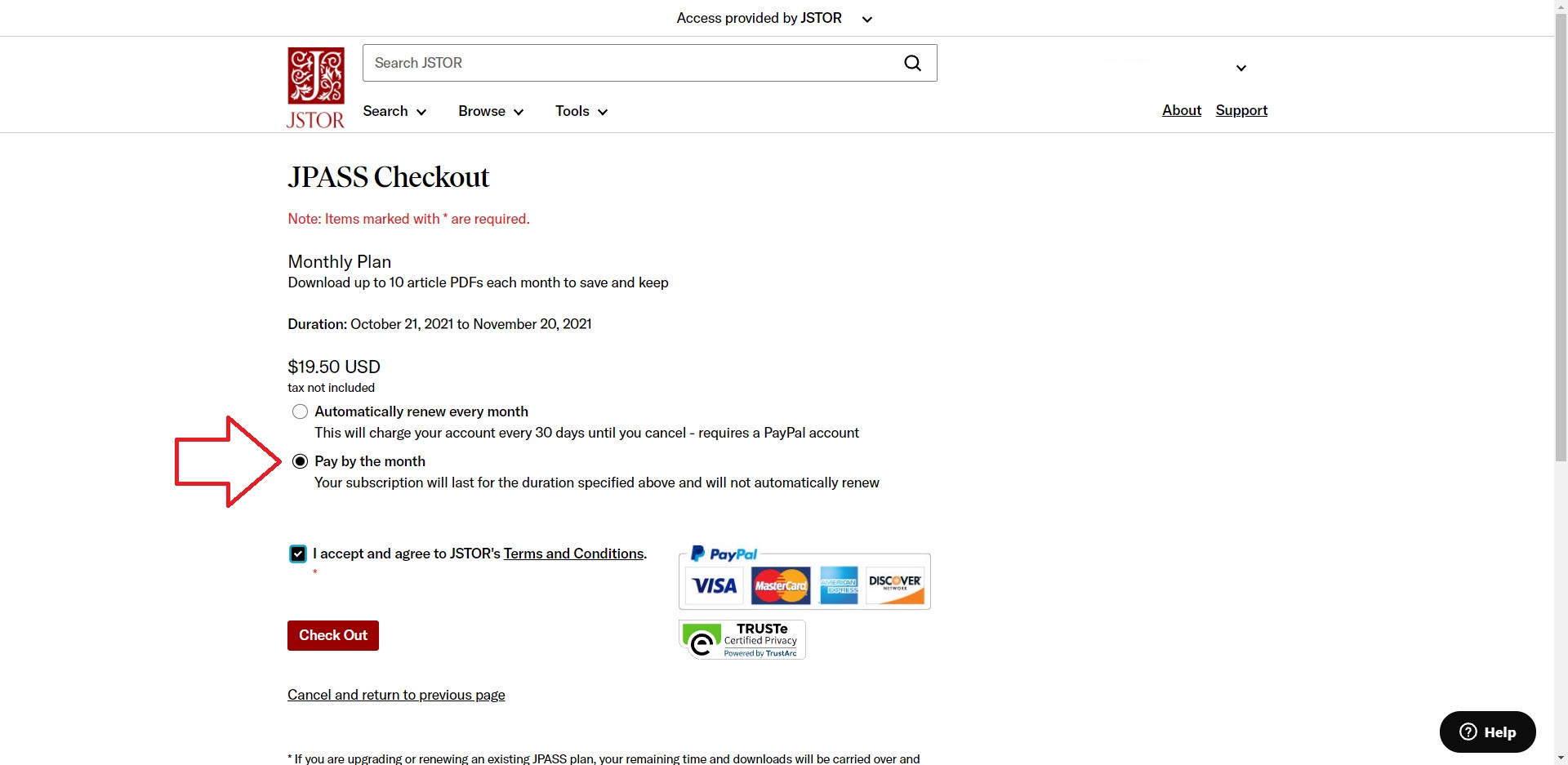 6) Once you're at the PayPal payment log in page, you have two payment options:
Payment Option 1: If you have an existing PayPal account, use your PayPal credentials to log to use it for payment OR
Payment Option 2: Select "Pay with Debit or Credit Card" to check out as a guest.
Cancel the payment process anytime by selecting "Cancel and Return to ITHAKA Harbors (JPASS) at the bottom of the payment screen. If you select this option, you will be returned to the JPASS Checkout page. Your canceled purchase means your credit card (if selected) has not been charged.
If you have questions about the Paypal checkout experience, please refer to PayPal customer service.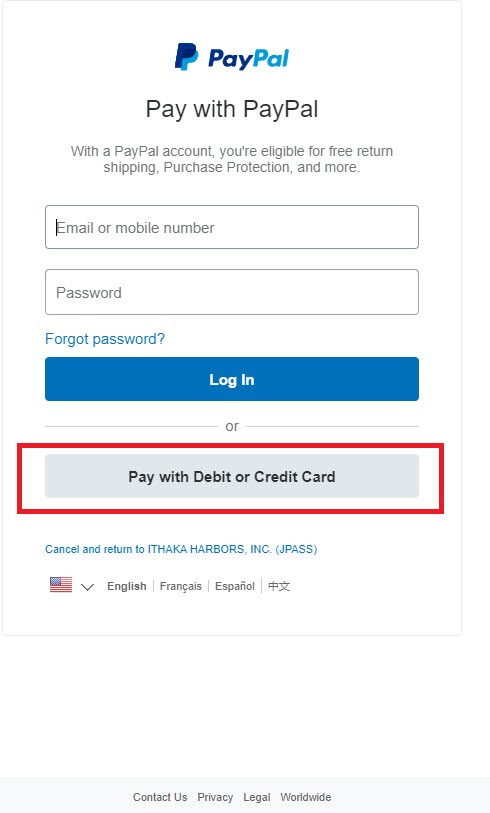 If you selected auto-renew, then you will not have the option to use a debit or credit card. You will have to log in to or create a PayPal account.
After you've logged in and confirmed your method of payment, you'll have to confirm your purchase. Once you hit the purchase button, you should have your JPASS added to your personal account.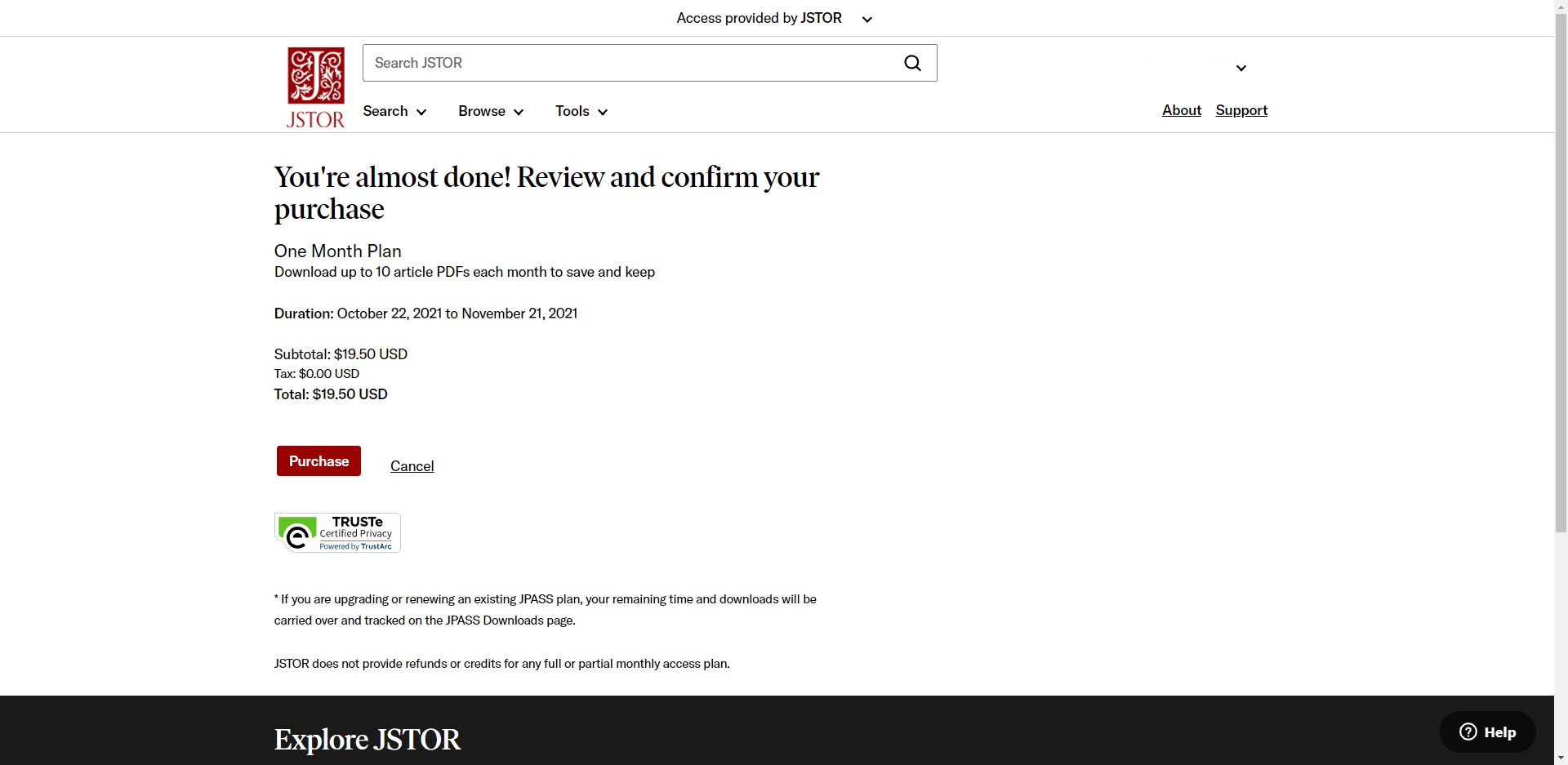 How to renew your JPASS
To renew an existing JPASS, click the "Purchase" button in the "JPASS Downloads" section of your JSTOR account.
I have a monthly JPASS subscription and have remaining downloads. Can I use them later?
It depends on when and if you choose to renew your JPASS subscription. JPASS downloads can roll over in your personal account indefinitely as long as the subscription remains active. Any remaining downloads from a prior monthly subscription will continue to be available in your JPASS monthly plan if you choose to renew before the full month has passed post-purchase.
For example, if you had a one-month plan and only used 5 of your 10 downloads, purchasing another one-month JPASS would give you a total of 15 downloads and extend your membership by a month.
What if I did not renew within one-month of purchase?
JPASS download counts will reset without any "rollover" downloads if you do not choose to renew the subscription within the 30-day time period.
How to turn off automatic renewal
If you have a JPASS one-month plan that is set to automatically renew every month, you can cancel the automatic renewal of your plan.
To cancel your auto-renewal:
Go to the "JPASS Downloads" section of your JSTOR account
Click "Cancel Plan," and then click "Cancel my subscription."
When you cancel your subscription, you will still have until the current month of JPASS ends to use your remaining downloads. You can check your plan's expiration date within the "JPASS Downloads" section of your account.
How to refund your JPASS purchase
For our JPASS access plan refund policy and instructions, please visit JSTOR Refund Policy for more information.