---
What's in this article:
---
Basic Image Search
Image searches can be entered into the general search bar and, like text results, may be filtered to narrow results from most pages or be entered from the image-specific search.
Key words or phrases that contain relevant text will return image results either as contained within the total results or may be filtered to include only image-specific results.
Search Images on JSTOR
Once you have a keyword or phrase you are interested in researching using the general search, your result count will include both the total number of search results (of text and images) and the image-only results count.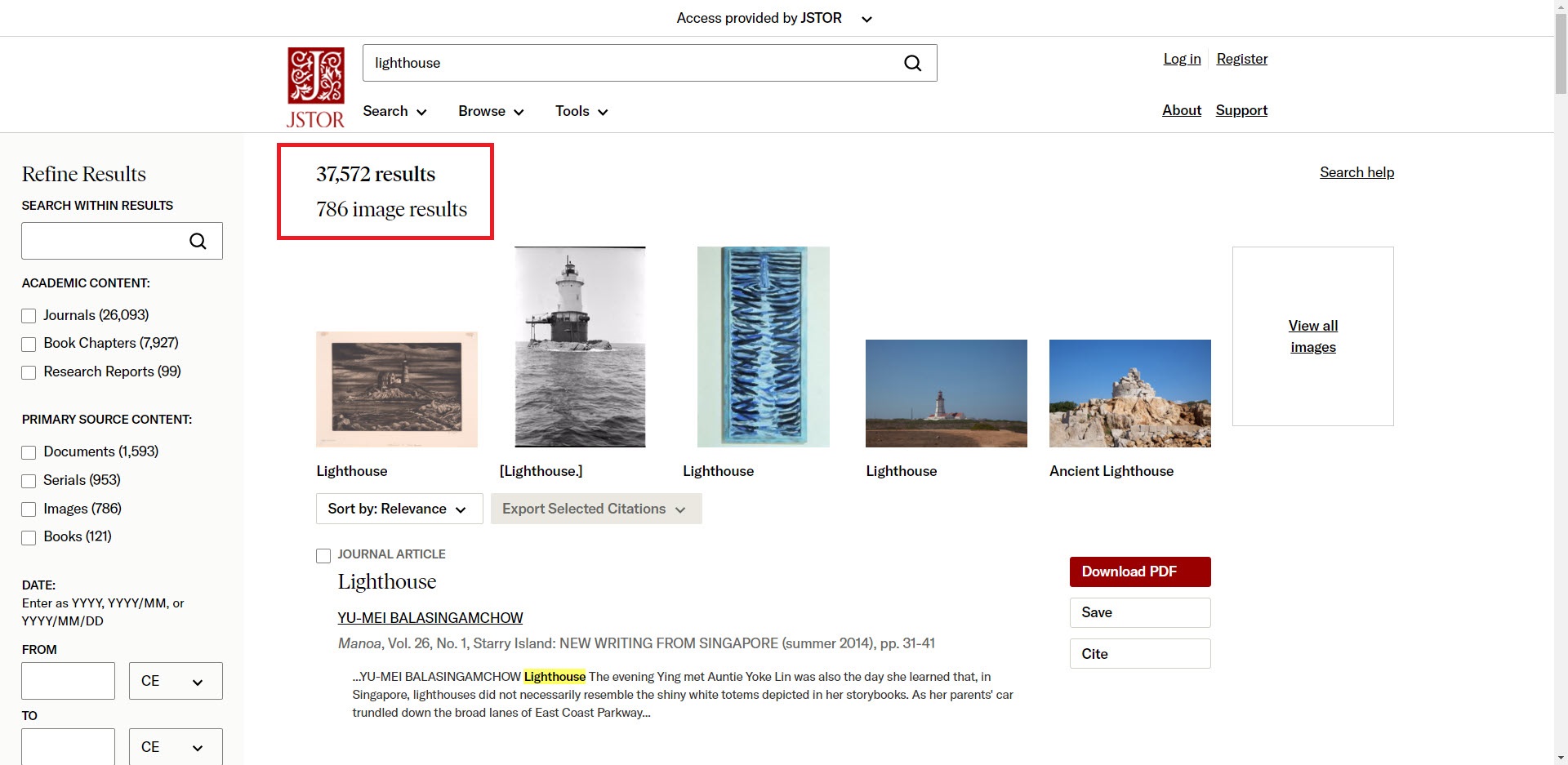 Continue to limit your image search results by either checking the "Images" checkbox (found under Primary Source Content) or select "View all images" to explore images related to your search terms.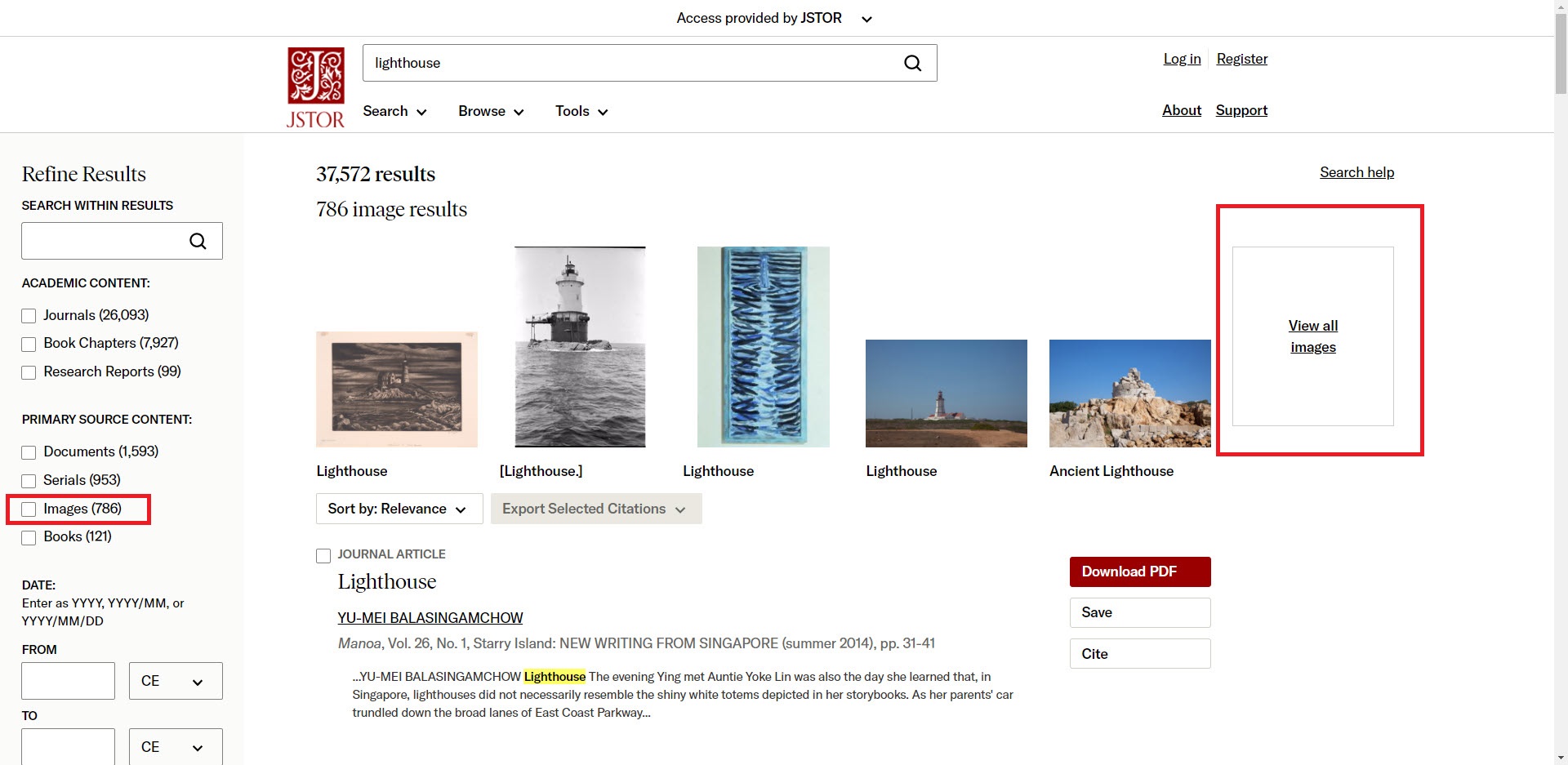 When refining a general (text and image) search to image-only search results, relevant images will be presented in a grid layout that makes it possible to scan across a selection related to your search.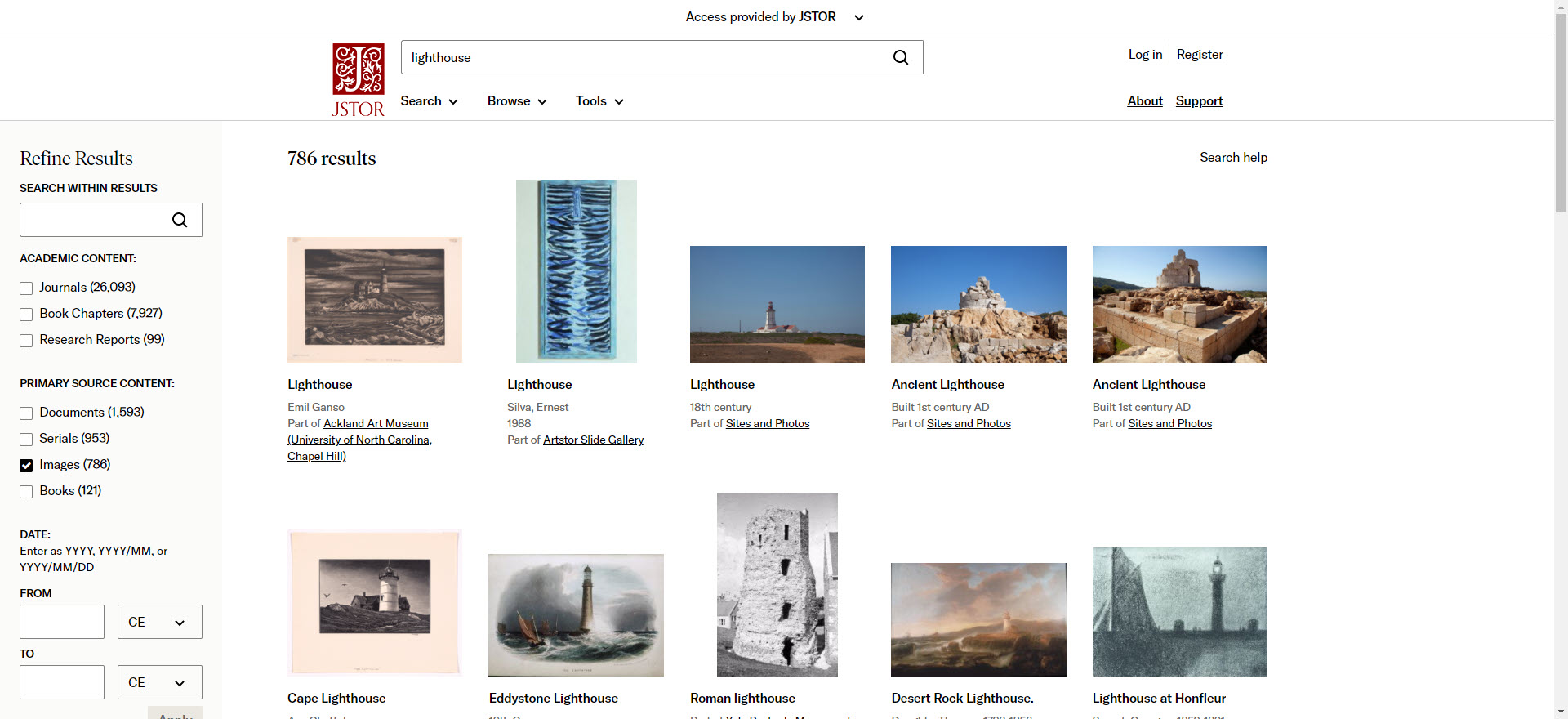 To view the full image detail page, select a specific image.
The full image detail page contains your selected image in an embedded image viewer in addition to a variety of information about the image including the source, date, medium, and copyright information related to the image.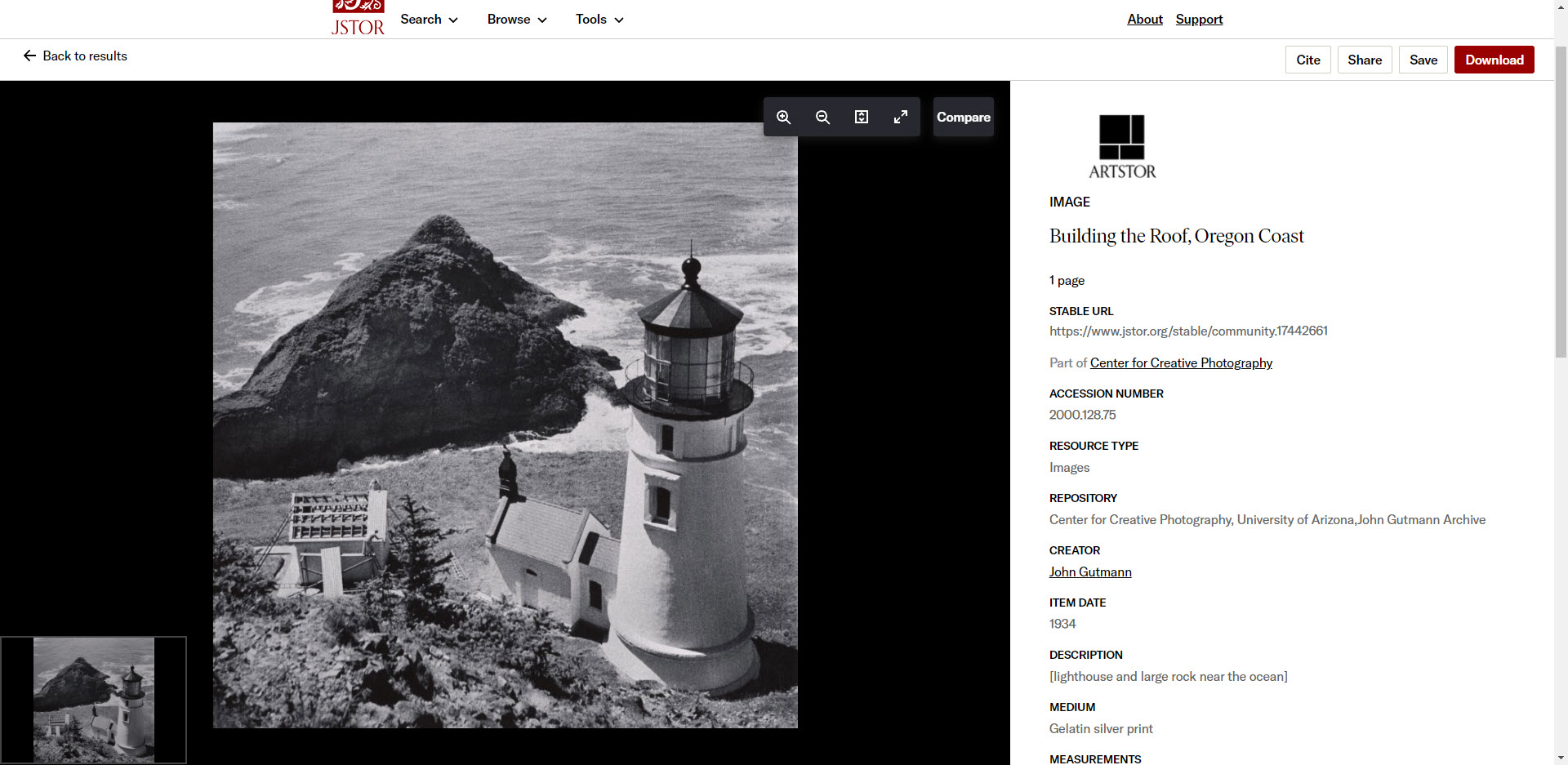 From the image detail page, you may also export and adjust image citations, share the image, or save it to your Workspace.
Advanced Image Search
For more specific image searching, Advanced Image Search is available to help narrow your results through more detailed fielded search, boolean, and filtering options.
Advanced Image Search on JSTOR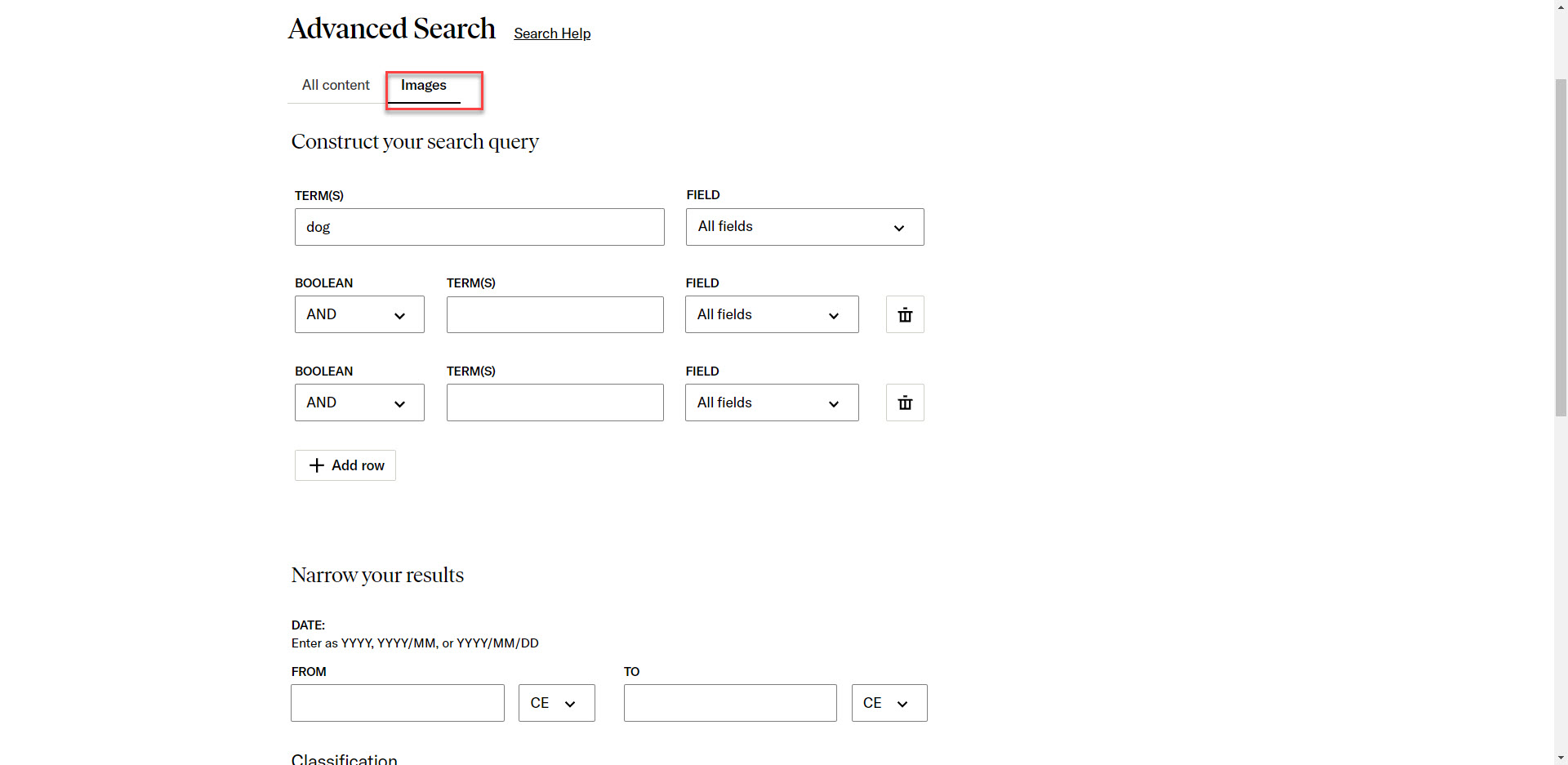 Drop-down Field menus are available from the advanced image search page. Use one or more of these to select from the following specific fielded metadata options:
creator
title
subject
work type
style or period
location
culture
material
Boolean search drop-down menus are also available to refine your query. Select from the following operators: AND, OR, and NOT
In the Narrow Results section of the advanced search page, additionally enter formatted date ranges (either in CE- Current or Common Era or BCE, Before Common Era)
Classification filters are also available for select images from curated groups such as Paintings, Humanities and Social Sciences, Maps, Charts, and Graphs and more.
Download and Cite Images from Search Results
Download and Cite options are conveniently available for images that you have access to as you search and evaluate your results, even when the results include text.
If you find an image in your search results that you have access to and want to download or cite, select

from the item you are interested in.
A menu will open beside the image with these options.