---
What's in this article:
How to search using exact phrases and author names
Who cares:
Researchers of all kinds, but especially people who are trying to narrow their search results 
---
Exact searches:
There is undeniably a fine art to searching a database like JSTOR. Advanced researchers can spend huge amounts of time crafting exact queries designed to find those special sources that they need to move forward with their work. The JSTOR search team recognizes these users, and salutes their efforts to advance human knowledge.
However, we also know that a lot of our users are new to the wonderful world of academia and have limited search experience. It can be frustrating to transition from Google's magical algorithm when you try a search and get over 4,000 results:

Here in the JSTOR Support team, we totally get it. Sometimes you just really need to catch up on the scholarly discourse regarding iconic 90s girl band, the Spice Girls, but sifting through 4,000 articles seems excessive. Well today's your lucky day, friends, because with just one search tip we can significantly improve the relevance of our results and make for a much more enjoyable Friday evening reading experience.
Ready?

Putting our search terms in quotation marks cut down our results down to a much more manageable 400! We call this exact phrase searching, and it is the best tool we can offer new JSTOR users to improve their search experience. When you don't put quotation marks around a phrase, as in the first example, our search engine searches for the words separately (spice AND girls). When we add quotation marks, our search engine knows to look for "spice girls" in that exact order, and will not return results about cinnamon or oregano.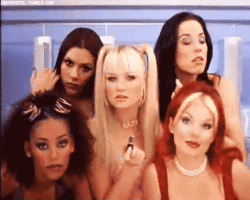 Searching for exact authors:
If you're looking for a particular author's body of work, you'll need to use the handy drop-down menu in our advanced search. First, go to the search menu in the upper right hand corner of any JSTOR page and click "Advanced Search."
From there, type your author's name in the first search box and choose "Author" in the drop down menu to the immediate right. 
Be sure NOT to put the author's name in quotations and ALSO choose the "Author" field in the drop down menu. That will get you a bunch of additional stuff.
 You can also use fielded searches to search for specifics.