---
What's in this article:
---
There is an art to searching a database like JSTOR. Advanced researchers can spend huge amounts of time crafting exact queries designed to find those special sources that they need to move forward with their work.
However, we also know that a lot of our users are new to searching.
How to conduct exact searches:
Putting your search terms in quotation marks narrows down the search results. This is called exact phrase searching, and it is the best tool we can offer new JSTOR users to improve their search experience.
When you don't put quotation marks around a phrase, our search engine searches for the words separately (spice AND girls). When you add quotation marks, our search engine knows to look for "spice girls" in that exact order, and will not return results about cinnamon or oregano.

Searching for exact authors:
If you're looking for a particular author's body of work, you'll need to use the handy drop-down menu in our advanced search. First, go to the search menu in the upper right hand corner of any JSTOR page and click "Advanced Search."
From there, type your author's name in the first search box and choose "Author" in the drop down menu to the immediate right.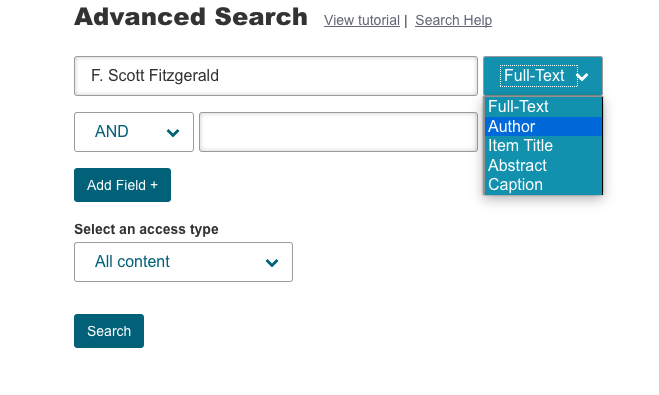 Be sure NOT to put the author's name in quotations and ALSO choose the "Author" field in the drop down menu. That will get you a bunch of additional stuff.
You can also use fielded searches to search for specifics.