---
What's in this article:
How to narrow a search with fielded searching
---
Fielded searching:
Using fielded searching is a great way to make your search results more accurate and relevant to your research.
Say you're looking for anything on JSTOR written by F. Scott Fitzgerald. If you search for "F. Scott Fitzgerald" you'll get EVERY instance of the phrase F. Scott Fitzgerald--this will include things he had written, as well as things written about him by others:

If you search for F. Scott Fitzgerald in the author field, you'll see items he wrote: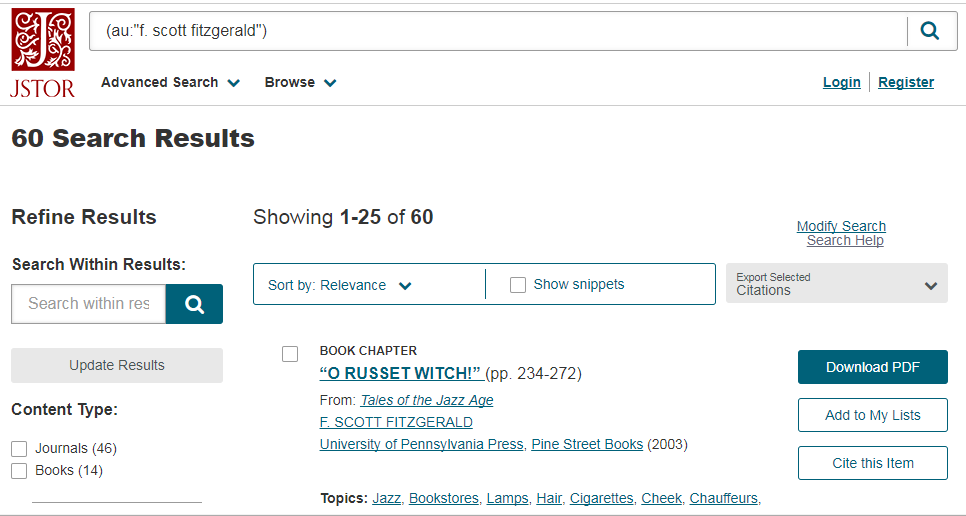 There are several basic fields on the top half of advanced search. To the right of the first two search bars, you'll see a list:

Full-Text searches everything in the archive.
Author limits your search to the name of an author.
Item Title limits your search to titles (of books and journal/pamphlet articles) on JSTOR.
Abstract searches for your terms in abstracts ONLY.
Caption will search for your phrase in the captions beneath photos (this is especially relevant in art journals should you, say, be looking for a specific painting).
There are more fields available below the search box: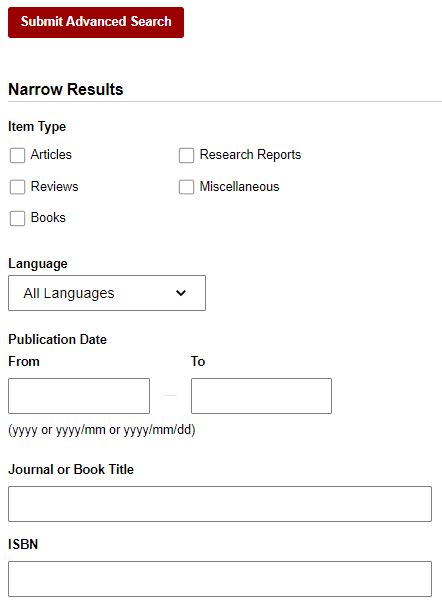 You can keep narrowing your search by item type (Articles, Books, Reviews and everything else), date range, language, publication (aka a specific journal, book or pamphlet) title, ISBN (for books) AND discipline.
Please note that before you can use this section, you'll need to have search term(s) typed in the first and/or second search bar on the page.
If this feels really basic, you can bypass Advanced Search altogether and just enter your own field codes on basic search.
The format looks like this: (FIELD CODE: "Search term")
So, in the case of F. Scott Fitzgerald our search would be: ( au:"F. Scott Fitzgerald") Here are some other codes that might come in handy:
au: = author
ti: = title (of book, article, or research reports)
ca: = caption
ab: = abstract
If you want to get even more complicated, you can add narrowing layers with the codes below. Say you wanted to find a review of one of F. Scott Fitzgerald's novels. Your search might look like: (au:"F. Scott Fitzgerald") (cty:journal AND ty:brv)
jo: = journal name
la: = language
To search for a type of item:

Full Length articles = cty:journal AND ty:fla
Book Reviews = cty:journal AND ty:brv
Miscellaneous = cty:journal AND ty:mis
Book Chapters = cty:chapter
Research Reports = cty:research_report