---
What's in this article:
How to purchase articles and retrieve them on JSTOR.
---
Issues and article purchases:
Approximately 1,000 journals also have single articles or issues for sale through JSTOR. Fees for those articles represent a price set by the publisher plus a flat fee to cover JSTOR's costs for providing the service. Please contact JSTOR Website Support with any questions about this program.
Issues and articles offered for sale will appear with a Download button, citing a specific price. Like this:

When you find an article you want to purchase, the option will be available to the right hand side of the article page. Once you press the download button, you'll get a pop-up window. On the left hand side, you'll find two links, one for purchasing the individual article and another for the full issue. The right hand side of the pop-up outlines the process.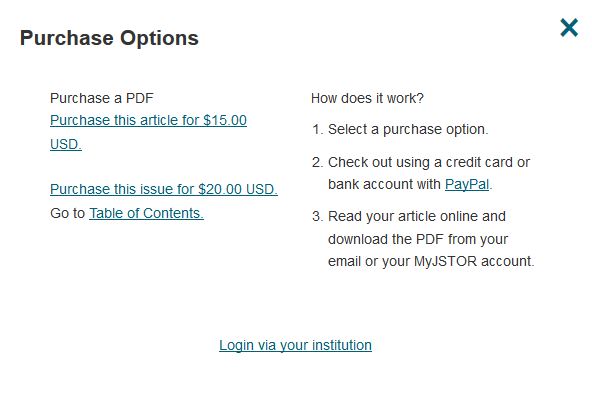 You'll need to sign into your MyJSTOR account to continue with your purchase. From there, add the article or issue to your cart and continue through PayPal (if you're unsure how to do that we have steps outlined in the JPASS section.)
How do I access the article I purchased:
If you're here, chances are you're a little hazy on what to do after purchasing an article on JSTOR. Where is it? Is the stork dropping it off or…? 
Go to www.jstor.org and make sure you're logged in. To check, look in the top-right of the screen. It should say your name. If it doesn't, just click "Login to My Account" in the top-right of the screen and log in.
Go to your Purchase History. To get there, hover your cursor over your name in the top-right of the page and choose "Purchase History" from the drop-down menu.

Click on the article title in the Purchase History list to be taken to the article. Click the "Download PDF" button on the far right. The article will appear in a new window. The first page is the cover page, so be sure to scroll down to see the actual text of the article. At this point, you can save the document to your computer, print it, close it – go nuts!

To be super clear, you won't be getting a paper copy of your article from us. We request a mailing address when you purchase your articles because our webshop processes orders for subscriptions to journals published by Indiana University Press, which sometimes include print issues. 
Will I lose access to articles I purchased and downloaded:
No! You will have access to downloaded PDFs through your MyJSTOR account. They can be downloaded to your mobile device or desktop at any time. Single article purchases are listed in the "Purchase History" section.